Iriomote Travel Guide & Tips | Things to Do on Iriomote Island by Ippei & Janine
< Back to Iriomote Island page
View Exploring Iriomote without a nature guide in a larger map
Iriomote Island of the Yaeyama Islands
Iriomote Island (also known as Iriomote-jima) can be classified as one of Japan's last frontiers, as is often referred to as the Galápagos of East Asia together with Tokyo's Ogasawara Islands due to its vast untouched tropical rainforest with endemic species. Mostly unexplored, Iriomote-jima is the largest of the Yaeyama Islands and is covered with lush, impenetrable jungle and abundant mangroves. It is surrounded by picture-perfect ocean, both from above and below with its colorful coral reefs, and attracts tourists with a spirit of adventure.
Iriomote is an amazing island, but it's not for everyone. It's a real paradise for those with a sense of adventure! Please be aware that Iriomote is covered by dense rainforest, meaning that it rains a lot! We strongly recommend taking wet weather gear and being prepared to get out and explore no matter the weather.
The Yaeyama Islands are located near the Tropic of Cancer; more south than Taipei and closer to the northern islands of the Philippines than to Okinawa Main Island. If you like jungles as well as beaches, we highly recommend the Yaeyama Island group. The Yaeyama Islands are also perfect for snorkeling and scuba diving as they have one of the largest coral reef systems in Asia.
Over the last 15 years we've visited Iriomote Island over 15 times, and we created this travel guide based on our experiences. Our Iriomote Island travel guide is meant for nature lovers who wish to explore Iriomote on their own without taking a guided tour. We regularly update this travel guide but please let us know if you spot any error or any outdated information.
– Pumice stone situation –
An underwater volcano erupted in August 2021 near the Ogasawara Islands (1,000km off directly south of Tokyo Bay), which spewed large amounts of pumice stone into the ocean, which float on the water surface. Between November 2021 and January 2022, these floating pumice stones have arrived on the coasts between the Japanese southwest islands and Taiwan. The islands of Kagoshima (such as the Amami Islands) and the northern islands of Okinawa (such as Okinawa Main Island) have been most affected. The local governments have been working hard to remove them, but it's a long process so still many beaches (especially non-tourist beaches) have ugly black pumice stones disrupting the beauty of the white sand beaches. Fortunately on Miyako Islands and Yaeyama Islands, mostly only the beaches facing north or east have been affected. Many of the beaches facing south or west didn't get affected, and in fact some are completely free of these pumice stones. When deciding which beach to visit, it's essential to consider not only the wind direction to enjoy calm water, but also this pumice stone situation needs to be considered for a couple of years until they can get rid of them (or a big typhoon can blow them inland).
Pinaisara Falls
The longest waterfall in Okinawa Prefecture is best viewed on approach by kayak. There are many kayak tours available. When you get to the waterfall, we highly recommend the 45min hike to the top of the waterfall where you can have an amazing view of the mangrove swamp right out to the coral reef. It can get a little busy in the peak season (Golden Week, Obon Holiday and New Years) due to its popularity and easy accessibility.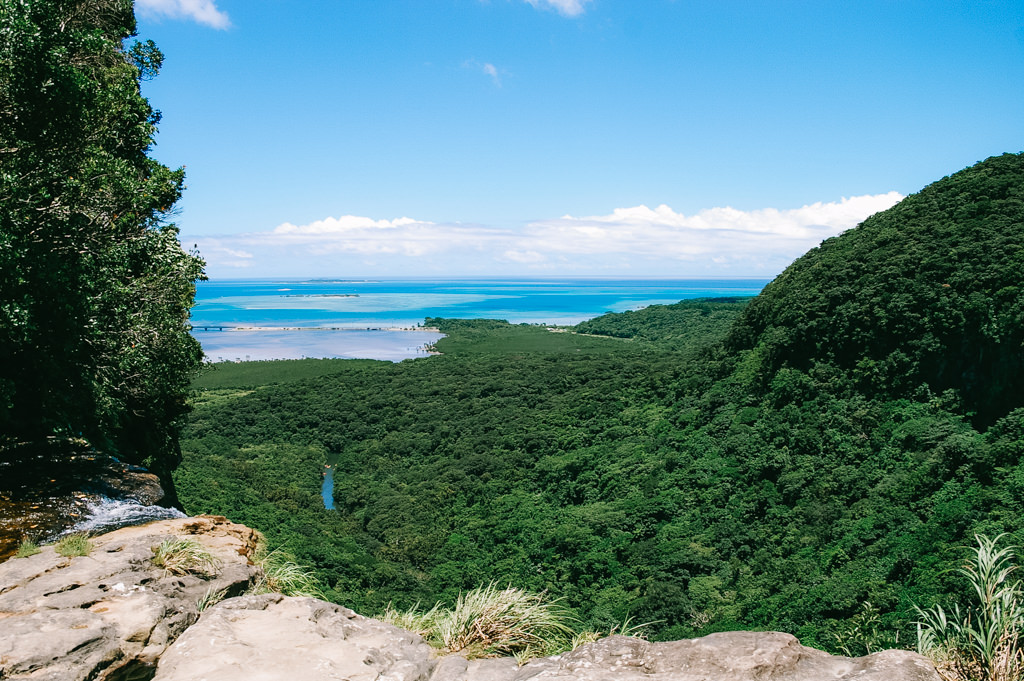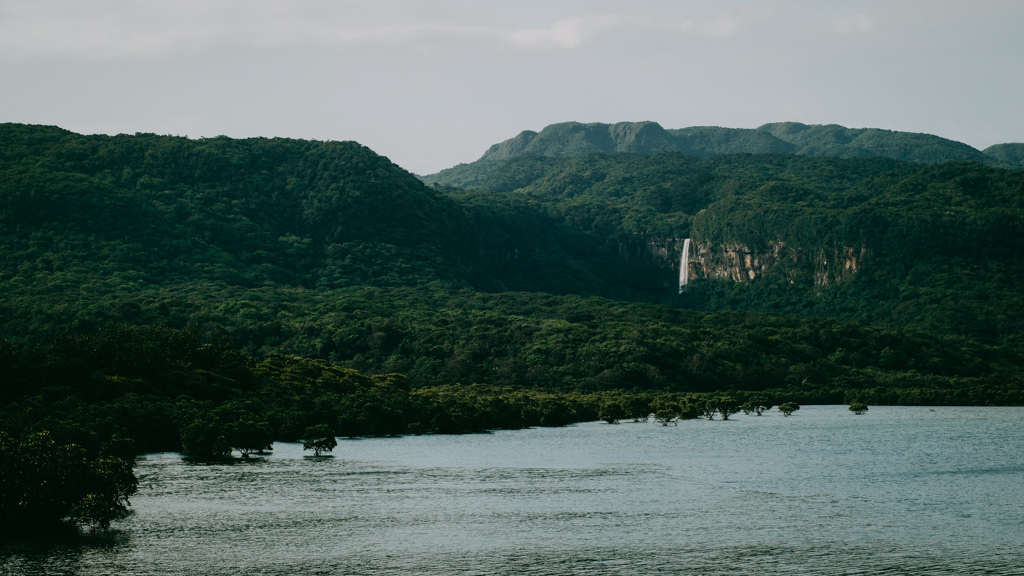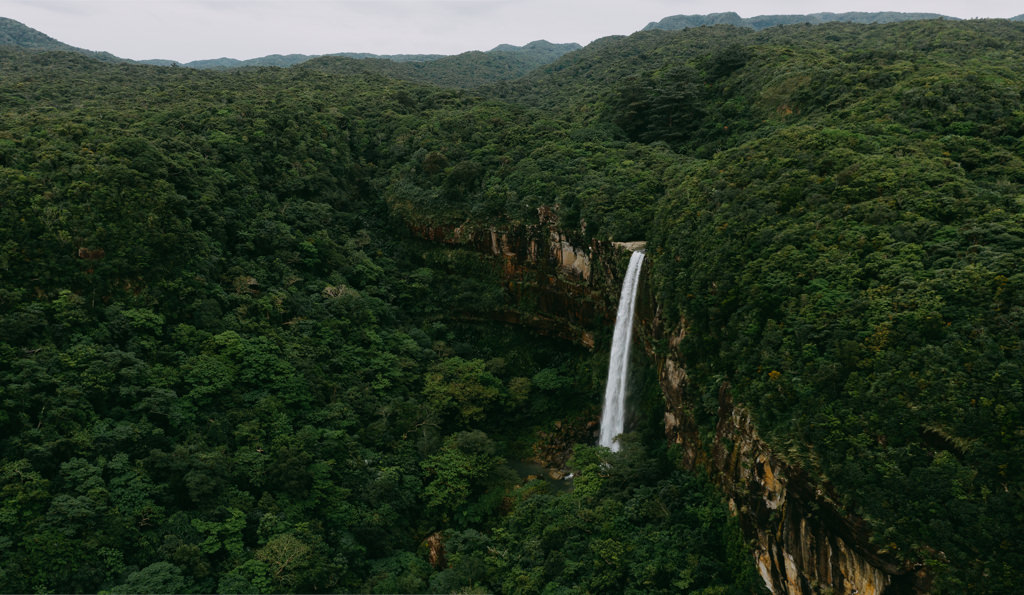 Idanohama Beach & Funauki
Take the passenger ferry over to Funauki Port from Shirahama Port (JPY960 per person return), and take a short walk to Idanohama beach. On a clear day, this is a spectacular beach. Once on the beach, walk to the headland on the right side and just around the corner is another secluded idyllic beach with an amazing rock wall. The best time is in the morning when you get the shade of the rock wall.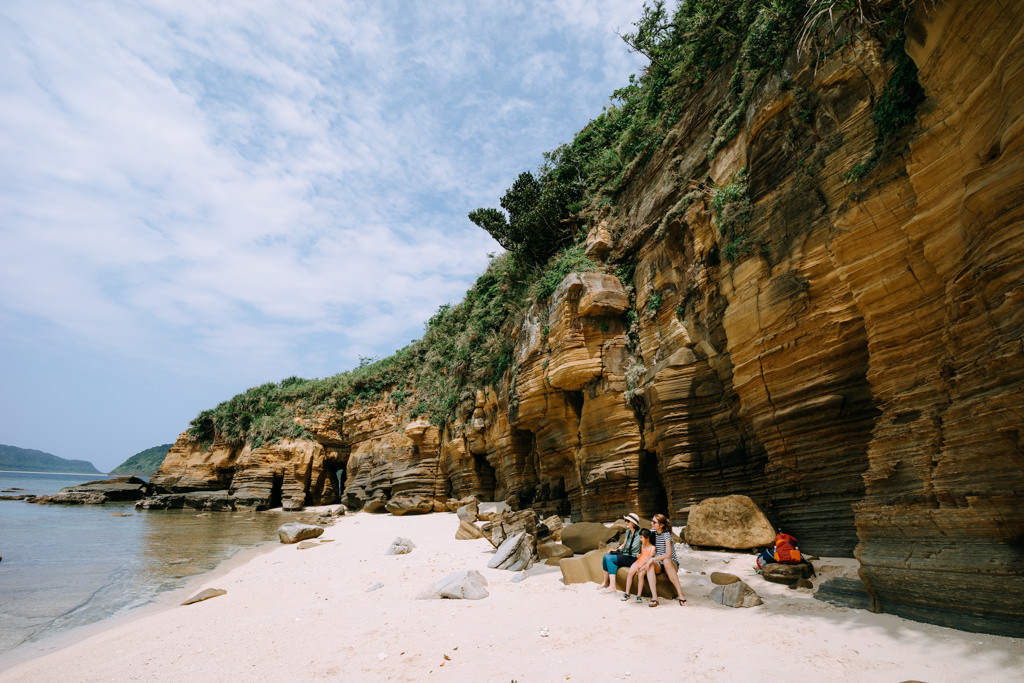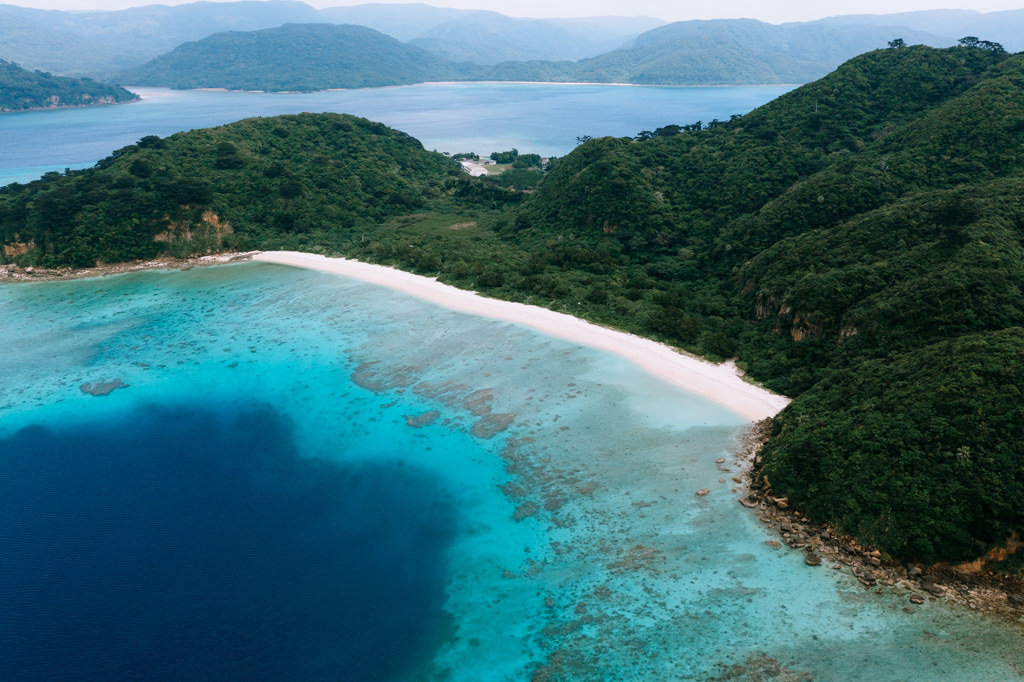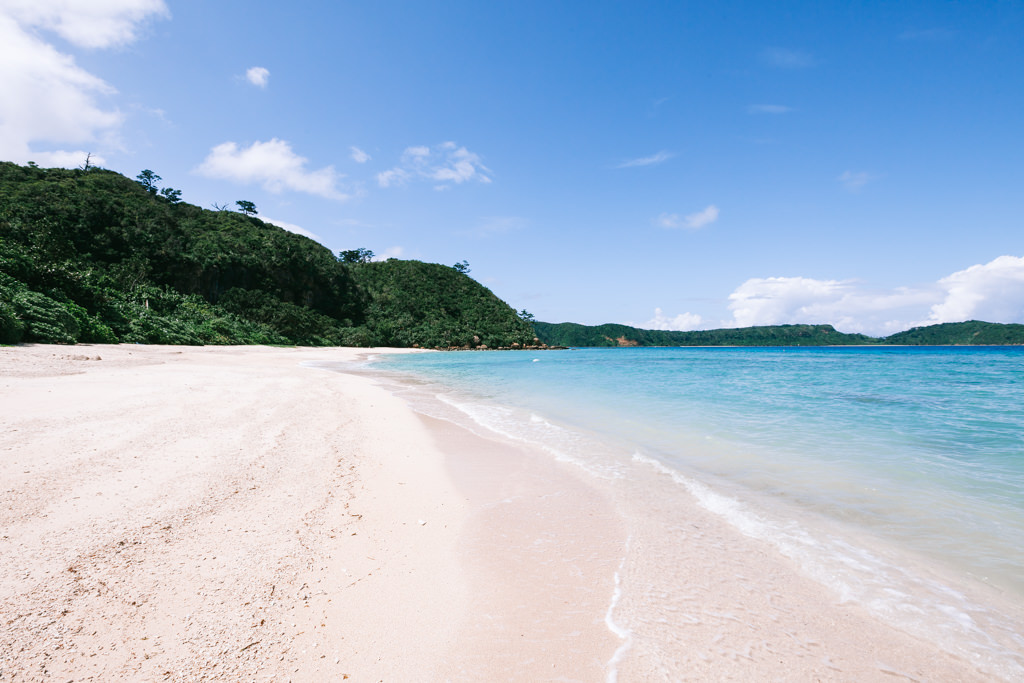 Yutsun Falls, Kuura Limestone Caves, Kuura Falls, Geta Falls, Mitara Falls
The northern area has some great trails that you can explore without taking a guided tour.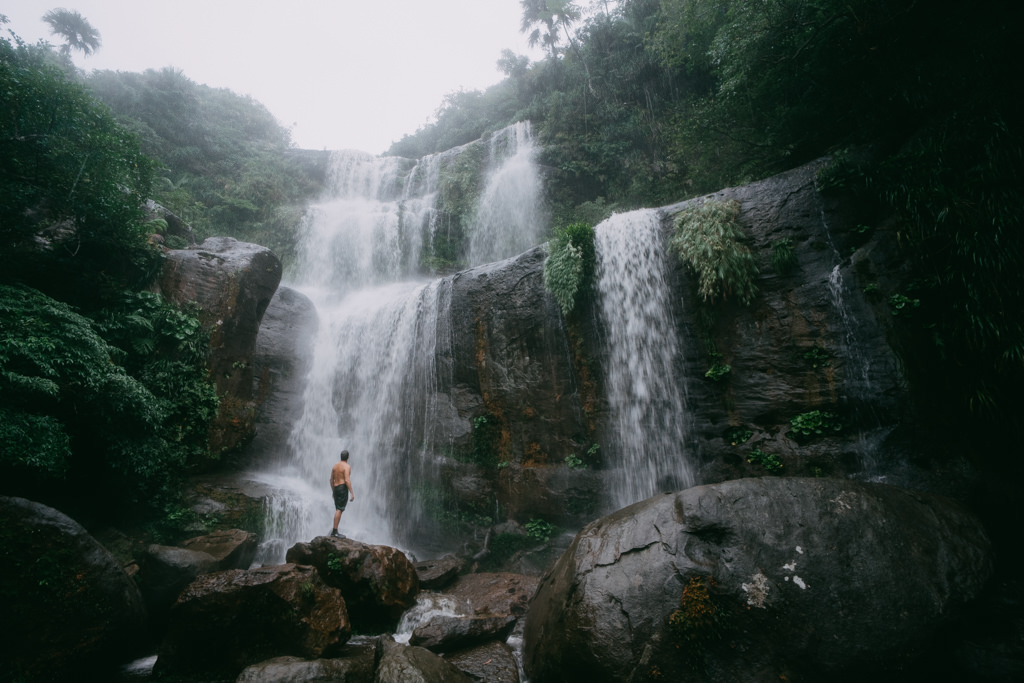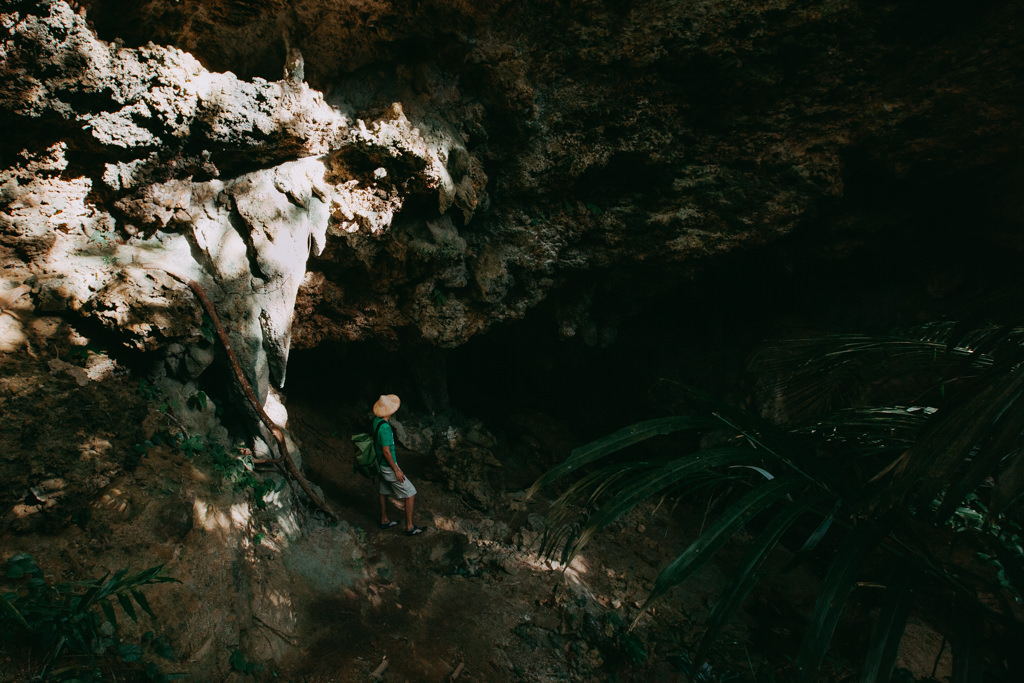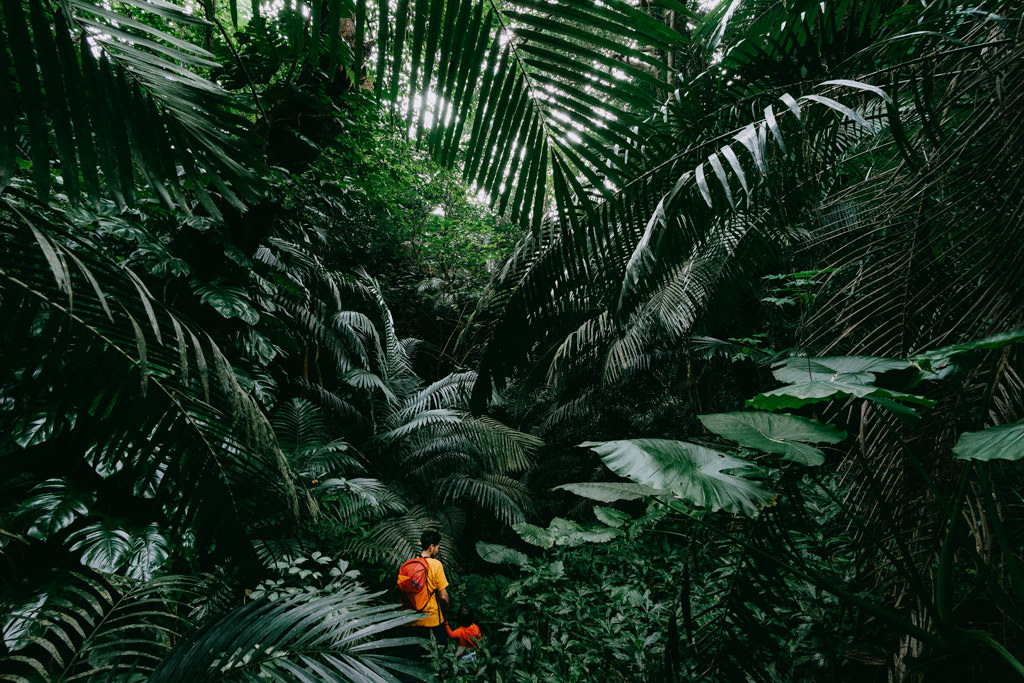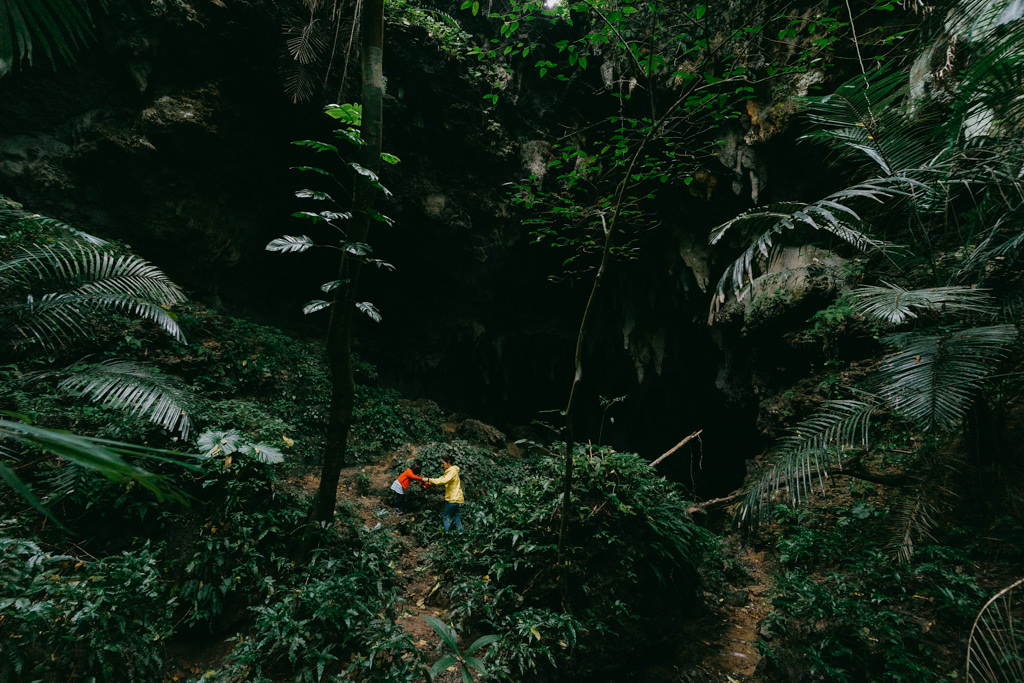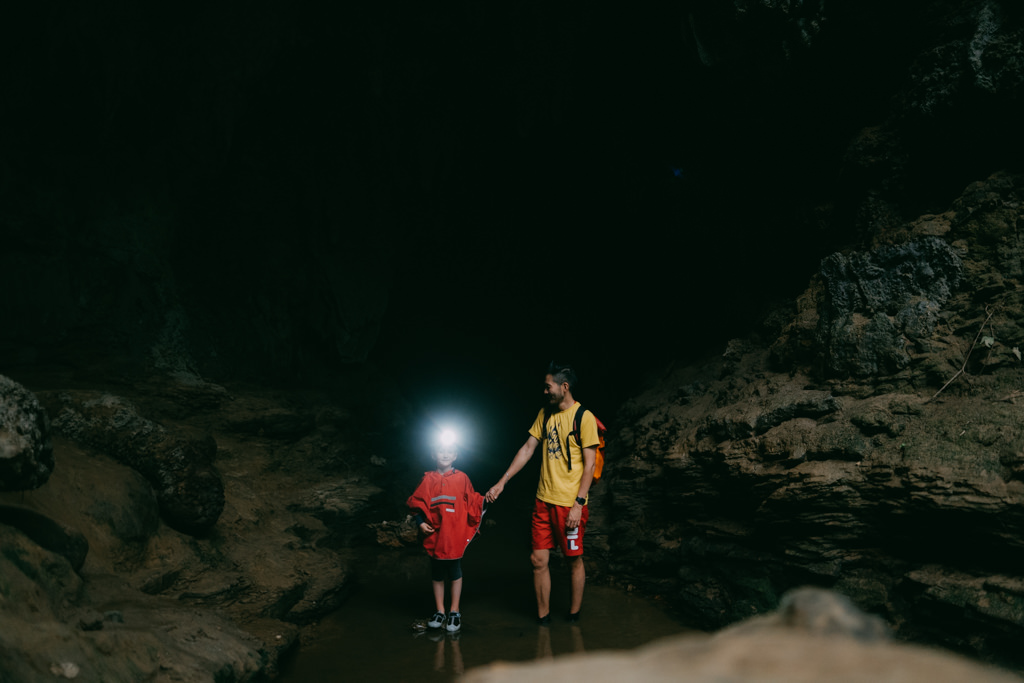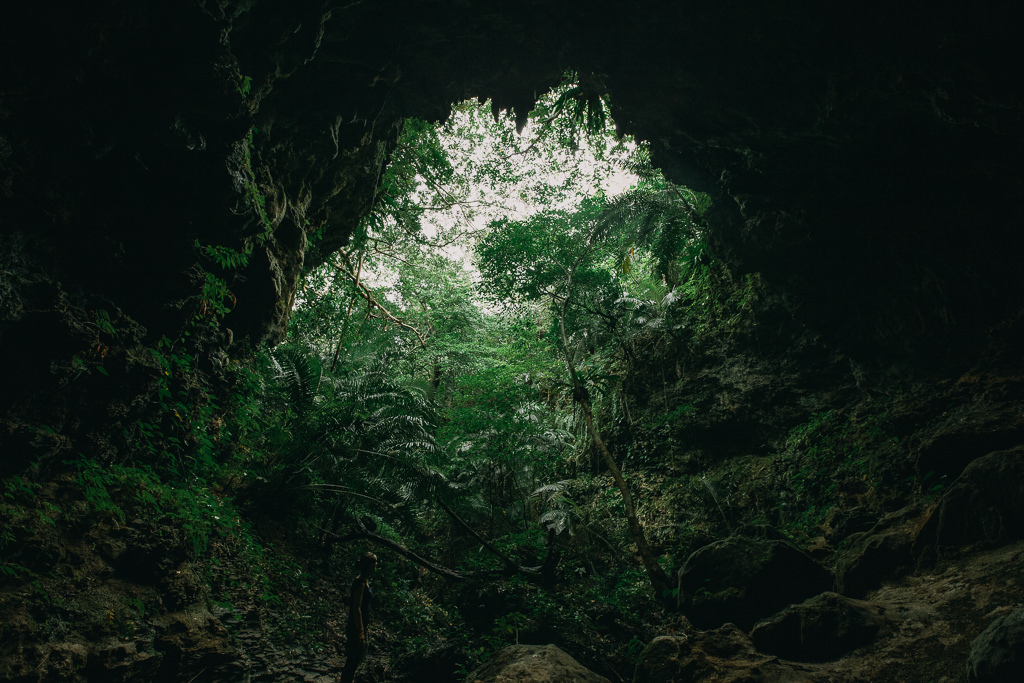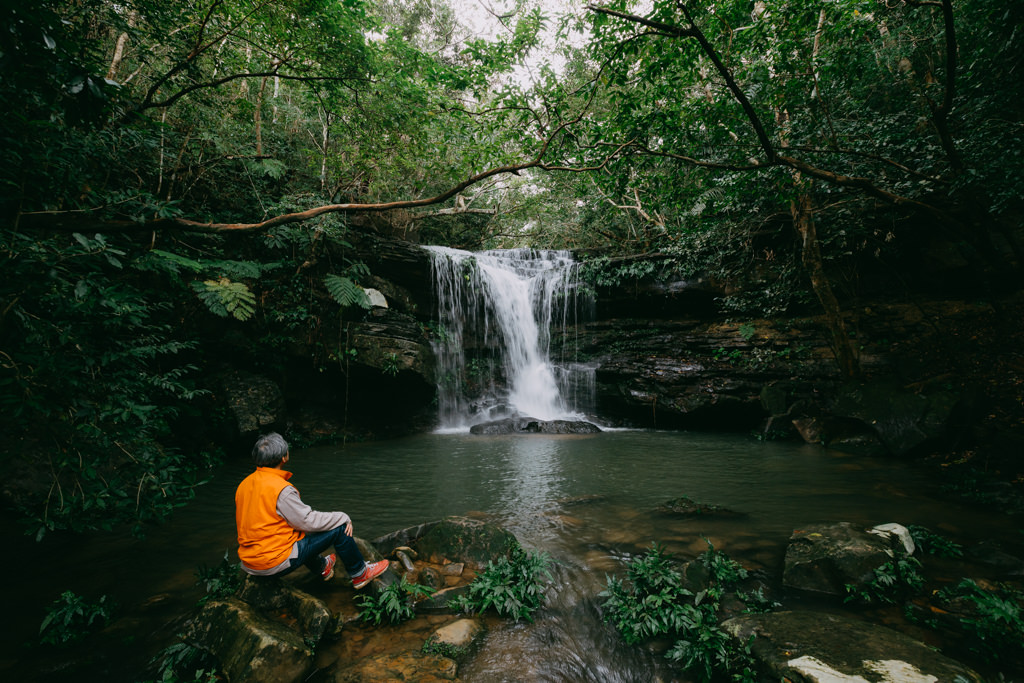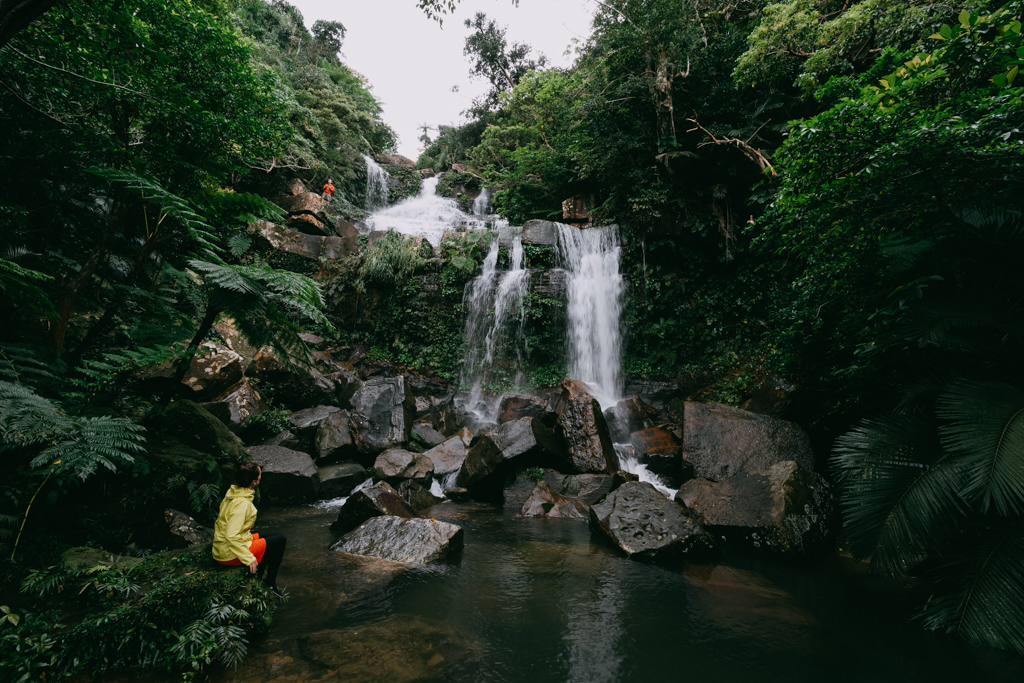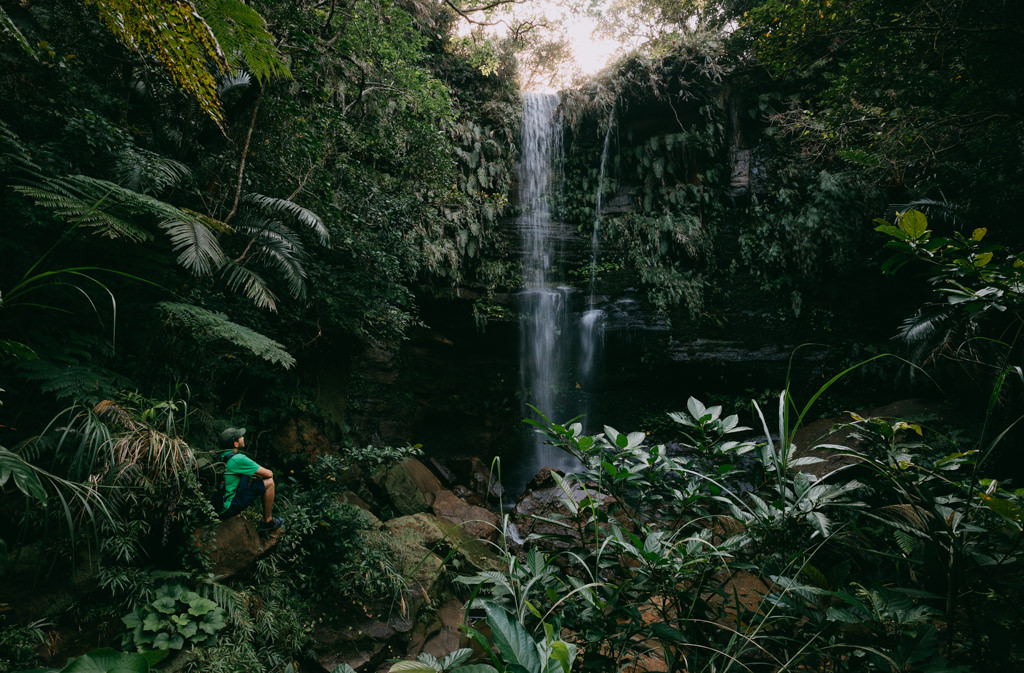 Tours by Boat
A boat tour is a great way to see many of the spots that are completely inaccessible by foot, car or kayak (unless you have unlimited energy!). With a boat tour there is the possibility to visit sandy beach caves, jungle waterfalls, mangrove rivers, coral sand cays, deserted beaches and have a great snorkeling experience within a limited time frame. For a private boat tour, we recommend our friend Kobuchi-san. He has a small covered boat and does half-day or full-day charter trips. It is best to ask someone who speaks Japanese to call – 090-5294-2144. Kobuchi-san charges JPY20,000 for the private charter plus JPY10,000 per person for a full-day tour including insurance, lunch and drinks, so if you are with a group this is good value.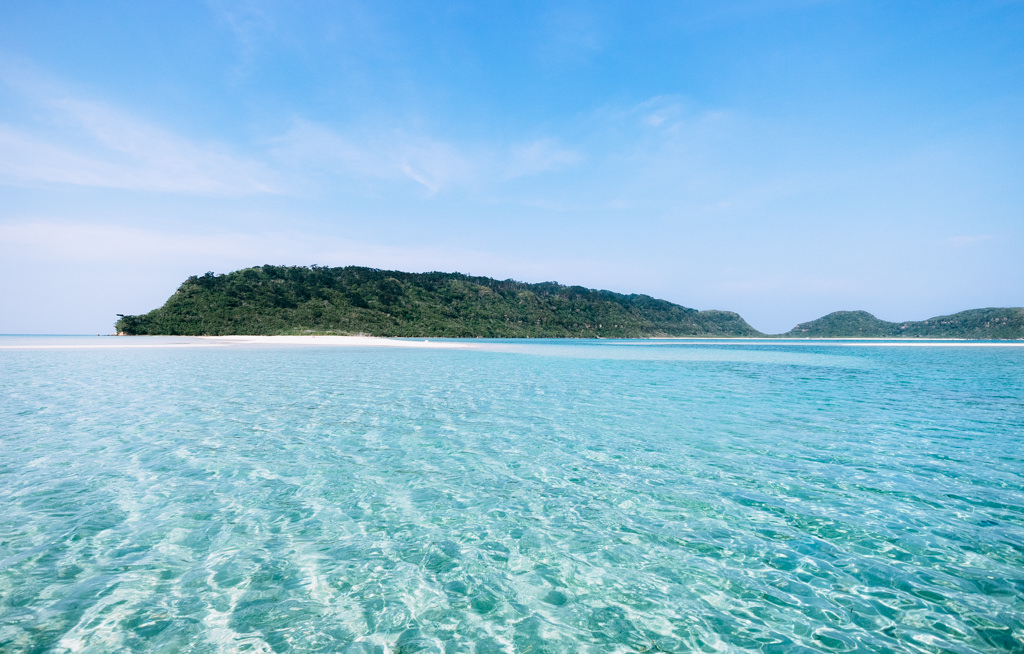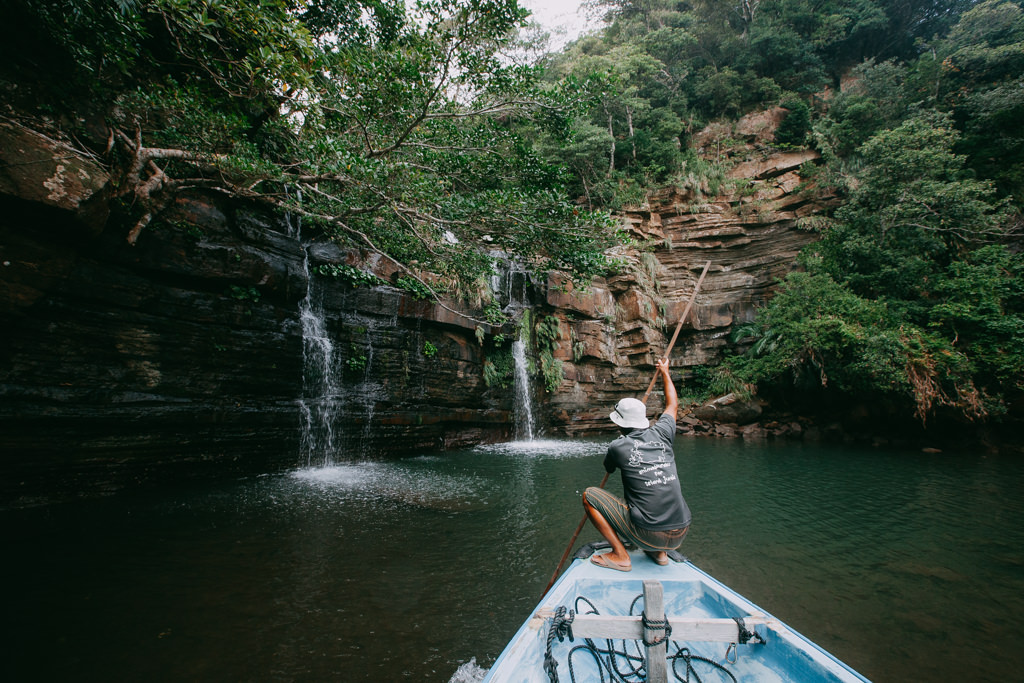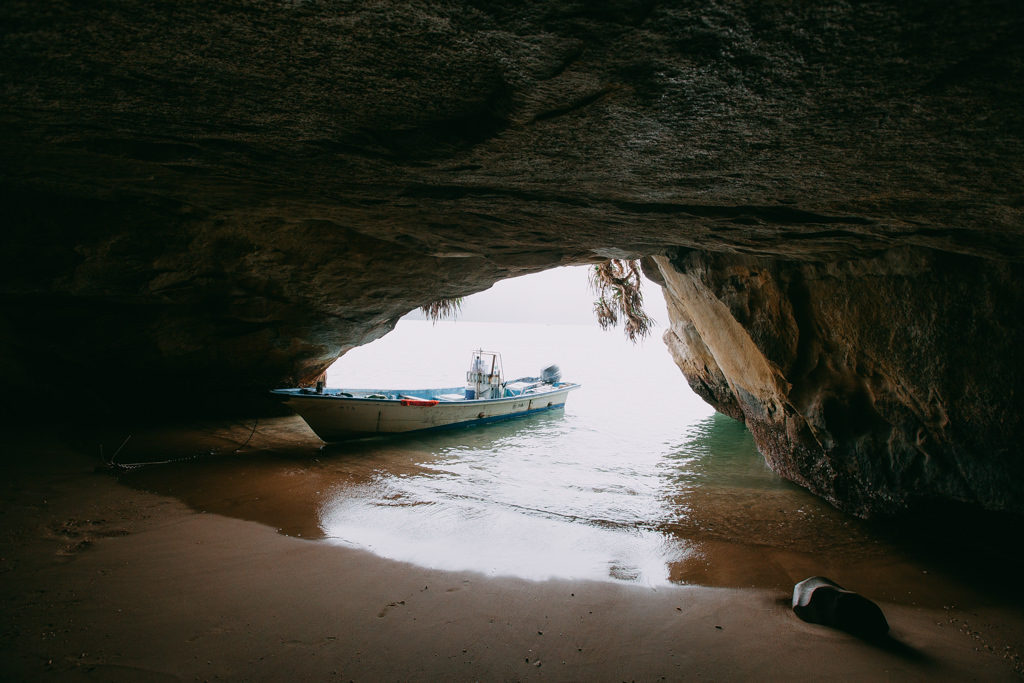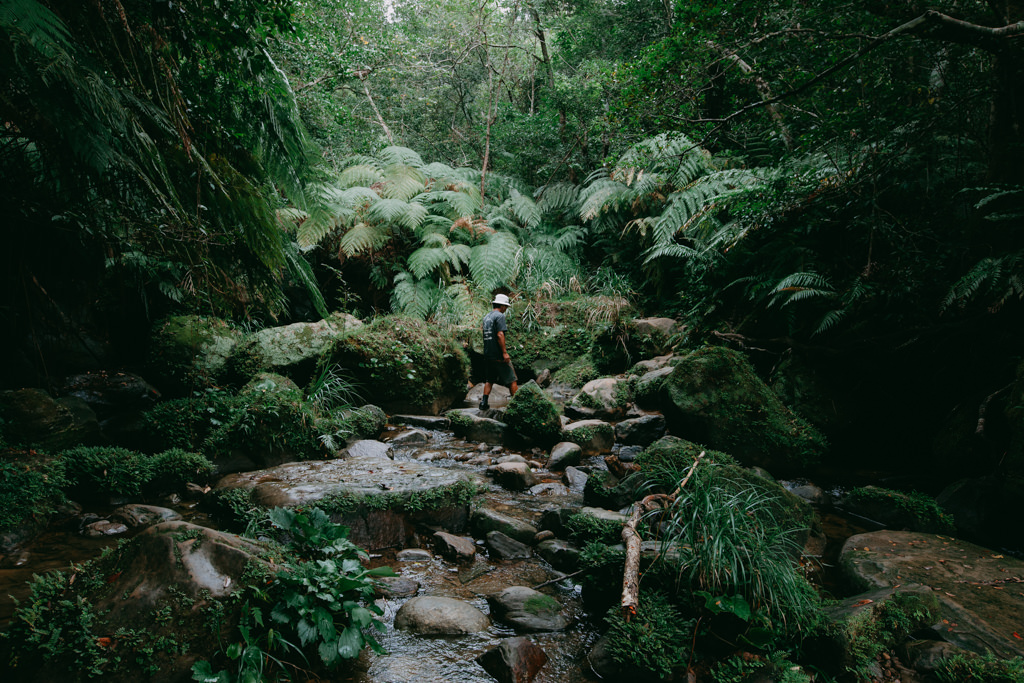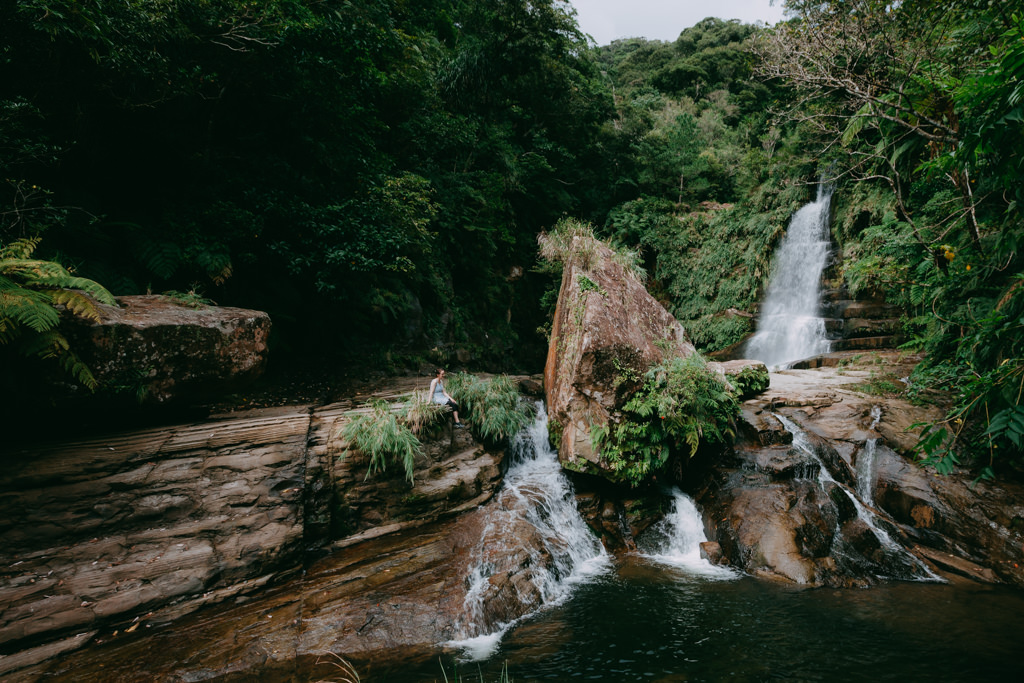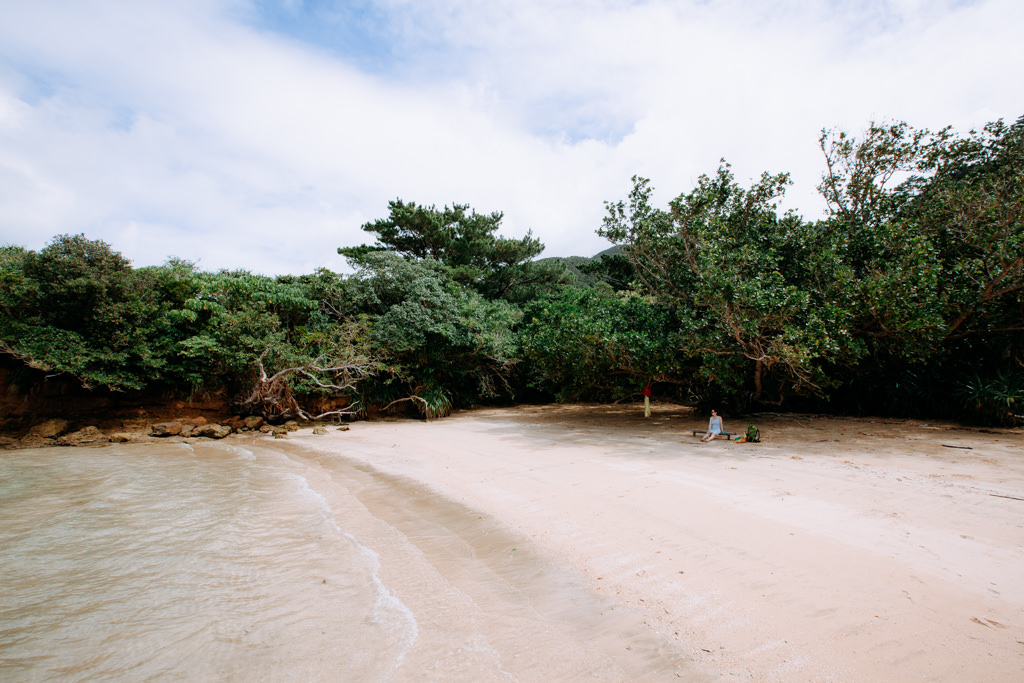 Snorkeling Tour by Boat
Iriomote has amazing offshore coral reefs, so it is essential to take a snorkeling tour by boat or charter a boat to reach them.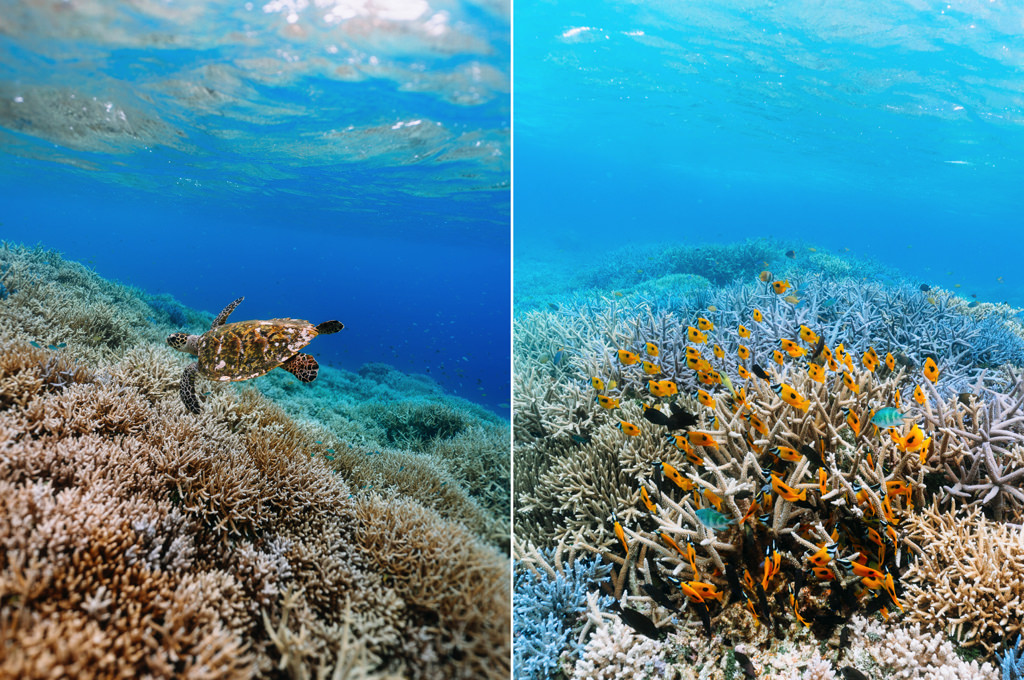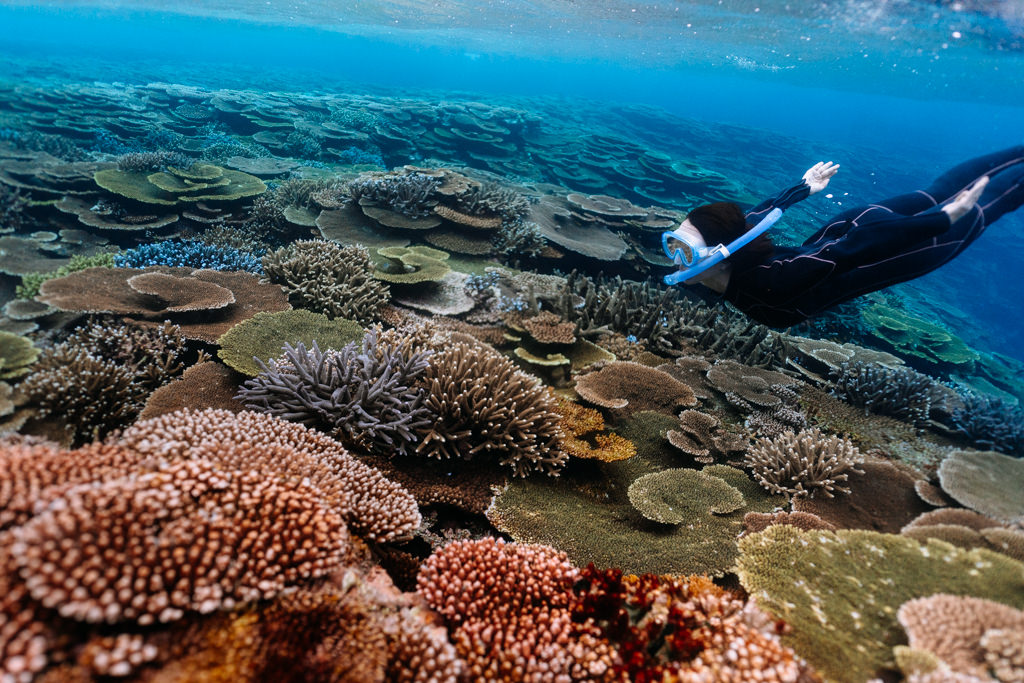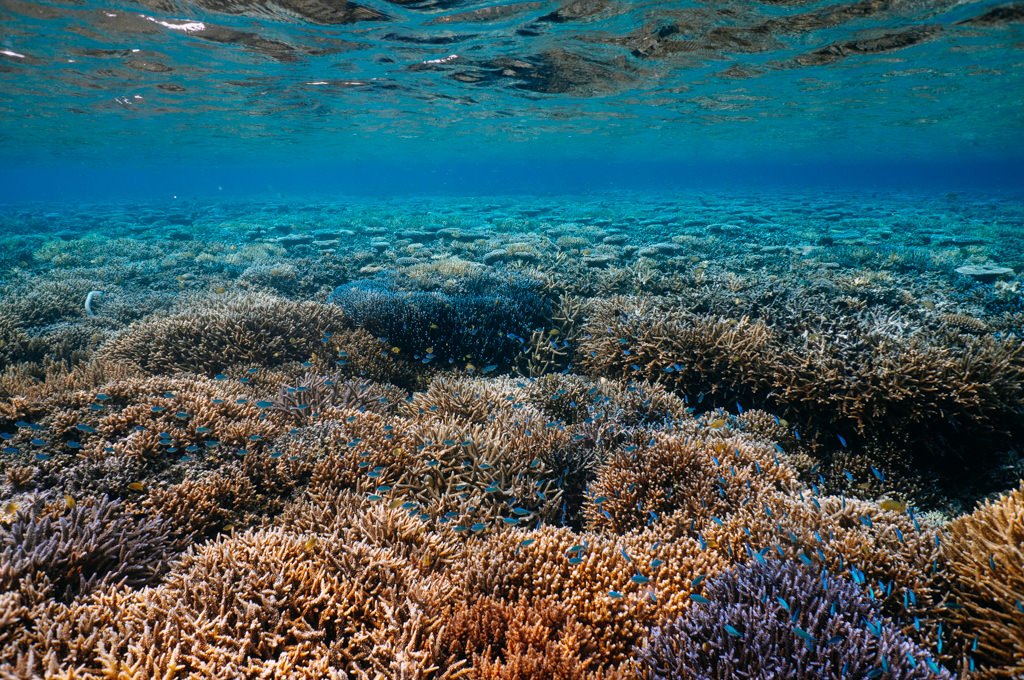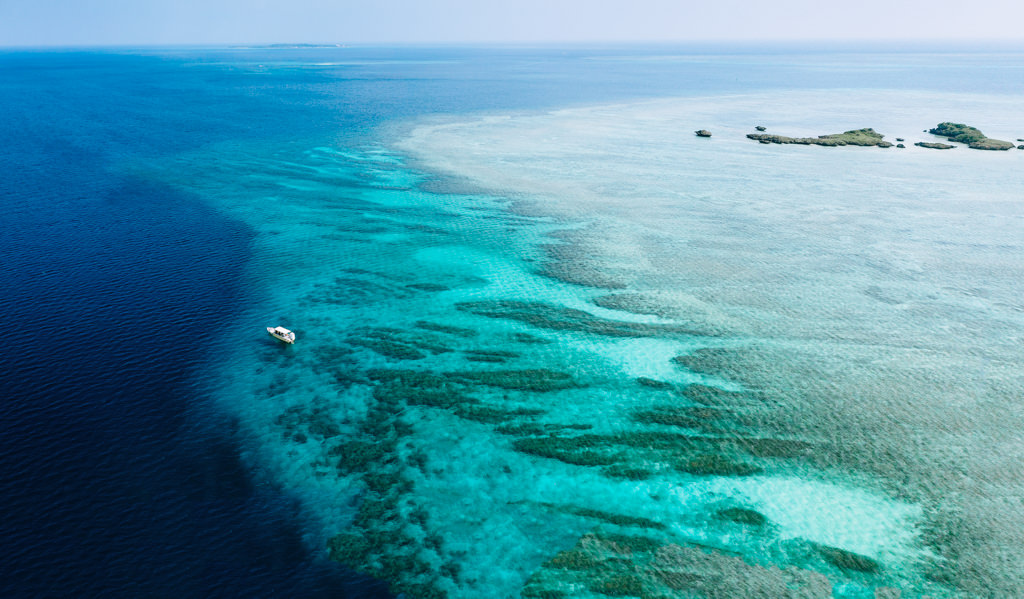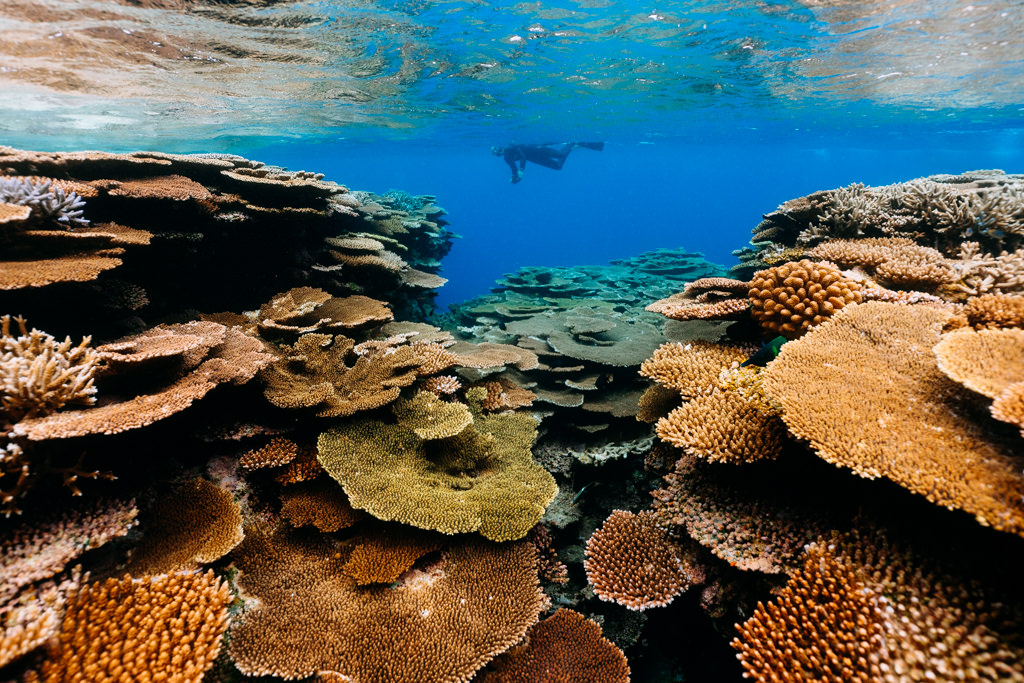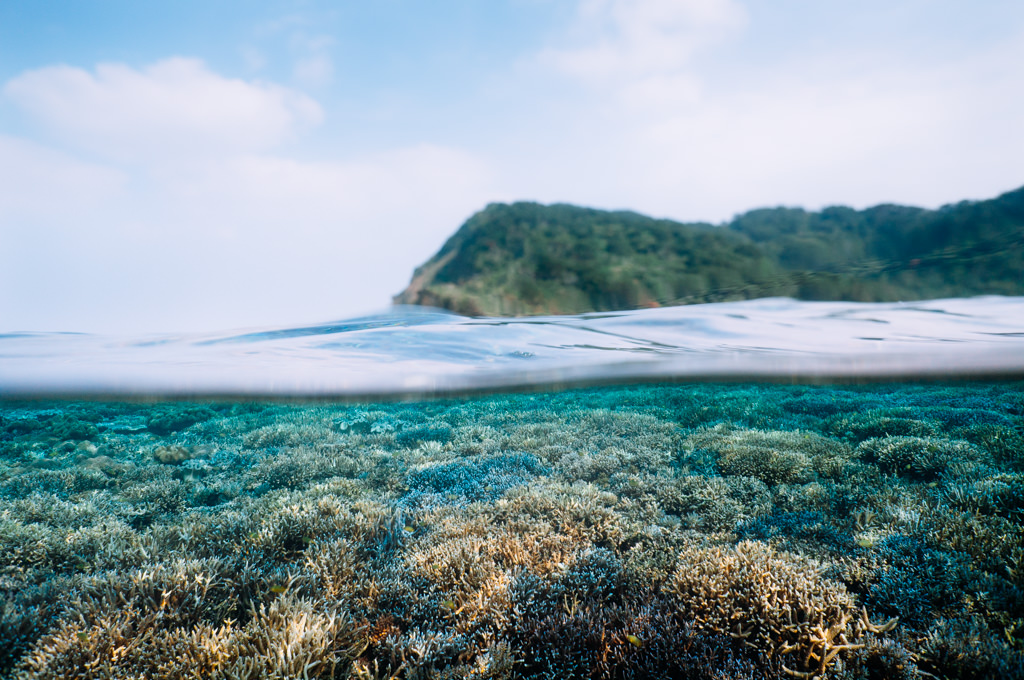 Urauchi River Jungle Cruise, Mariudo Falls, Kanpiree Falls and Kaashiku Falls
On the north end of the island, take the "Urauchi River Jungle Cruise" tourist-boat up the mangrove river and hike the relatively easy trail to Kanpiree Falls (about 1 hour walk from the boat drop-off point). There is a view point of Mariudo Falls about half way. Even though this is quite a touristy route, the hike is beautiful through lush rainforest and it is fairly easy for families with small children. If you are equipped to continue for 2.5 hours further into the jungle after Kanpiree Falls, you can reach a waterfall called Mayagusuku Falls which is often said to be the most beautiful waterfall on Iriomote Island. If you are paddling Urauchi River with your own packraft or inflatable kayak, we would highly recommend checking out Kaashiku Falls which is accessible only by kayak (see our map for the exact location).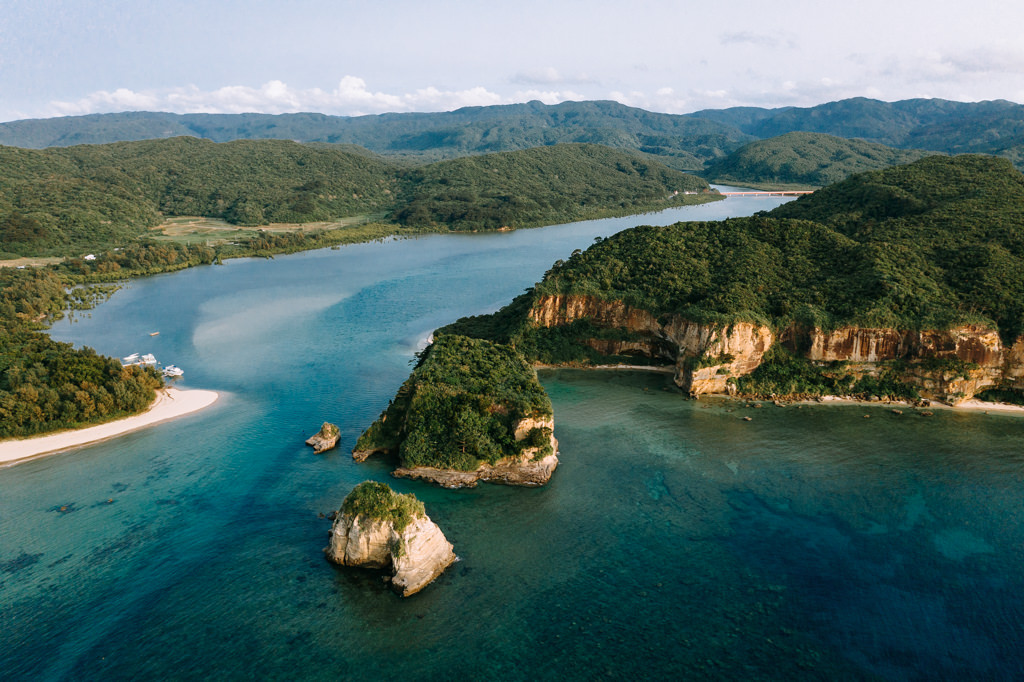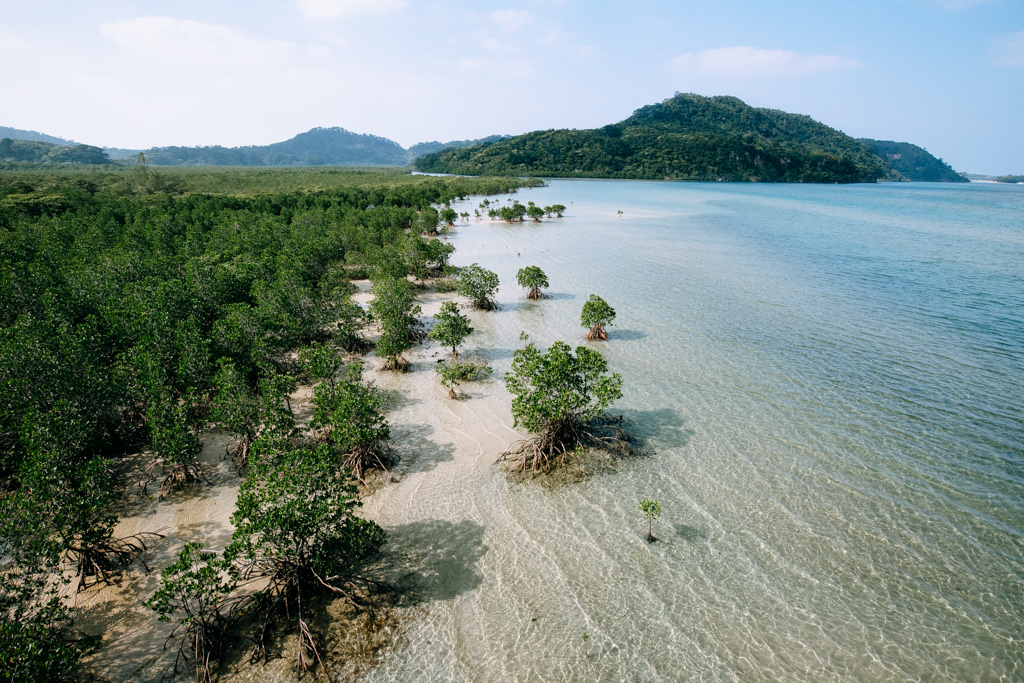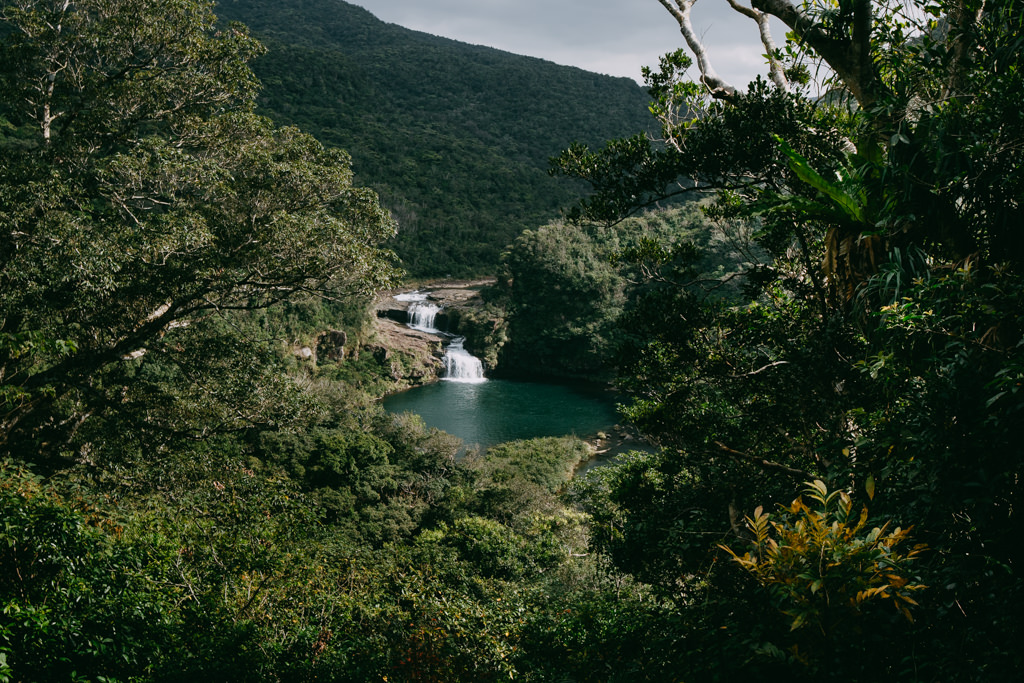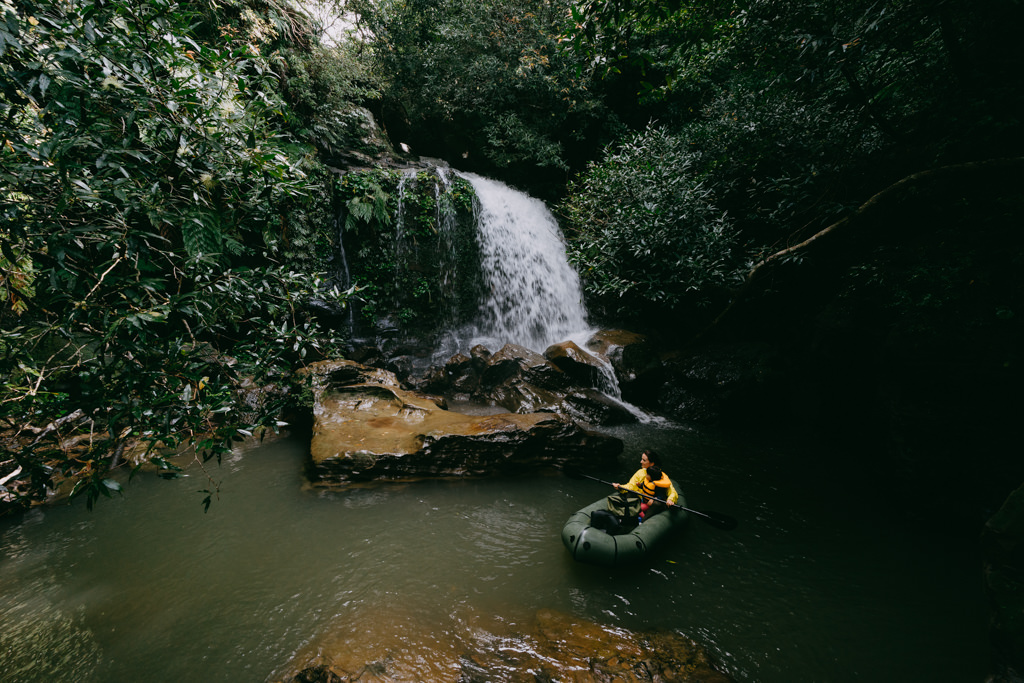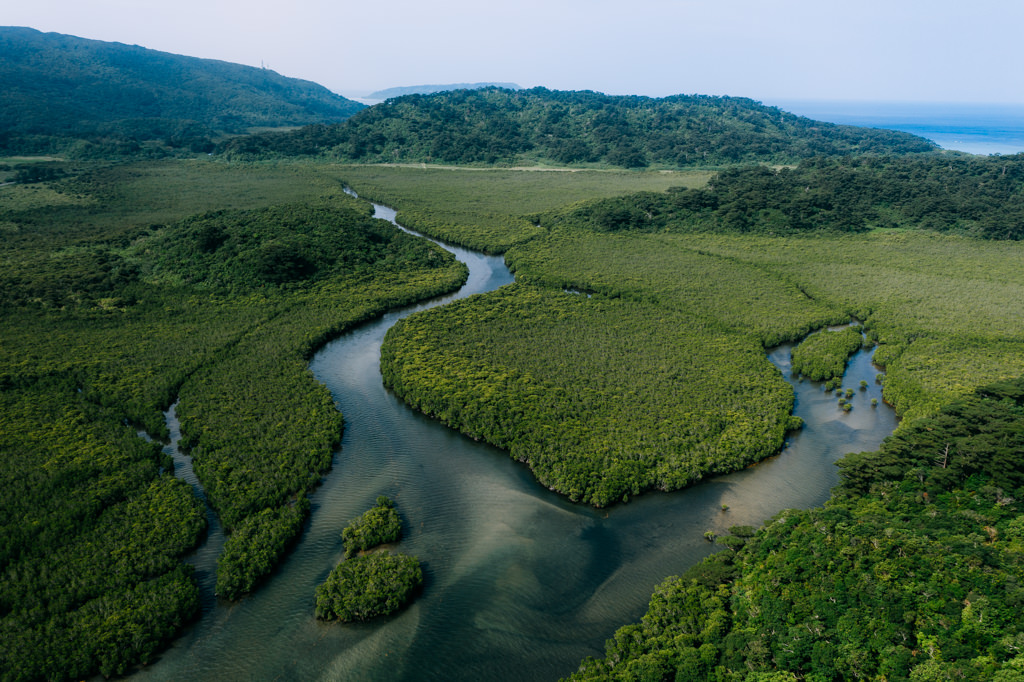 While you have your car parked near the jungle cruise boat station, it is worth taking the 15-minute walk to go and see the Utara Tankou mining village ruins. In less than 70 years after this coal mining village of 300 people was abandoned, nature has completely taken over the remaining structures. A boardwalk restricts visitors from exploring too deeply, but you can have an impressive view of the red brick rail structure which has been taken over by banyan fig (strangler fig) trees. It's hard to believe that there was even a theater in this village!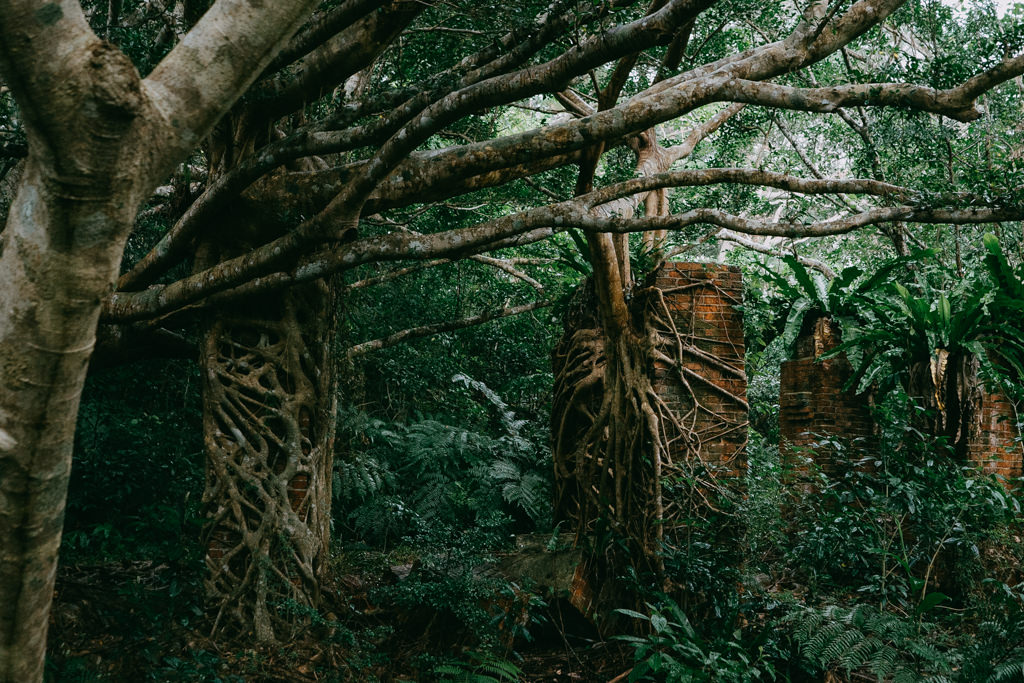 Nakama River
Nakama river runs through Japan's largest mangrove swamp where you can see six types of mangroves (there are seven types in total on Iriomote). The Nakama river area is located in the southern part of Iriomote, and it often has better weather with less rainfall than the northern part during winter months as the mountains block the passage of the northerly wind rain-producing weather system. We highly recommend exploring the small streams and the upper part of Nakama river by kayak/packraft on your own or taking a private/semi-private boat tour, rather than taking the regular sightseeing boat as it doesn't take you to the best parts of Nakama river and its smaller streams. There is also an easy trail that takes you to a view point (see our Iriomote map).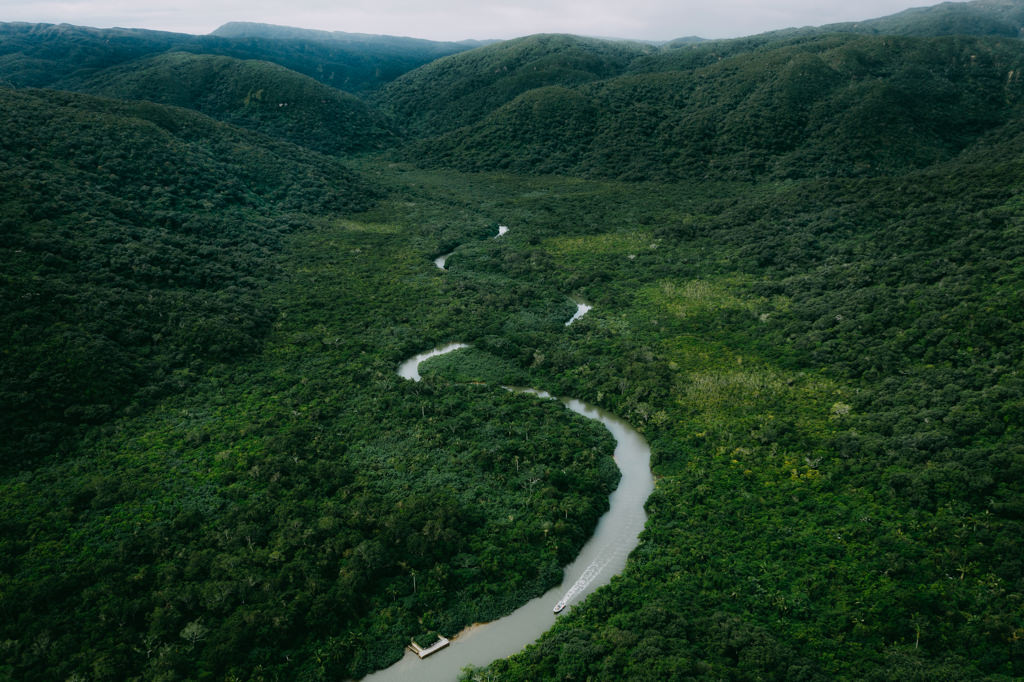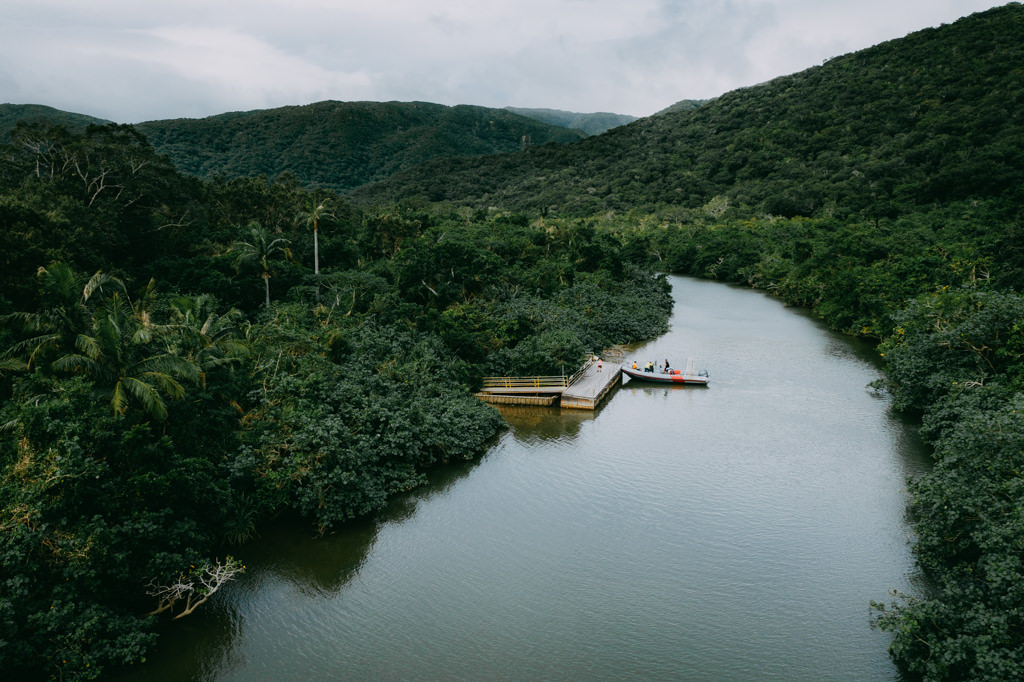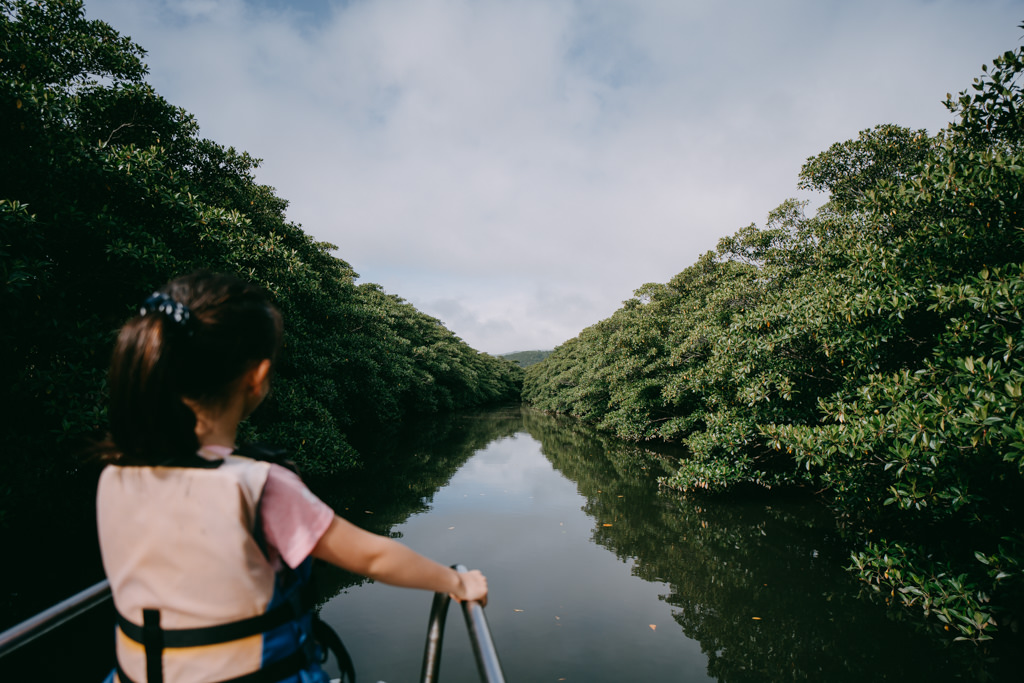 Hoshizuna Beach
A rather touristy beach but quite picturesque with  a few rocky islets which give the beach its charm. Shallow waters make this beach inviting for swimmers and snorkelers (although there is actually very little coral here). This beach is most famous for its star-shapes sand particles ("Hoshinozuna" literally means "star sand"). Nice to have an ice cream on the rather run down terrace of the cafe/restaurant and enjoy the view.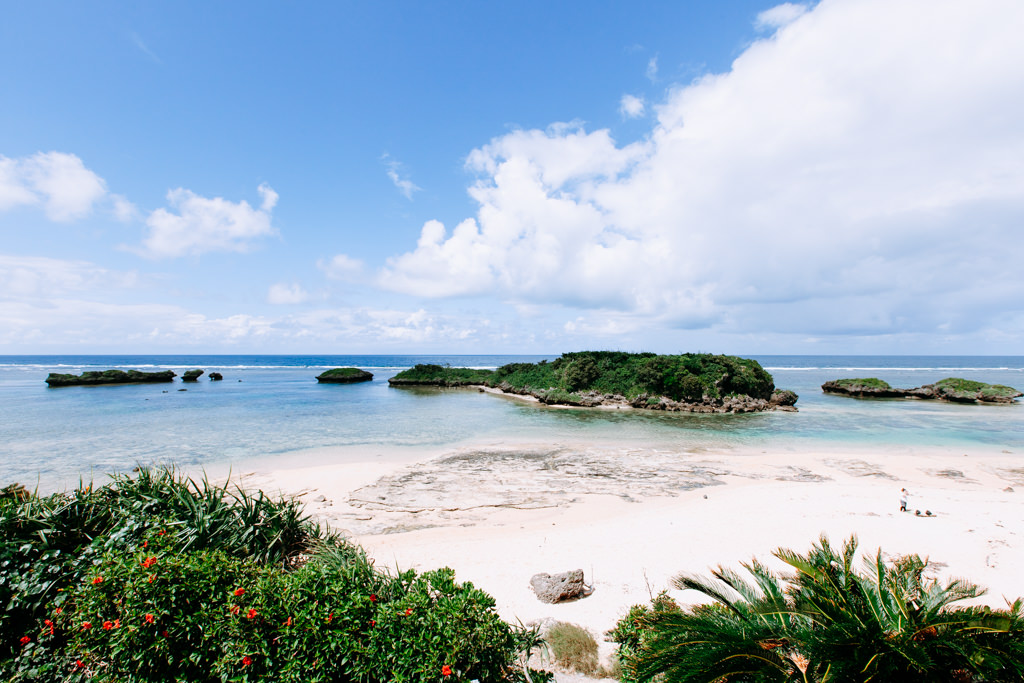 Day Trips to Coral Islands with White Sand Beaches
One of the few downsides of Iriomote would be a lack of very white sand beaches since Iriomote isn't an island entirely formed by emerged coral reefs. If you want to visit beaches with very white and fine coral sand for a day trip from Iriomote, we would recommend Hatoma Island or Aragusuku Island. You can visit Hatoma Island by regular ferry but Aragusuku Island is accessible only with a tour or by chartered boat. Snorkeling around Hatoma Island is excellent with lush pristine coral reefs despite climate change. There are snorkeling day-trip tours available to Hatoma Island from Uehara port (also possible as a day trip from Ishigaki). For a private snorkeling tour to Aragusuku Island, we highly recommend Marine Service Fushima which is run by our friend, Kuroki-san. He is based on Kuroshima Island, but offers a boat pick-up and drop-off service from Iriomote (Ohara Port).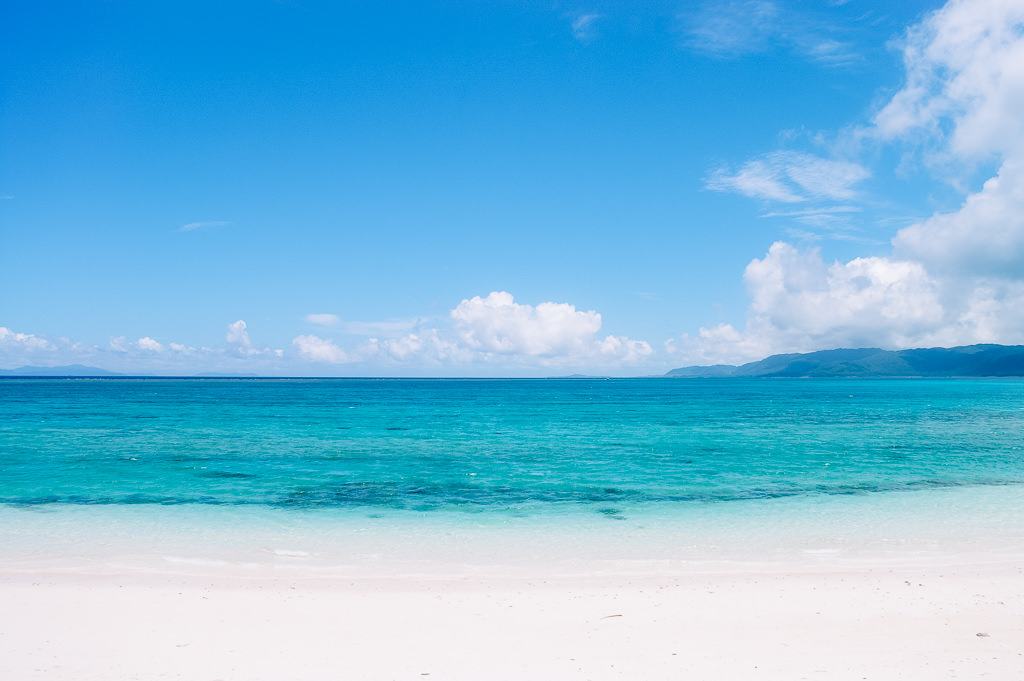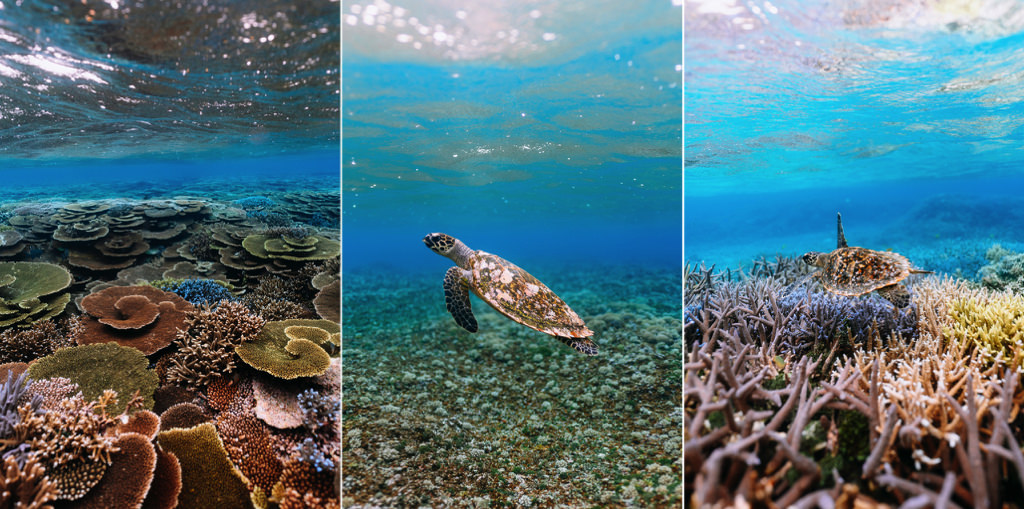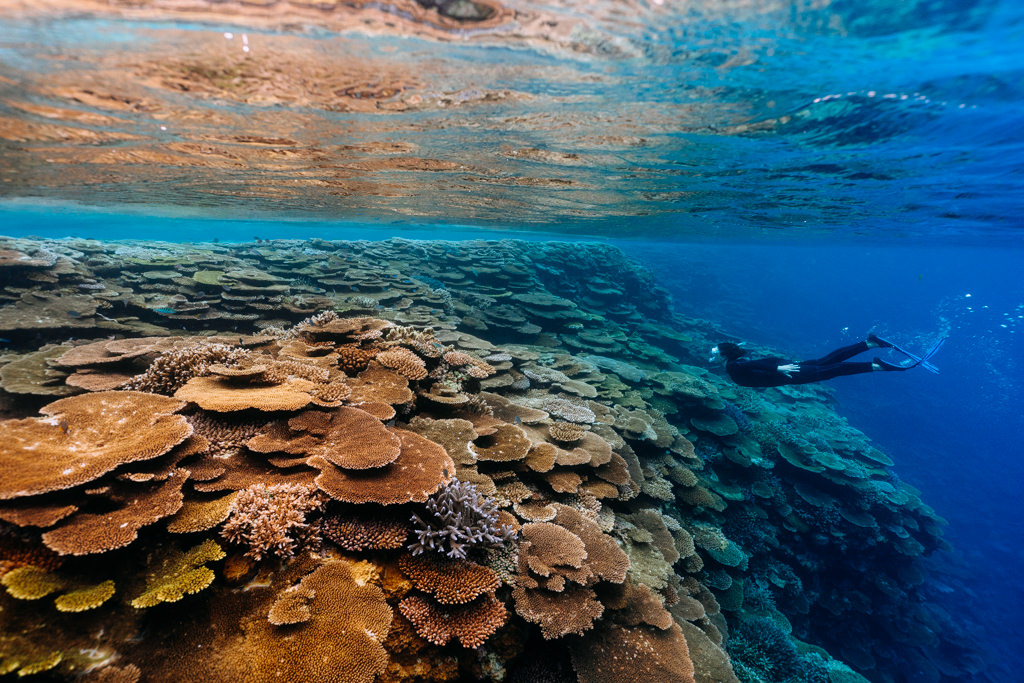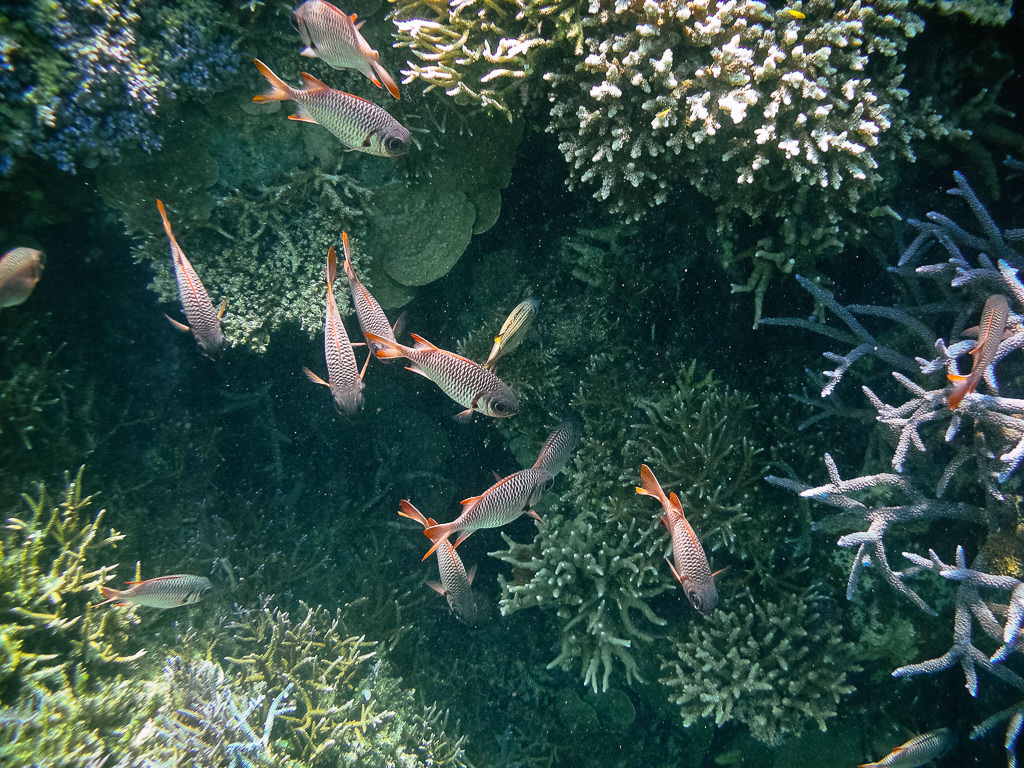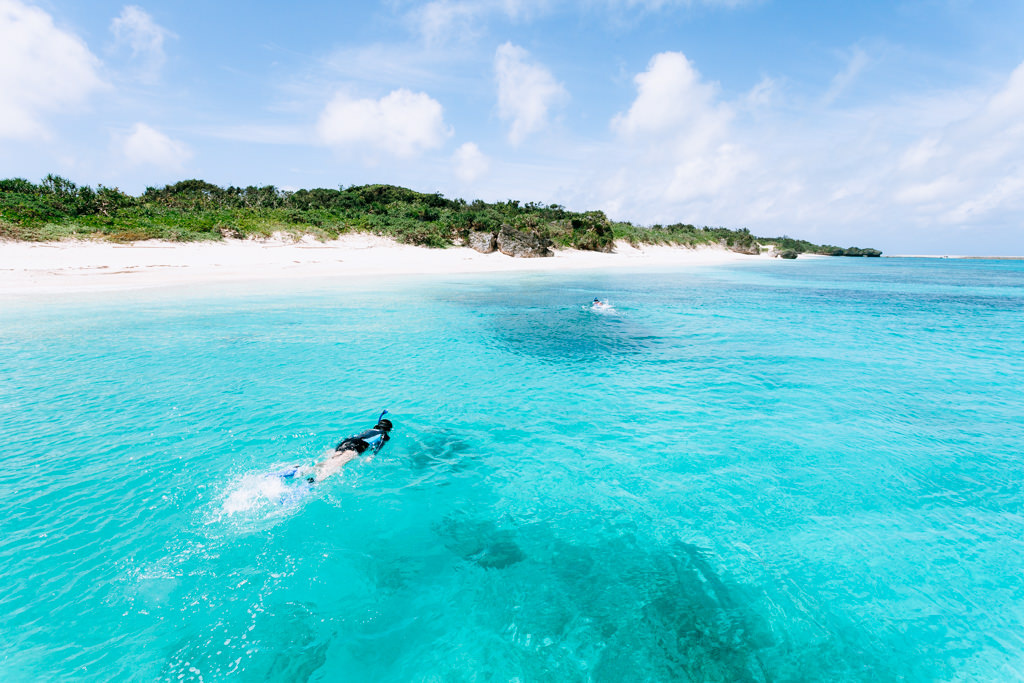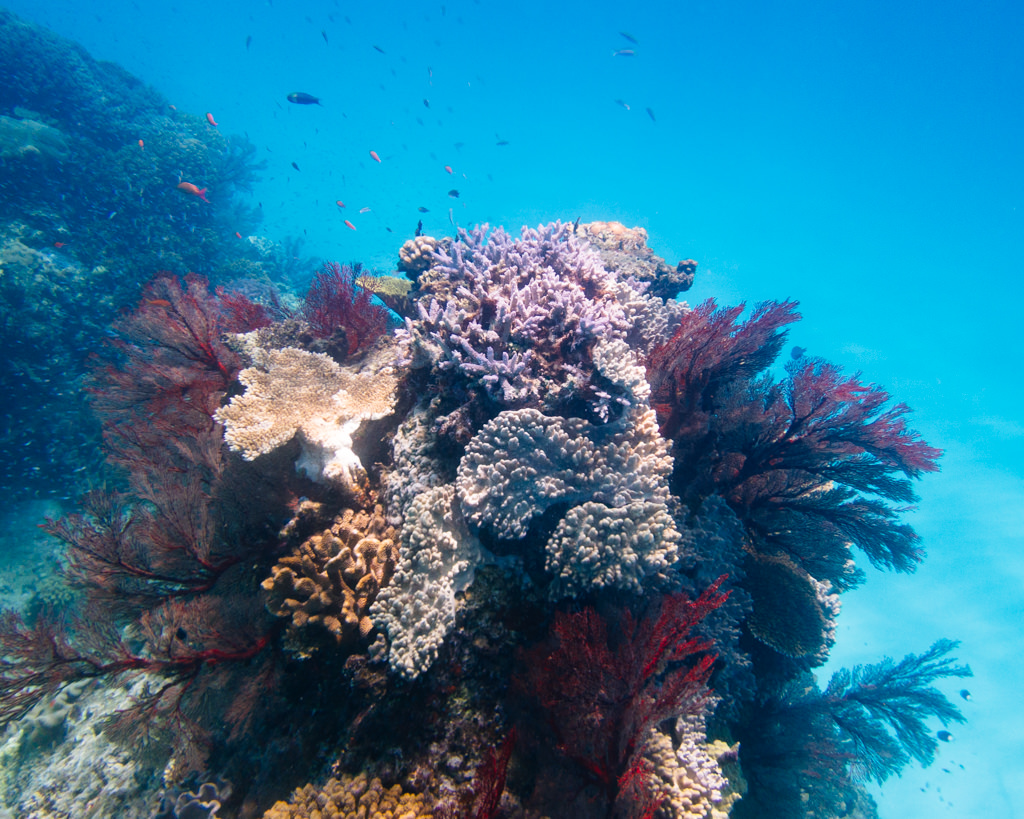 Restaurants and Cafes
Restaurants and cafes change frequently on Iriomote. Some of our long-time favourites include:
Laugh La Garden
Laugh la Garden is a casual restaurant on the second floor in the building next to the gas station near Uehara Port. Please check their opening hours/days as they take some random days off. They specialise in Okinawan pork, and burgers. If you don't know Okinawan black pork, it is truly another thing entirely from what you may know, extremely tasty and very healthy.
Parlor Mini
There are many places which do a fantastic "Soki Soba" which is a pork bone base broth, with soba noodles topped with pork spare ribs with collagen (it looks like fat but it's wonderful collagen!). This would be a standard Iriomote lunch for us 🙂 Parlor Mimi is our favourite, located near Uehara Port, but just any casual roadside place is usually great especially for lunch — just look out for the flags. Parlor Mimi is run by fruit growers, known for their premium export-quality mangos. The also serve fresh fruit juice of the season from their farm.
Roco
This non-smoking casual izayaka-style restaurant specialises in seafood. The menu is slightly more original, with a twist on traditional recipes.
Irumutiya
This izakaya is very popular amongst locals. It's a lively place serving typical local dishes with local produce, such as umi budou ("sea grapes", seaweed with a grape-like shape and succulent texture), goya champuru (stir-fry of bitter melon with pork and vegetables), Rafute (stewed pork), etc. They can also cook fish that you catch yourself.
Hateruma
Traditional Okinawa kaiseki (refined multi-course) restaurant in a beautiful traditional Okinawan house located in Ohara (Nakama Port). There is just one course reflecting seasonal and special local seafood, with organically farmed and wild ingredients of Iriomote. It costs around JPY4000 per person. If the sea is rough on the day, reservations will be cancelled. A long drive for dinner if you are staying around Uehara, but it is well worth the trip. Closed on Sundays. Advance bookings are essential.
Ichitaka
Great atmosphere and friendly staff with tables outside too. Their pizza is very popular among the locals, however the seasonal dishes are delicious too. It's a very popular place so reservations are essential.
"Mujin Hanbai" – Honesty Produce Shops
We love these road-side stalls – you never know what you're going to find available! Especially great if you are cooking yourself since it is difficult to get any decent fresh produce from the supermarkets on Iriomote, as the locals grow most of their own produce and catch their own fish, then exchange with their neighbors. Just drop the designated amount in the money jar and you're set to go.
Car Rental
Note: On average, there are 50% less rental cars compared to the pre-covid era on most Japanese islands as they had to get rid of their cars during the pandemic in order to survive, so it's best to book at least a few months in advance.
Car rental is essential on Iriomote Island if you want to do some independent exploring. Some people rely on transfers provided by nature guide tour companies, however it is quite limiting. You can rent a small car for about 4,000 yen per day (including insurance) through the Japanese version of Rakuten Travel or Yamaneko Rent-A-Car. Unfortunately most car rental booking sites don't cover Iriomote (including those that we recommend for many other islands). Best to ask someone who can read Japanese to book. You will need an International Drivers License or JAF translation. We recommend taking a ferry to Ohara port on Iriomote Island and rent a car from there regardless of the location of your accommodation because ferries to Uehara port often get cancelled even with moderate waves.
When driving on Iriomote Island, please take care to be on the lookout for wildlife. There can be creatures crossing the road, such as wildcats, box turtles, boars, coconut crabs, rail birds, snakes, etc.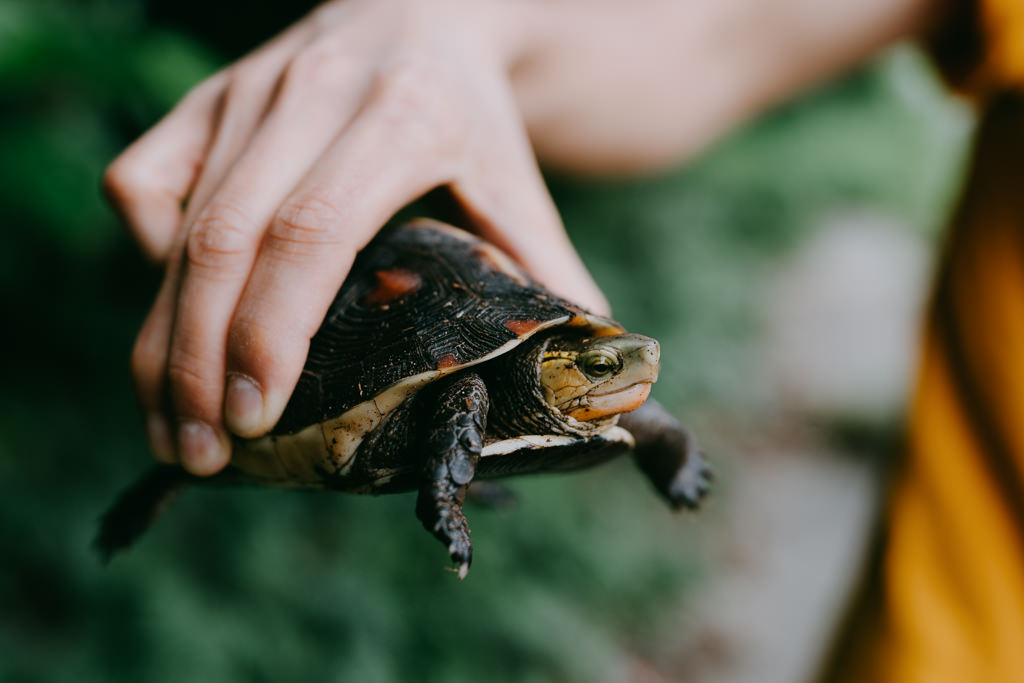 Accommodation
Iriomote is becoming much more popular in recent years, and there are new boutique hotels and "minshuku" (simple Japanese-style B&B rooms) popping up.
Cheap & basic: Minshuku Mariudo
Tatami rooms with a shared bathroom, unbeatable value with breakfast and dinner included. Gorgeous lawns out the front to relax after a day of adventure. Around JPY6,500 per person per night.
https://iriomote.mariud.com
Boutique-style & gorgeous: Nilaina Resort
With just four rooms, this place books out quickly but it is worth securing at least a night here. Set within the jungle, with views overlooking the ocean. Rooms are comfortable with private balconies giving the true feeling of being in the jungle. Big sliding doors allow you to sleep with just the fly-wire and listen to the night sounds of the jungle. Depending on the package, breakfast can be included from around JPY10,000 per person per night (depending on the season).
https://nilaina.com
Great for groups: Irunti Futademura
Basic wood cabins which are run by the small village where they are located (Hoshidate Mura Village). These no-frills cabins can house around 8 people per cabin and have basic cooking facilities. Revenue made from the cabins goes straight back into the village.
http://travel.rakuten.co.jp/HOTEL/128367/gallery.html
Weather
Located at the same latitude as The Bahamas, Iriomote Island has a Tropical Rainforest climate as opposed to Humid Subtropical climate of Okinawa Main Island and the other northern islands of Okinawa Prefecture. The average yearly high temperature is 26.6°C (79.9°F), and the average yearly low temperature is 21.7°C (71°F), making the mean annual temperature of 24°C (75°F) which is the same as Oahu of the Hawaiian Islands. The climate is similar to Southern Taiwan, warmer than Hong Kong and Northern Taiwan due to the warm ocean current around Iriomote. The annual average humidity reaches about 80%, which makes the feeling temperature very different from dry places with the same mean annual temperature such as Townsville in Queensland, Australia. The sea temperature is warm all around the year, ranging between 22°C (72°F) and 31°C (88°F). The rainy season is May-June but it does not rain all day. Usually it's just a few downpours in-between blue sky. The core season for typhoons/tropical storms is August-September but some years have very few typhoons/tropical storms while other years have many typhoons/tropical storms even as early as May or as late as November. However, at least one typhoon/tropical storm hits Iriomote during August or September every year. Usually a typhoon/tropical storm affects the weather only for a few days and you get beautiful clear blue sky as soon as the typhoon passes away.
Note: Unfortunately all international weather forecasts for Ishigaki/Iriomote are inaccurate (including weather histories), such as the default weather apps on smartphones, Google weather, Accuweather, etc. They are almost always a few Celsius degrees lower than the actual temperatures measured on Ishigaki/Iriomote (especially during winter), and sometimes they can be completely wrong since they don't have access to the proprietary data from Ishigaki weather station owned by JMA (Japan Meteorological Agency).
We recommend this weather forecast using the JMA's data from Ishigaki weather station (It's in Japanese with Celsius but it's straightforward). There is no weather forecast specifically for Iriomote but the Ohara area of Iriomote is pretty much the same as Ishigaki, while the Uehara area of Iriomote during winter (with northerly wind) is often a couple of Celsius degrees lower with more clouds than the Ohara area.
https://weather.yahoo.co.jp/weather/jp/47/9410.html
The weather on any southern Japanese island, however, is so unpredictable that weekly weather forecasts (even two days ahead) should really be used as a guide only. The conditions can also be very different even on the same island between north and south or mountains and coastal areas.
Average temperatures of Iriomote Island, Okinawa, Japan (1991-2020, Japan Meteorological Agency)