Ishigaki Travel Guide & Tips | Things to Do on Ishigaki Island by Ippei & Janine
< Back to Ishigaki Island page
View Ishigaki Island tips map in a larger map
Ishigaki Island of the Yaeyama Islands
A picturesque grazing land for Ishigaki Gyu (Ishigaki Island Wagyu beef), and serving as a perfect hub for other neighbouring Yaeyama islands, Ishigaki Island (also known as Ishigaki-jima) offers pleasant beaches, colorful coral reefs, beautiful jungle and lush mangrove rivers, making it an easy getaway without giving up the conveniences of modernity.
The Yaeyama Islands are located near the Tropic of Cancer; more south than Taipei and closer to the northern islands of the Philippines than to Okinawa Main Island. If you like jungles as well as beaches, we highly recommend the Yaeyama Island group. The Yaeyama Islands are also perfect for snorkeling and scuba diving as they have one of the largest coral reef systems in Asia.
Kabira Bay Lookout Point
The Kabira Bay lookout point is a very touristy spot but a must-see place, even though it is prohibited to swim in this part of the bay (due to many tourist boats, strong current and mainly to protect the black pearls). The view is better in the afternoon due to sun's reflection in the morning. It is also an excellent area for kayaking (required to launch your kayak away from the area where the tourist boats are docked).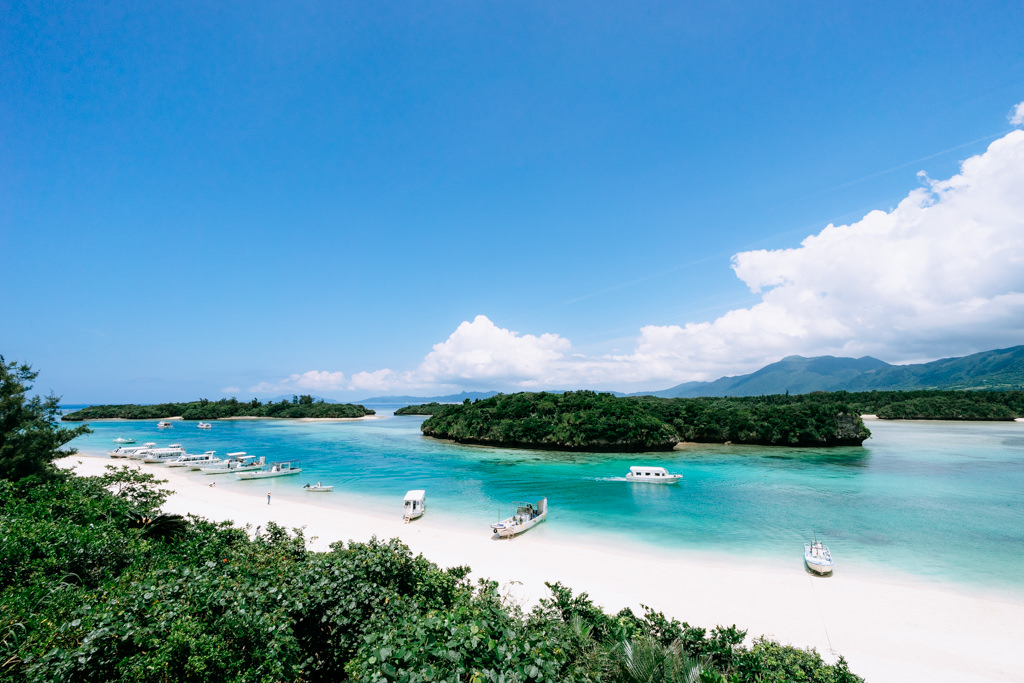 Kabira Bay Inner Beach
Not necessarily a good beach for snorkeling, but it is certainly one of the most visually stunning beaches on Ishigaki, with calm tropical water and plenty of shady spots under the trees. Due to the calmness of the water, it is a great place for SUP. There are tasty wild coconuts growing on Kojima Island in the bay, which can quench your thirst if you are good at climbing trees.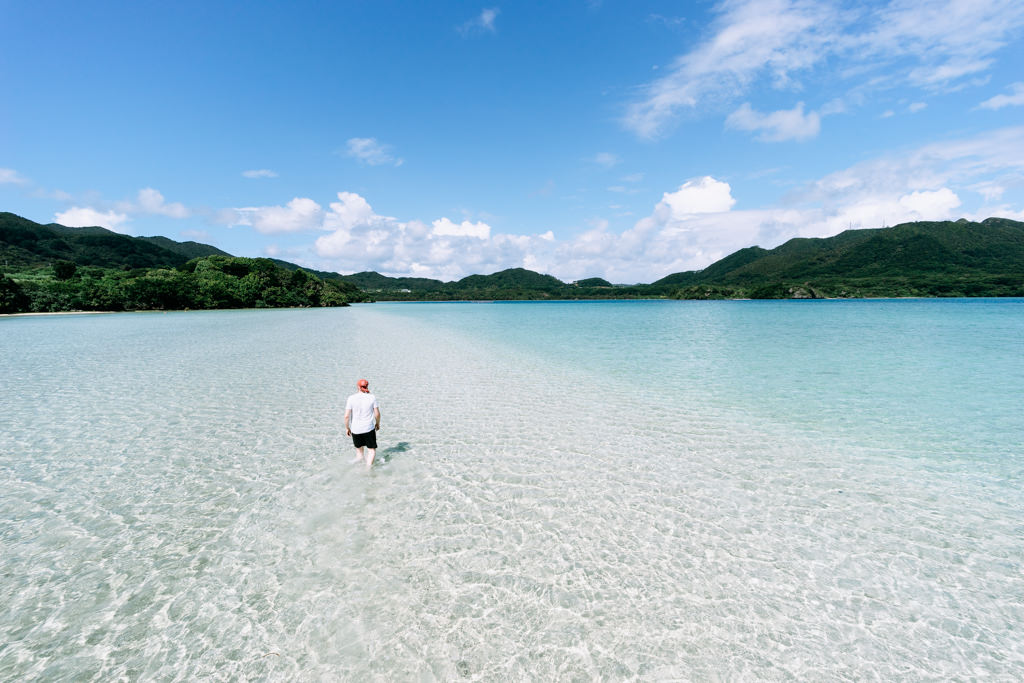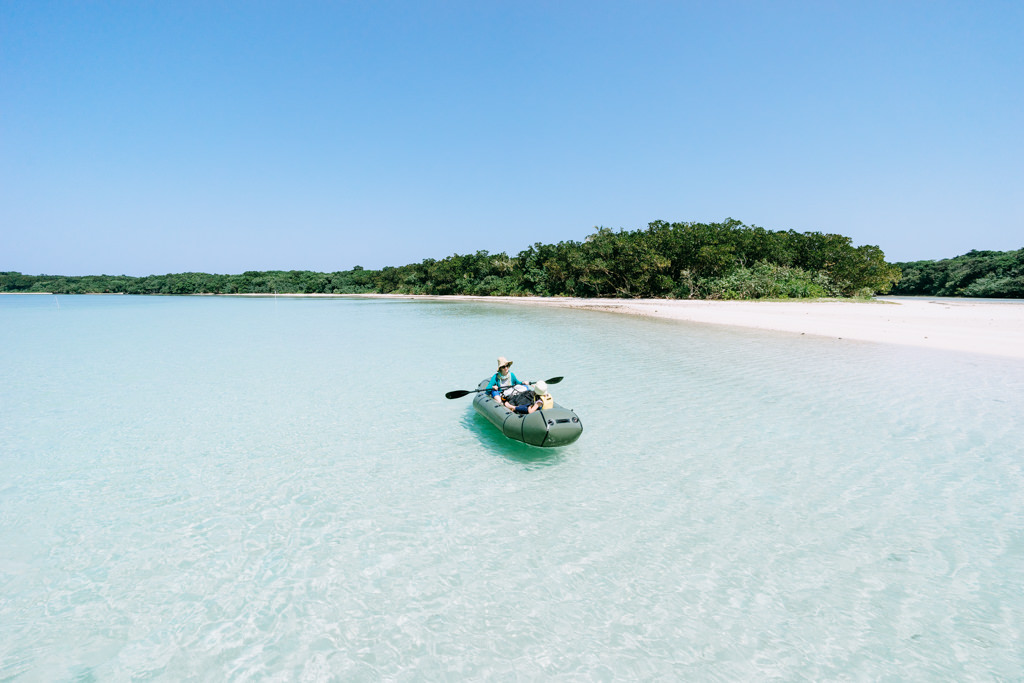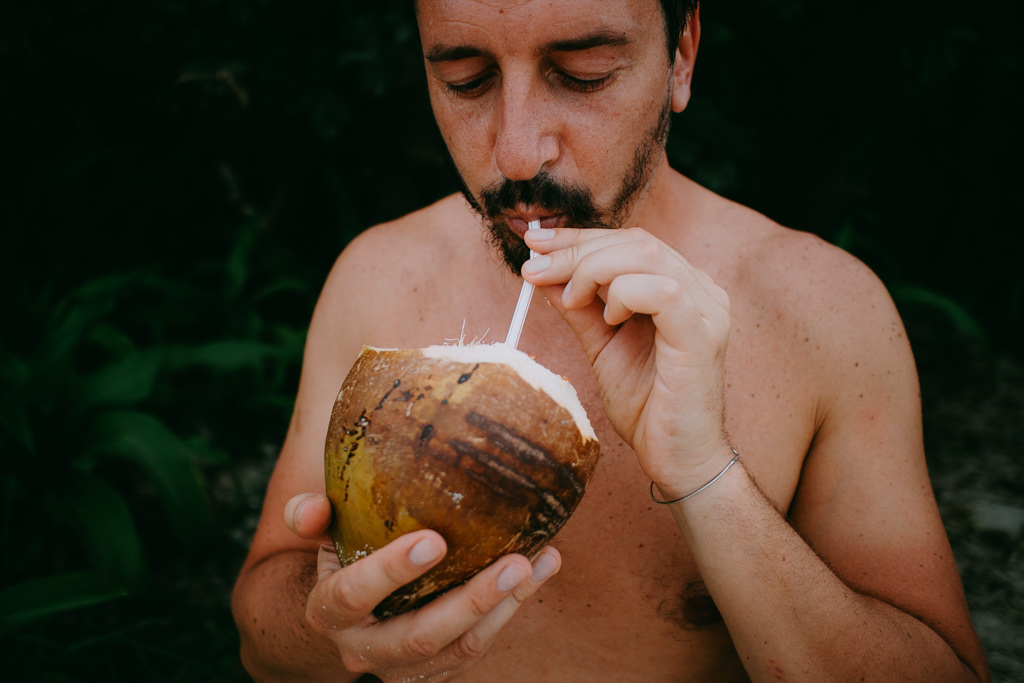 Fukidou River Kayaking
If you are not going to Iriomote Island but still want to experience the jungle by kayak, we'd recommend Fukidou River. If you can't bring your own packraft or inflatable kayak, the best tour is the "Mangrove kayaking & waterfall stream-hiking" (Half day tour, 5,000 yen) operated by Fukidou Kanko. The tour includes everything you need.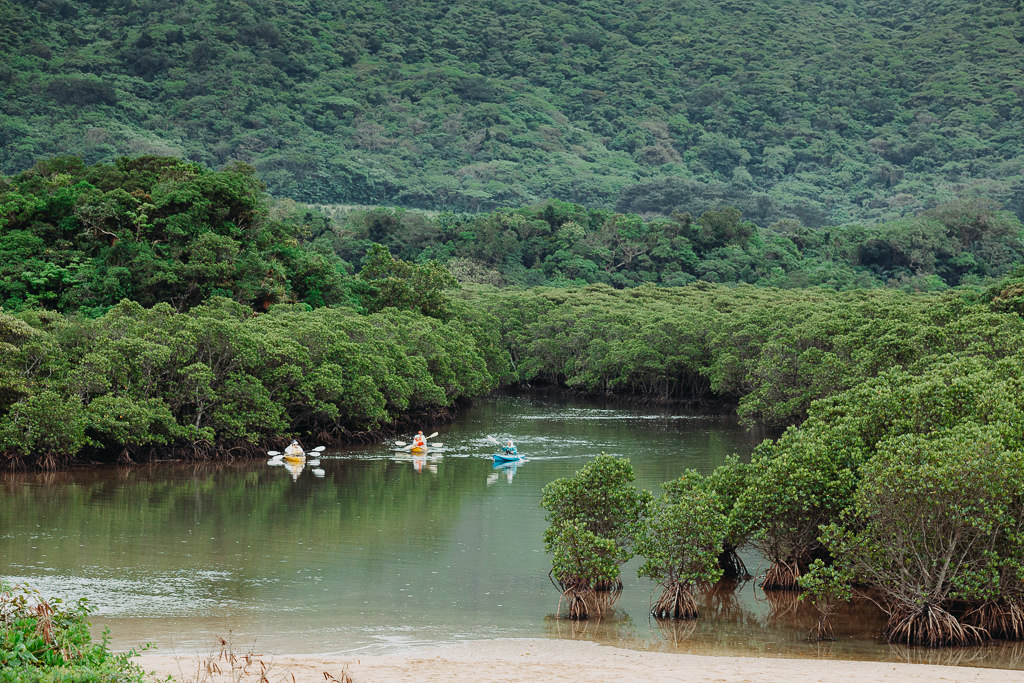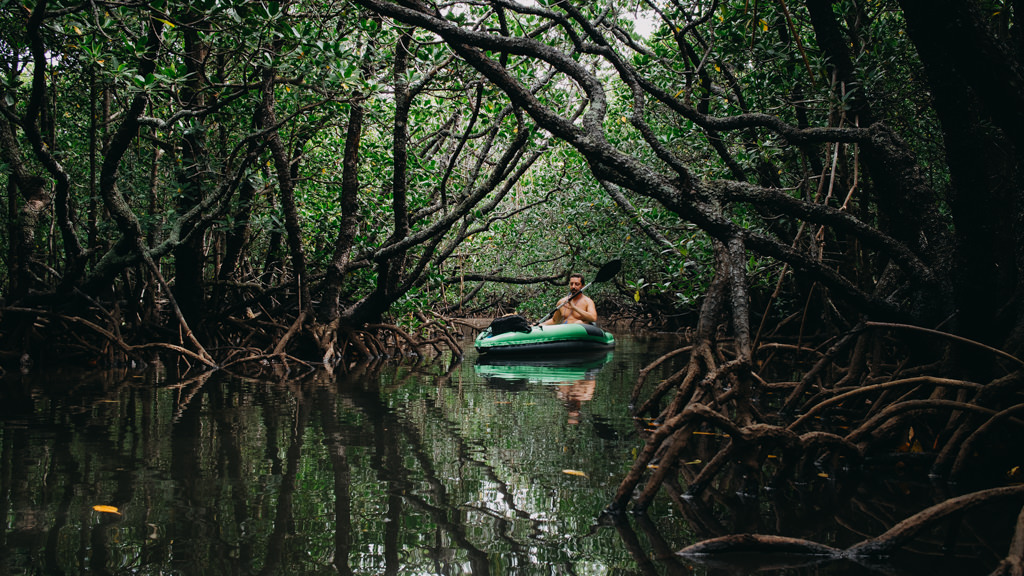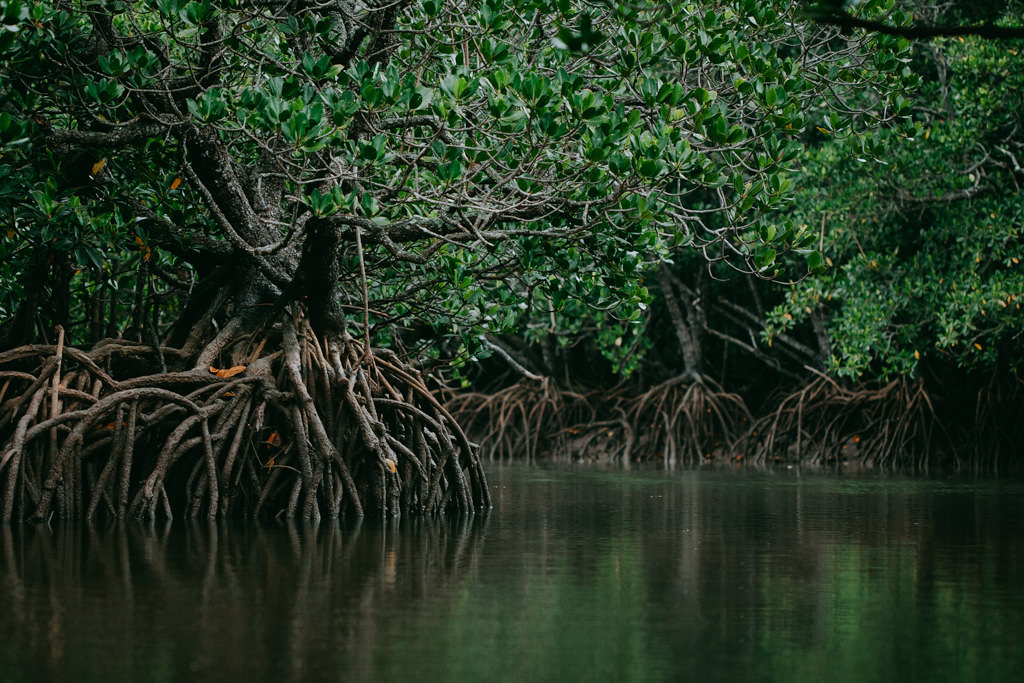 The waterfall is also accessible on foot (see "Fukidou River" on our map for walking path).
Note: Although malaria on the Yaeyama Islands was eliminated in the 1970's, there are mosquitoes that carry Japanese Encephalitis (April-December), so best to use insect repellent just to be sure since most westerners don't have the vaccination.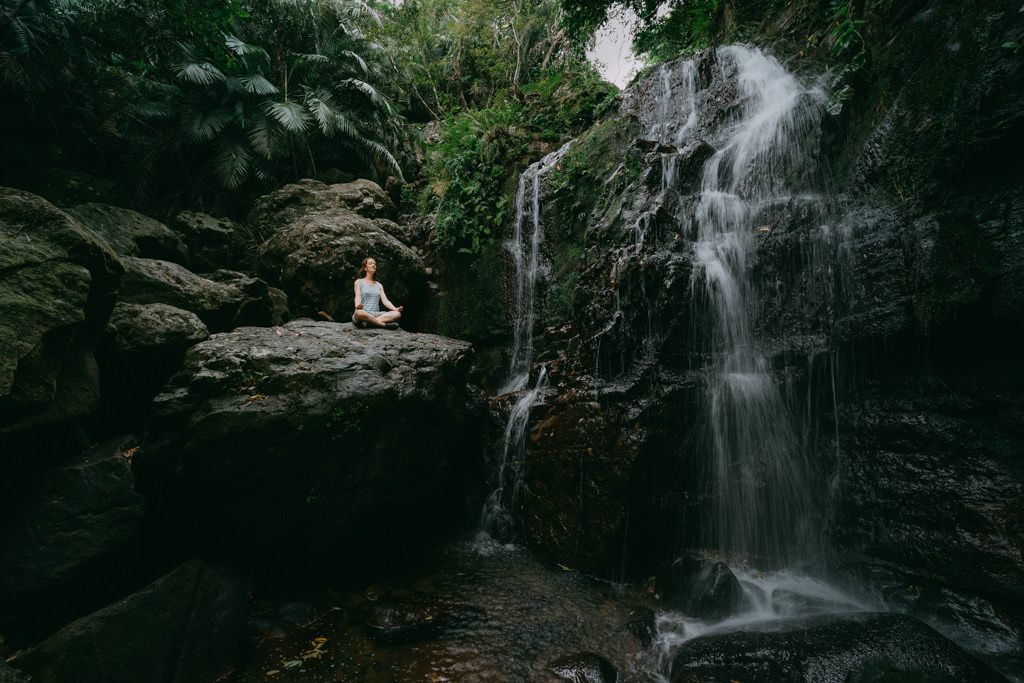 Kabira Ishizaki Manta Scramble
Ishigaki boasts a very high chance of encountering giant manta rays, about 90% chance while scuba diving at the point called Kabira Ishizaki Manta Scramble. There are also snorkeling tours to see manta rays but we must say that it's often boring for snorkelers. The point does not have beautiful coral reefs and it's too deep for snorkelers to enjoy (even if you can see manta rays, usually you see them small from the surface).
Video by our friends (The last part is from the Manta Scramble point of Ishigaki): http://vimeo.com/31759035
Beautiful Landscape of Northern Ishigaki
Northern tip of Ishigaki seen from a plane (pick a seat on the right side of the plane for the view when flying from Mainland Japan):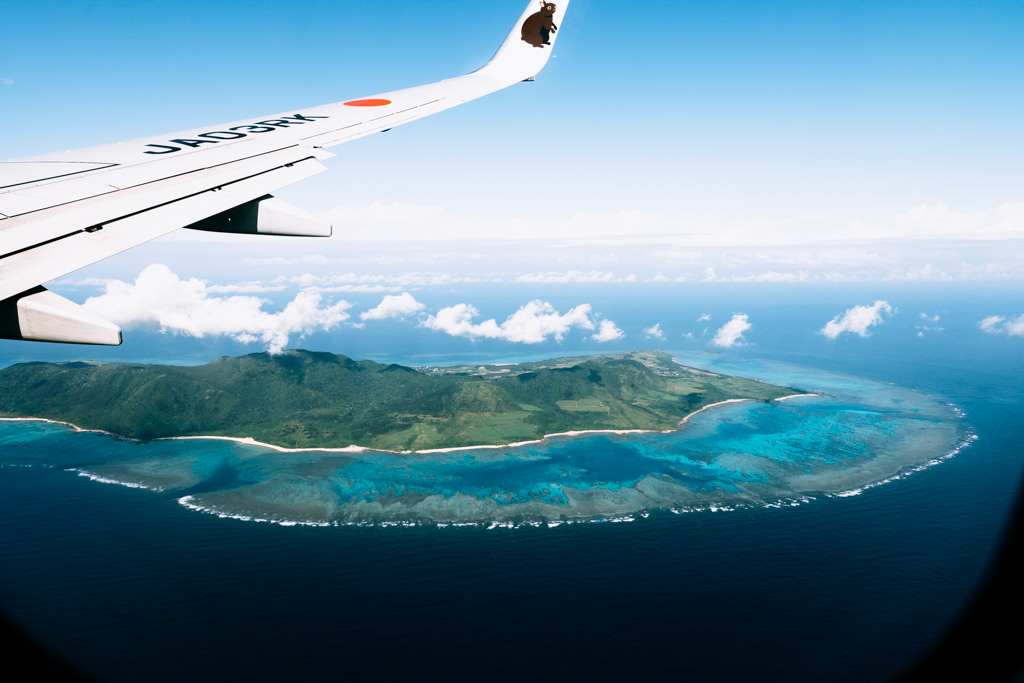 Tamatorizaki Observatory: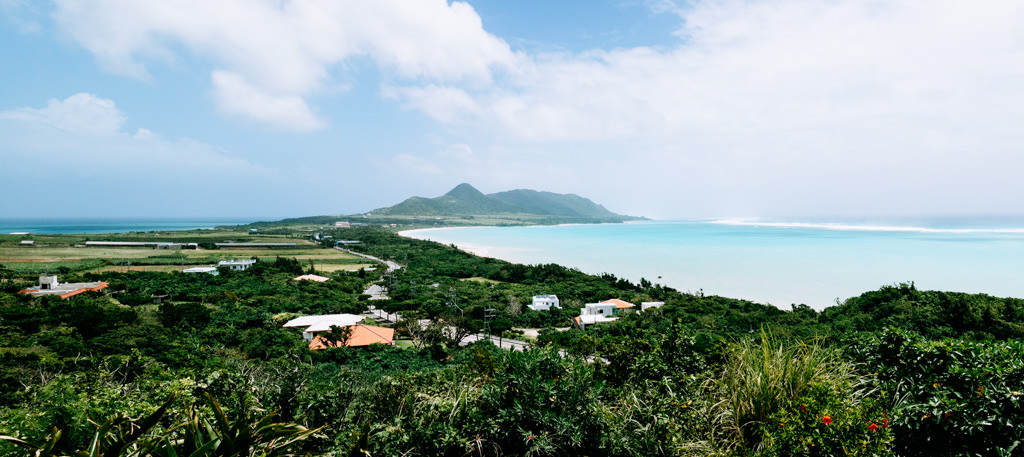 Akaishi Paraglider Take-Off Site: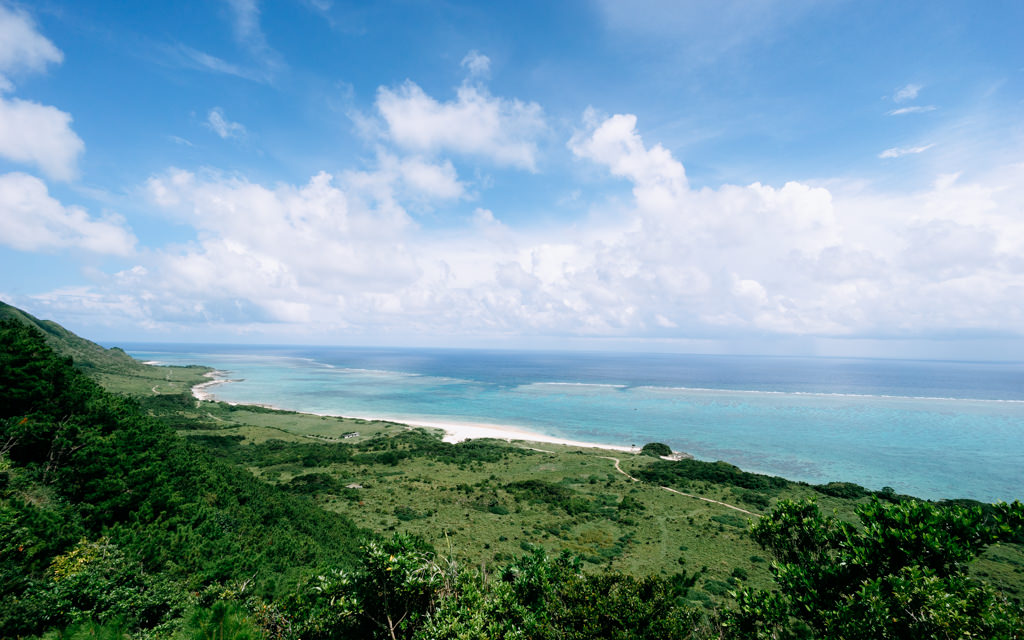 Cape Hirakubozaki Lighthouse:
Northwestern Coast of Ishigaki, seen from Kabira Bay Inner Beach:
Find your own secluded beach just for yourself!
Ishigaki has more than 50 idyllic nameless small cove beaches, which are often deserted even during peak seasons. Some of them are easily accessible from the road side without having to use a kayak. Use Google Satellite and find your own secluded beach, keeping in mind the wind direction of the day. You can find some examples on our Ishigaki map.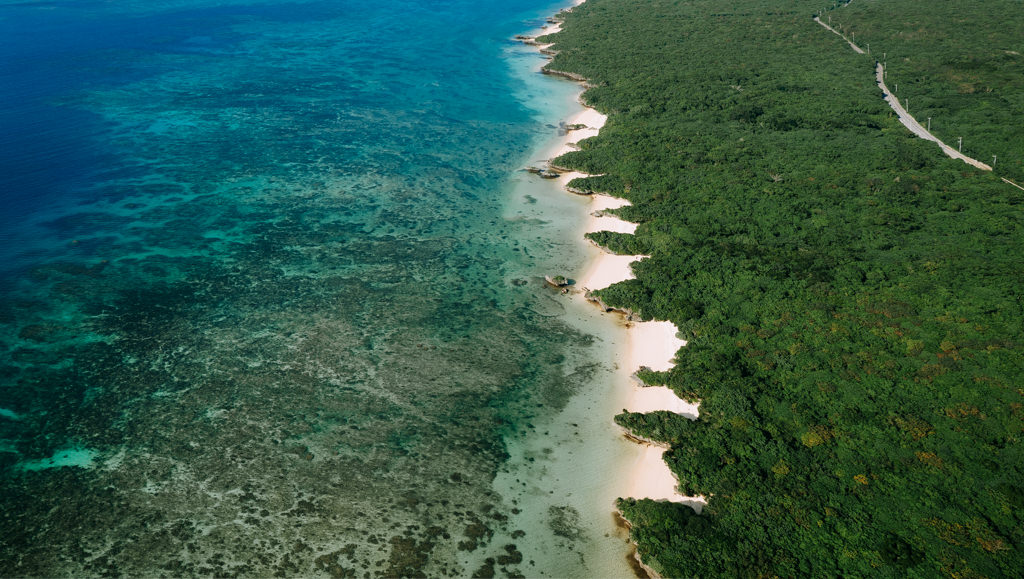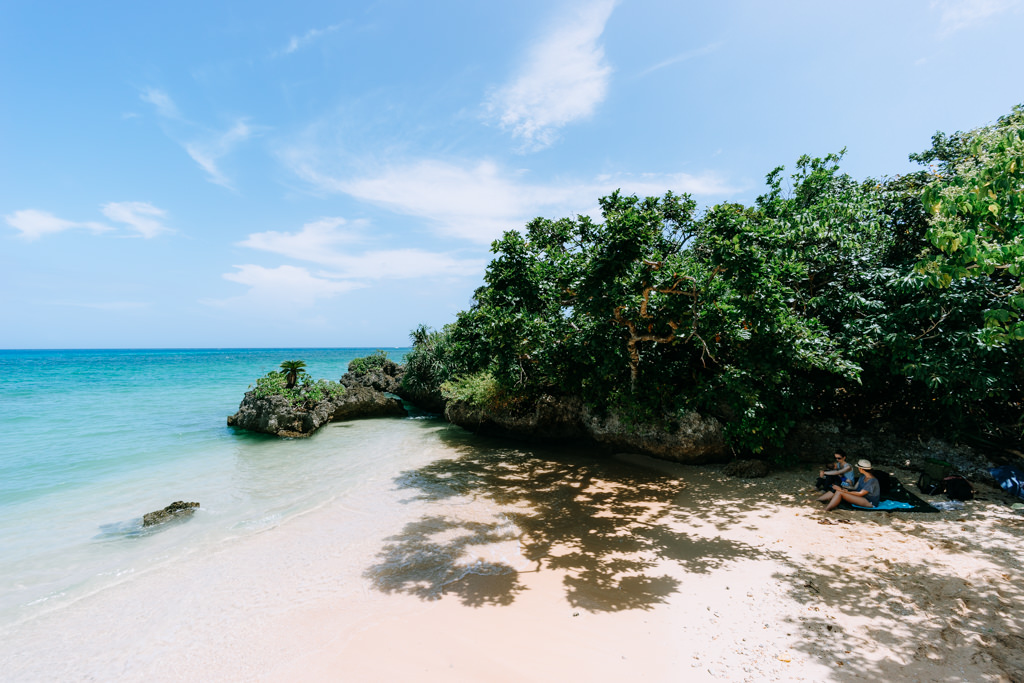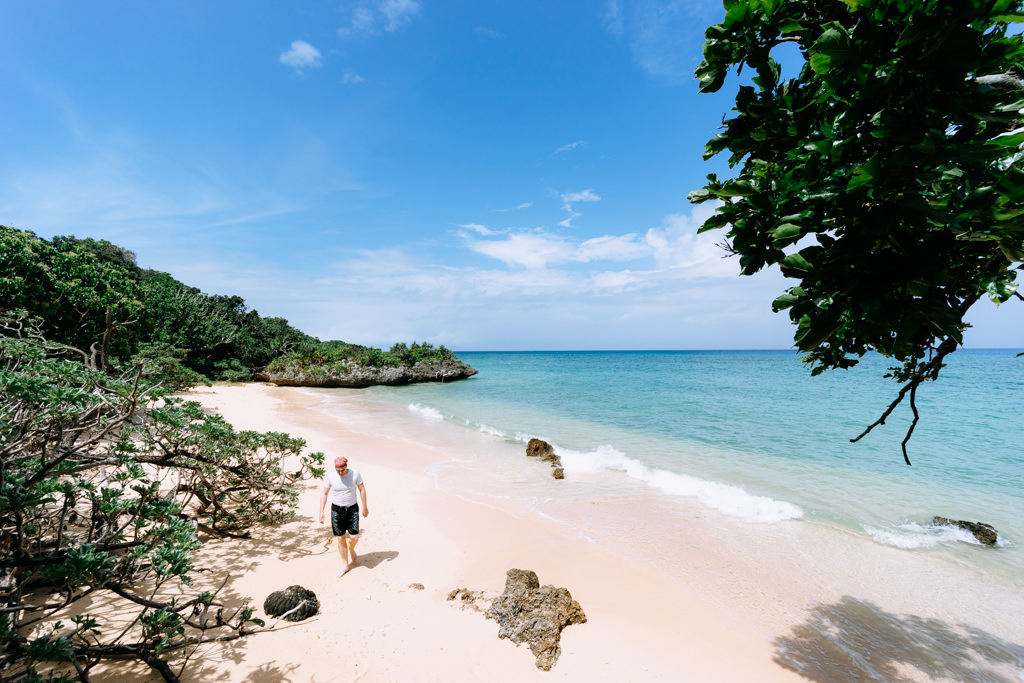 Yaeyama Palm Tree Grove and Juice Bar with Ishigaki's Tropical Fruits
Yaeyama palm trees (Satake palm) are endemic to Iriomote Island and Ishigaki Island. They are very beautiful palms and they have been introduced to Hawaii and Southern Florida. The area is protected so you can only enter a small part of the area, but it is beautiful. There is a juice bar next to the parking area where you can enjoy various local tropical fruit juices. Seasonal fruits like pineapple, mango, guava, dragon fruit, passion fruit, star fruit, etc., are best between April and November. Sugarcane and banana are excellent all around the year. We also recommend the simplicity and total deliciousness of fresh sugarcane juice full of vitamins and minerals, not like unhealthy processed white sugar. Also as opposed to many other countries, sugarcane are pressed only one time for its juice in southern Japan, which gives more flavor rather than just sweetness. There is Satake Palm Memorial Museum within a 5 min walk from the juice bar. You can have a panoramic view of these Yaeyama palm trees and the outer reef of Yonehara from the rooftop of the museum.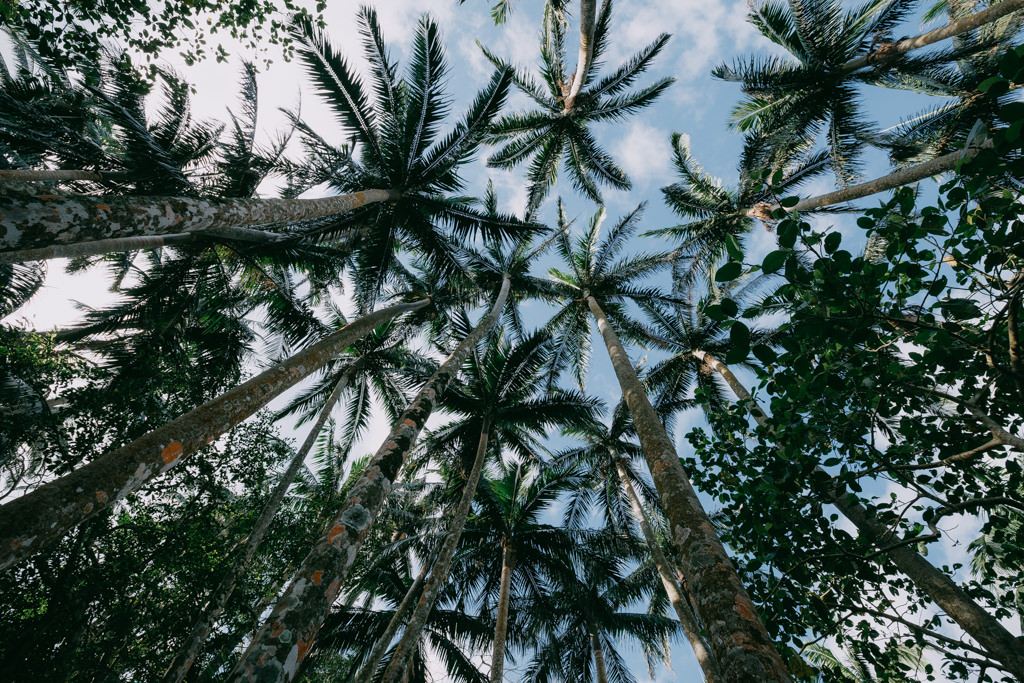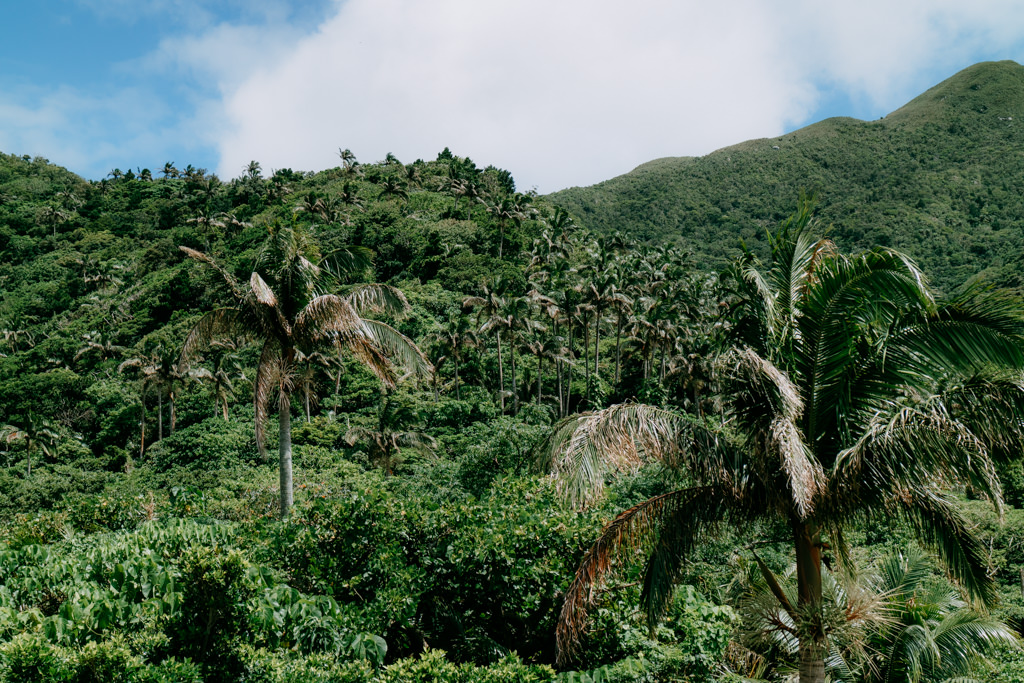 Off-the-Beach Snorkeling
With any off-the-beach snorkeling over fringing coral reefs, it's important to snorkel around high tide in order to protect coral from breaking with fins, or stepping on coral accidentally. Also it can be dangerous as sharp coral can cut you. Please check Ishigaki's tidal hours of the day here.
Shiraho Coral Reef (along the south-east coast of Ishigaki Island) is internationally acknowledged as the world's largest colony of Blue Coral, and Shiraho Reef alone has over 130 coral species (over 360 coral species are found around the Yaeyama Islands), according to WWF's Shiraho Coral Reef Conservation Centre. Some points on Shiraho Reef are easy to access from the beach but other points require quite a bit of swimming with fins, especially with a south wind. If you are not experienced or just want to see the best spot of the day, we recommend a snorkeling boat tour run by Blue Coral. For easier off-the-beach snorkeling for families, we recommend dipping into the water from Yonehara Beach, Akaishi Beach or this special snorkeling spot where you can see beautiful coral, many tropical fish, sea-snakes, etc. To see the amazing coral at the special spot, you have to swim about 10-15 minutes from the beach to get to the reef edge. It's close to the beach but you need to swim over a big drop (see the exact spot on our map). Even though Yonehara Beach is famous for snorkeling and attracts many tourists, snorkeling is actually not bad, and you can see beautiful coral if you swim further to the reef edge. Akaishi Beach has beautiful Blue Coral just in front of the beach, often with no other people (see the exact spot on our map). The road to Akaishi Beach is blocked with a gate but the gate is just to keep the cows inside the grazing land so you can open the gate to enter. Just make sure to close the gate behind you!
In order to have good water clarity with calm water, it's wise to choose the snorkeling spot according to the wind direction of the day. When it's a north/west wind, Shiraho and Akaishi will have good clarity, while in case of a south/east wind, Yonehara or our special snorkeling spot will have good clarity.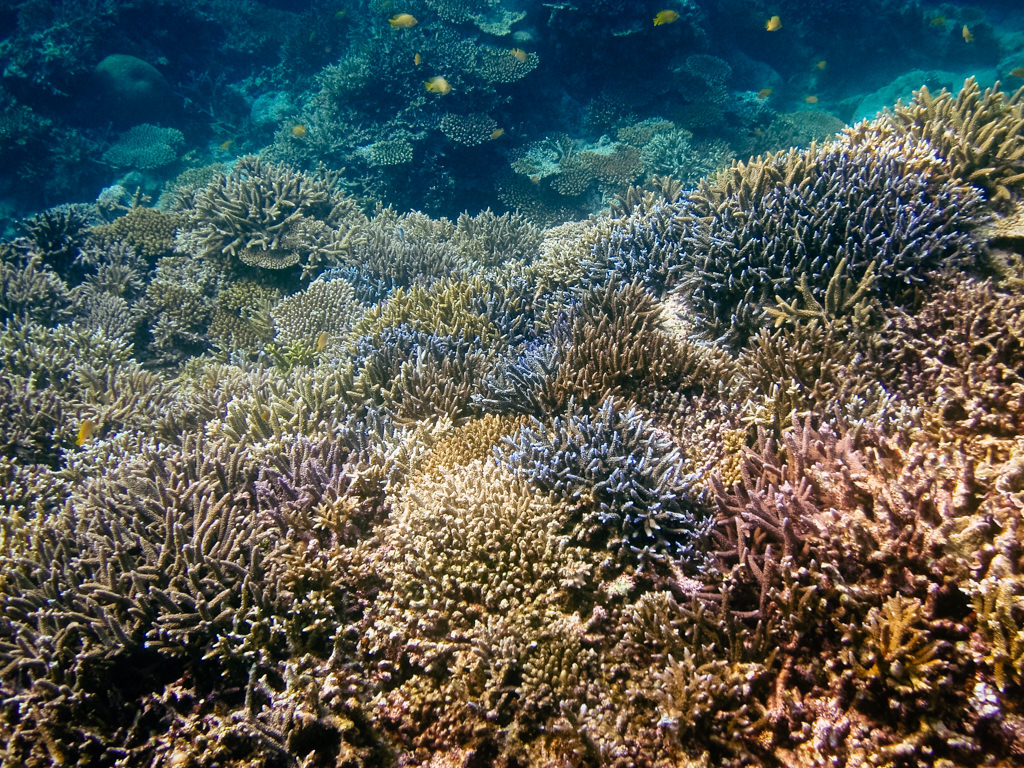 Ibaruma Sabichi Cave
Particularly if it's a rainy day or typhoon day, visit Ibaruma Sabichi Cave located in the north of Ishigaki. This cave is connected to some secluded beaches which are also nice to explore. There are several cave systems all over Ishigaki, however we thought this Ibaruma Sabichi Cave was much better than the LED-lit caves closer to the port.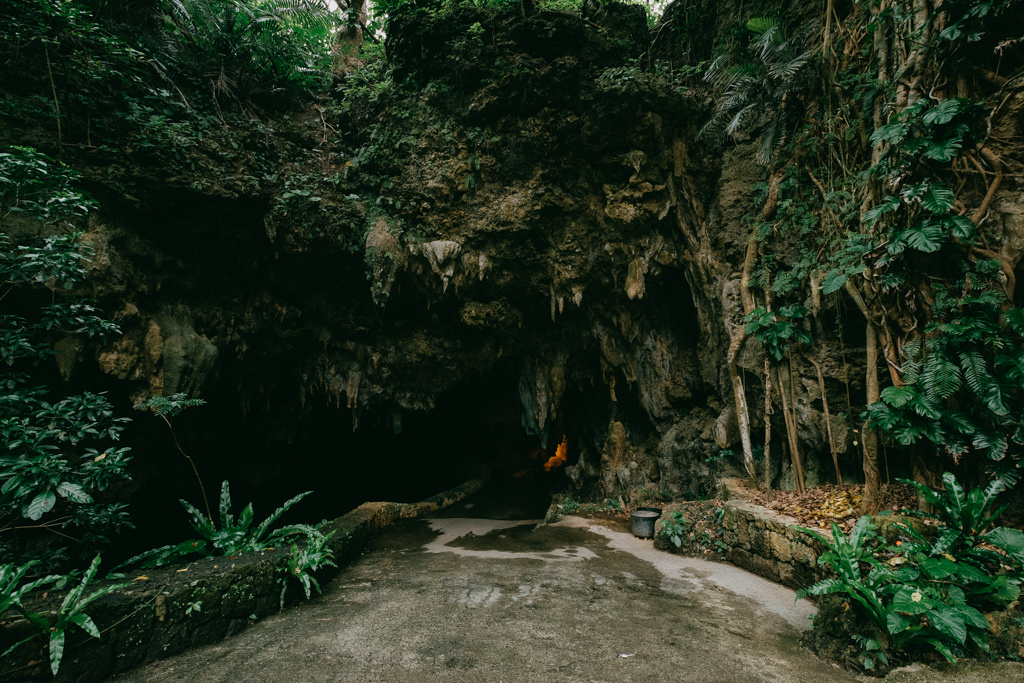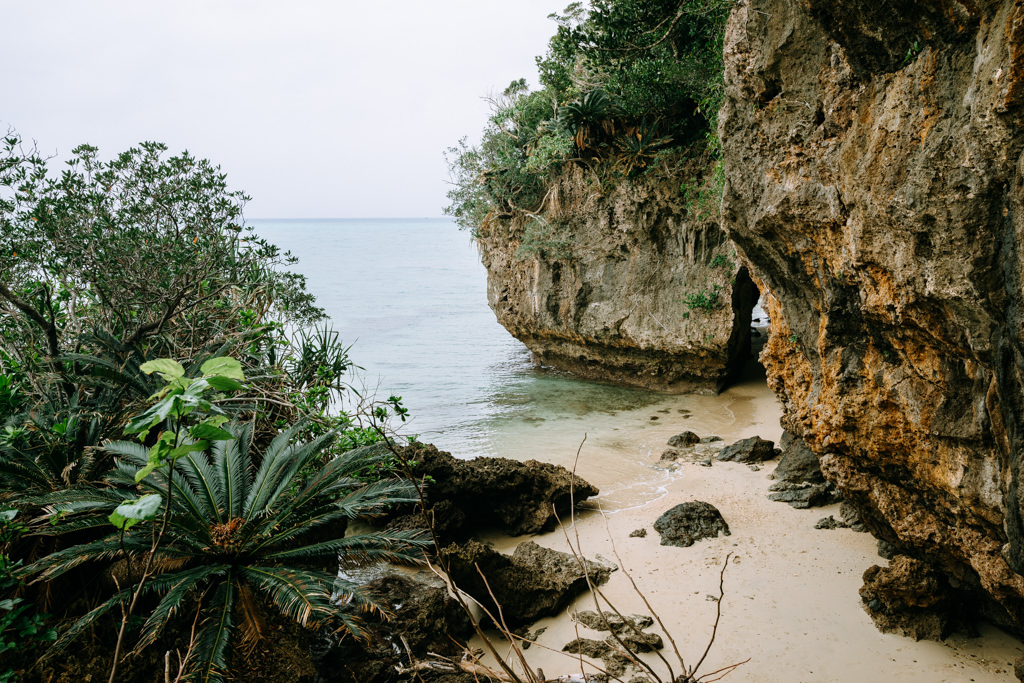 Stream-Trekking to the Upper Waterfall of Arakawa Falls
If you are not going to Iriomote Island but still want to experience the jungle by stream-trekking, we'd recommend the stream to the upper waterfall of Arakawa Falls. As you hike up this rugged stream, it becomes surrounded by beautiful tree ferns. There is a car park by the road. Check the description on our map for the entry point as it's different from the lower waterfall of Arakawa Falls, which is popular among local kids. This stream-trek takes about 30 mins to get to the upper waterfall. Stream-trekking shoes (felt-sole wading boots) are highly recommended since you need to go over slippery mossy boulders.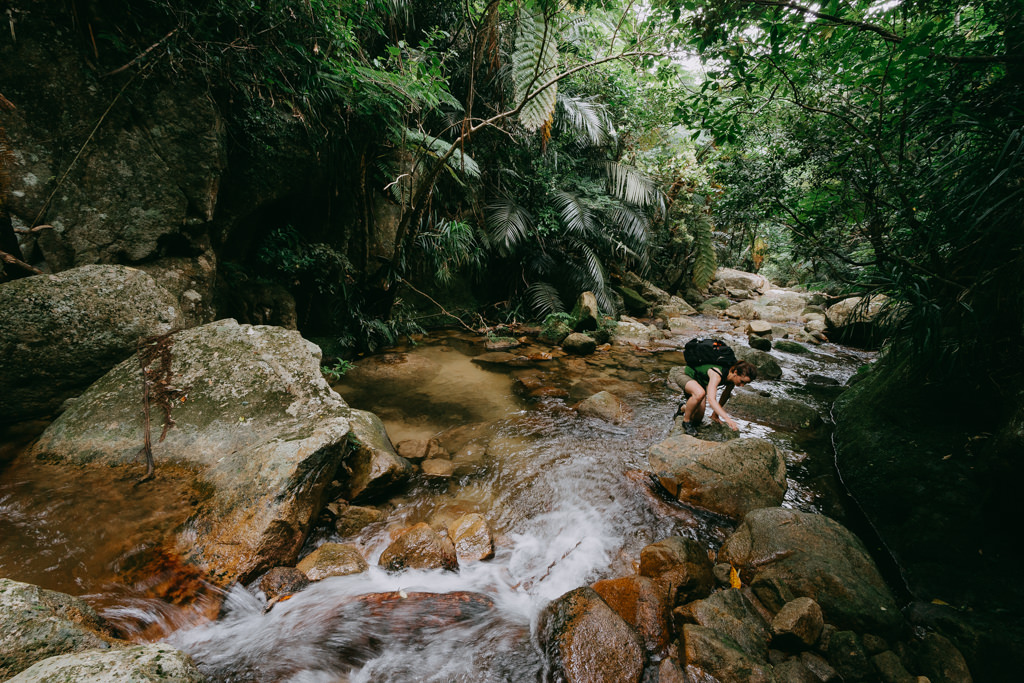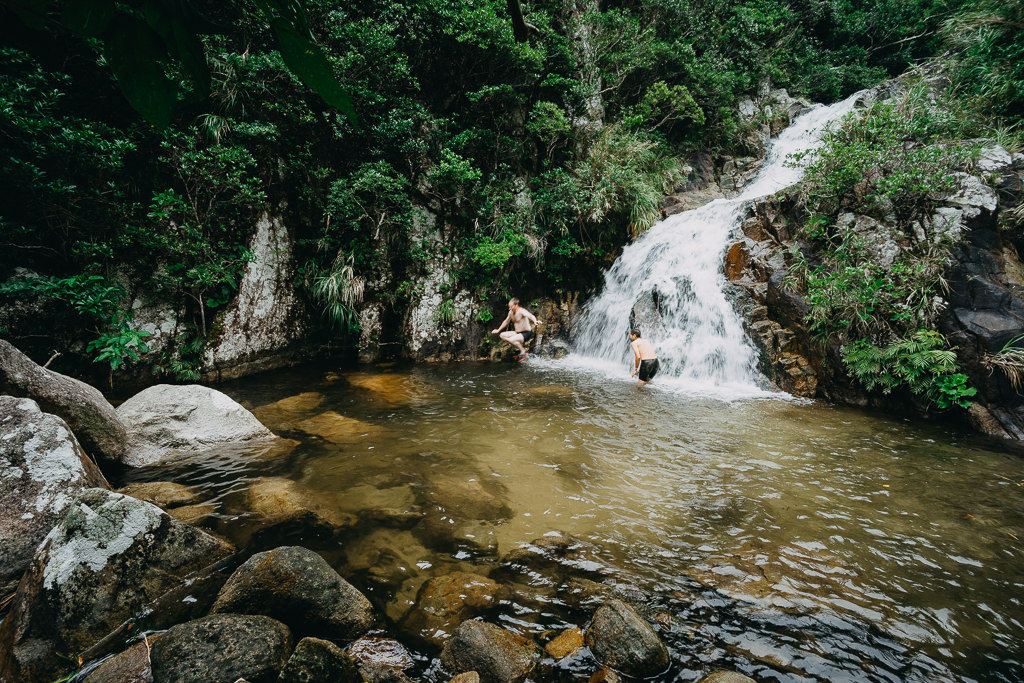 Snorkeling Tours to Sekisei Lagoon and Coral Reefs of Northern Ishigaki
We recommend a half-day or whole-day snorkeling tour to Sekisei Lagoon. Some areas are still beautiful, but a lot of coral in the shallow areas got damaged by 2015-2016's El Nino. Some have started to recover, but it will take time. For those who want to see pristine lush coral reefs, we highly recommend taking a snorkeling tour to the coral reefs off northern Ishigaki. Our recommendation is Marine Mate who also do great diving tours to these healthy lush coral reefs.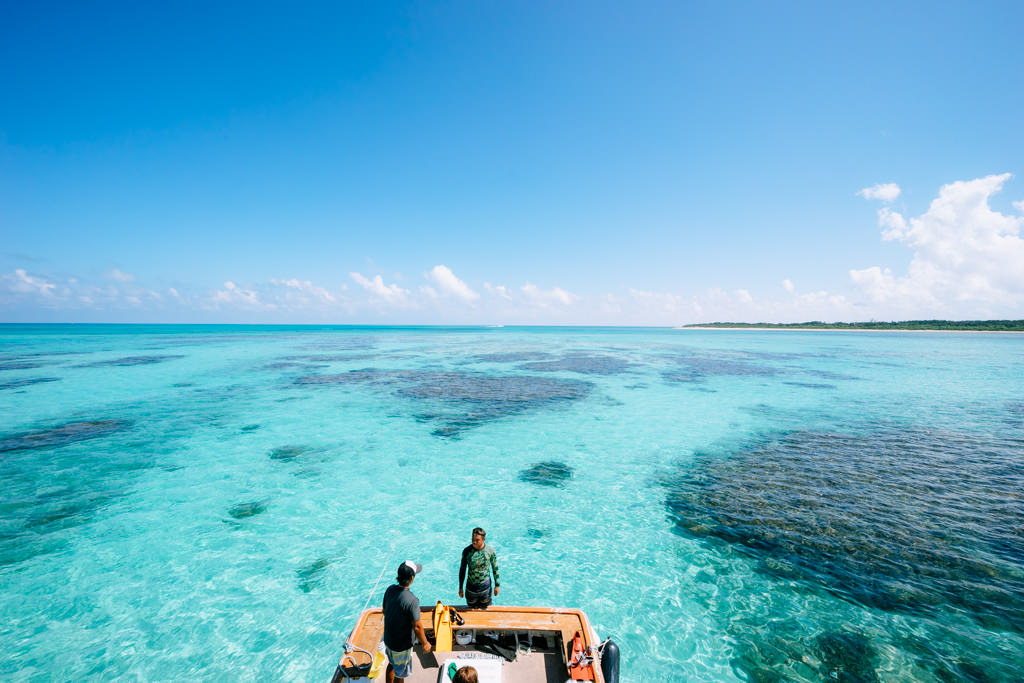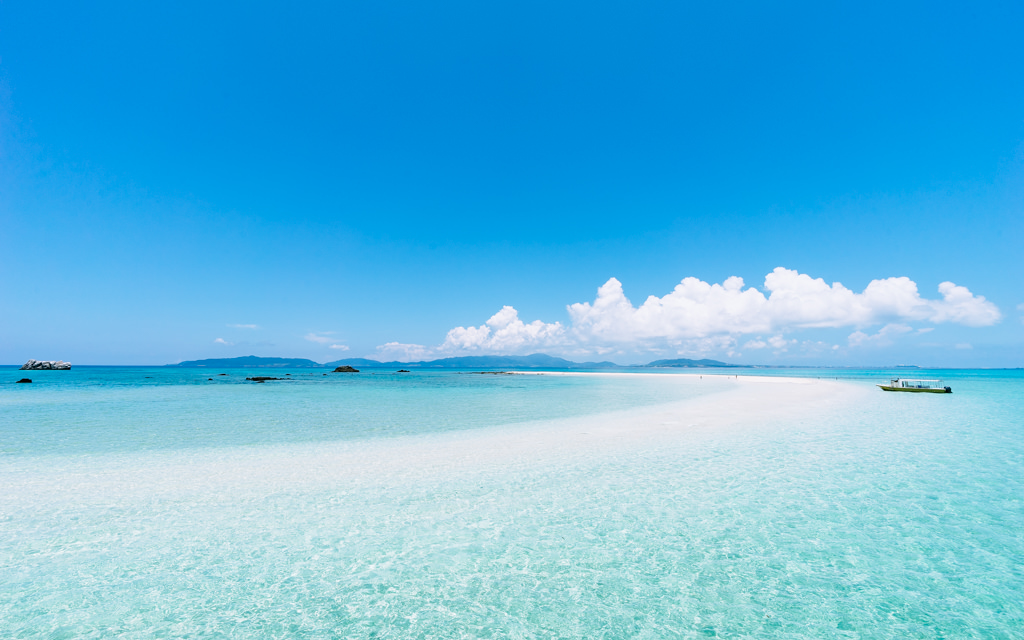 Restaurants and Cafes
There are more and more cute restaurants and cafes popping up all over Ishigaki. Some of our favourites include:
ULIULI CAFE
This cafe is located quite far north. They serve a delicious 100% Ishigaki beef burger on their lunch menu. Closed on Thursdays and Fridays. https://uliuli.ti-da.net
FUNAKURA NO SATO
Traditional Okinawan restaurant located in a previously private residence, spread over different houses and rooms. The premise is absolutely beautiful. The food is decent traditional Okinawan dishes best to share, and there is a Sanshin performance which is a lot of fun. http://www.funakuranosato.com/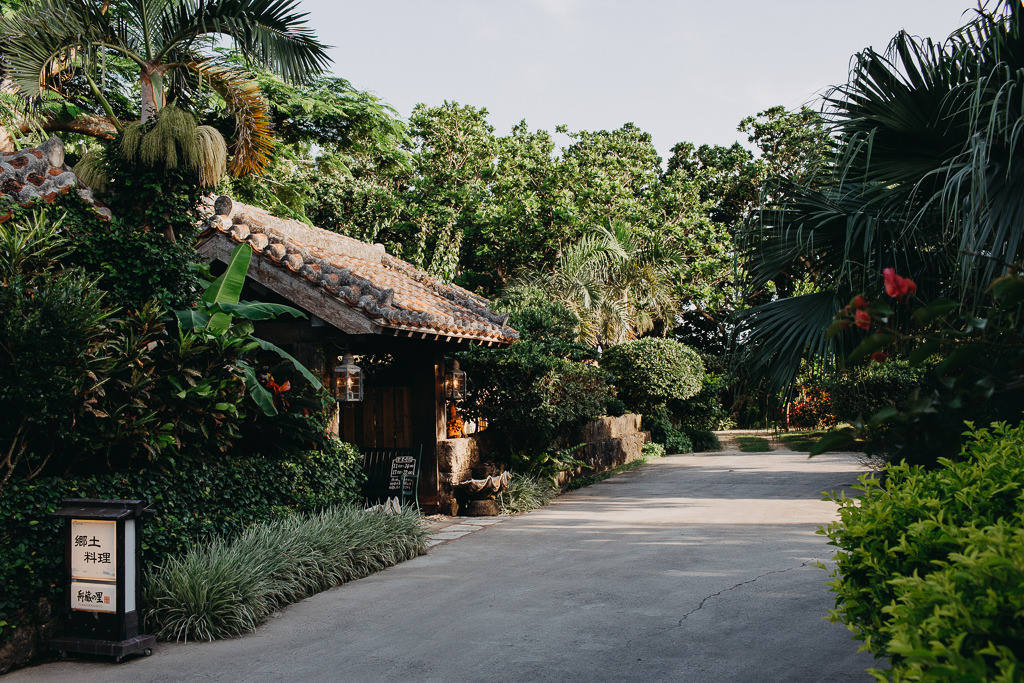 HIGH TIDE CAFE
This cafe is located in a residential area in-between Kabira Bay and Ishigaki Port. It features the illustrations of Murakami Yasunari and has a museum of his work. The coffee & sweets set is delicious and great value. http://murakami-ishigaki.com/
ISLAND VEGETABLE CAFE – RE:HELLOW BEACH
It's a popular cafe serving great food in a cozy, friendly atmosphere. They serve delicious food using fresh local vegetables and make smoothies with fresh seasonal local fruits. They also serve breakfast. http://rehellow.com
MIRUMIRU HONPO
Located a short drive north/west of the port, this gelato shop boasts gelato made with local produce such as mango, pineapple, banana, dragonfruit, shikuwasa lime, purple sweet potato. http://mirumiru-honpo.com
KANAN
It's a great lunch place to experience delicious traditional local food in a cozy atmosphere. It's also popular among local islanders.
TOFU HIGA
It's a very popular place for traditional breakfast with freshly made Okinawan-style tofu. It gets quite busy even early in the morning during peak seasons, and all the dishes tend to get sold out before noon.
SUGARCANE JUICE AT THE YAEYAMA PALM TREE GROVE IN YONEHARA
Ok, it's not a "cafe" or "restaurant" but it is worth a mention to get the best juices on the island!
KATO SOBA
Delicious home-made soba restaurant, famous for their soba with "Ishigaki Kuruma Ebi" (Japanese tiger prawn from Ishigaki Island).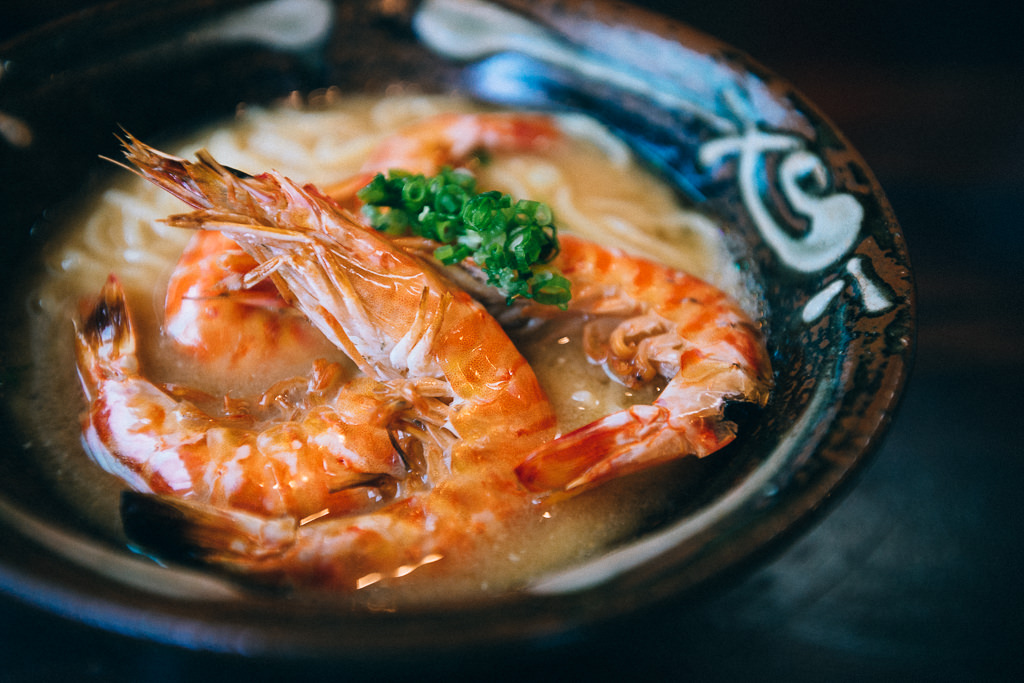 Markets
YURATIKU MARKET
For all things local, namely fresh fruit and vegetable, check out the local farmers market "Yuratiku market", located a few hundred meters from Ishigaki Port.
SHIRAHO SUNDAY MARKET
Shiraho Sunday Market is located within the "WWF Japan Coral Reef Conservation and Research Center" at the coral village of Sangomura, about 25 minutes drive west of Ishigaki Port. Cheap seasonal fresh produce and traditional prepared food such as food wrapped in banana leaves.
"Mujin Hanbai" – Honesty Produce Shops
We love these road-side stalls – you never know what you're going to find available! You can get very fresh vegetables and fruits directly from farmers for a very low price. Just drop the designated amount in the money jar and you're set to go.
Car Rental
It goes without saying that a car is essential on Ishigaki Island. You can rent a small car just for a few thousand yen per day including insurance (can be as little as JPY1,500 per day) through the Japanese version of Rakuten Travel. Unfortunately, the price is often double on most English booking websites (only costly international rental car companies are in the English system). Best to ask someone who can read Japanese to book. You will need an International Drivers License.
Accommodation
Ishigaki has started to have more and more nice and reasonable accommodation in beautiful locations recently.
KABIRA VILLAGE
Thatched roof stand-alone villas next to Sukuji Beach. Each spacious cottage has an inviting outdoor jacuzzi on the balcony, surrounded by beautiful, tropical vegetation. This place is great for families (although there is no kitchen). It is next to the main "Seaside Hotel" where you can have breakfast or dinner, and enjoy the facilities of the hotel, including the swimming pool. If you book it early you can get a great deal of 12,000 yen per cottage per night (between January and June, excluding the Golden Week holiday). http://www.ishigaki-seasidehotel.com/stay/kabira.html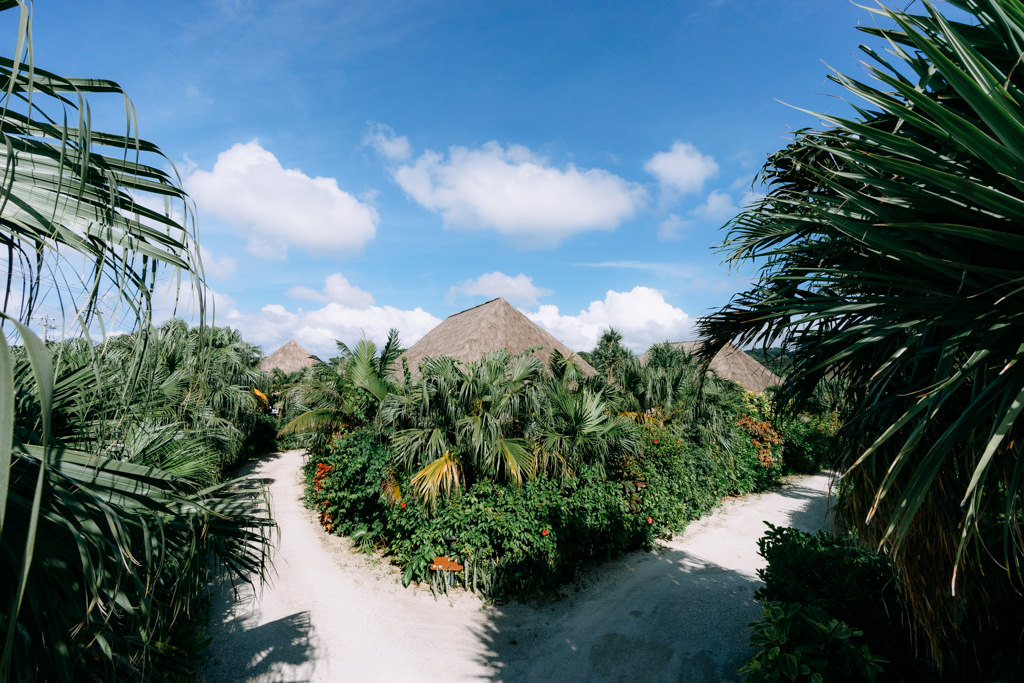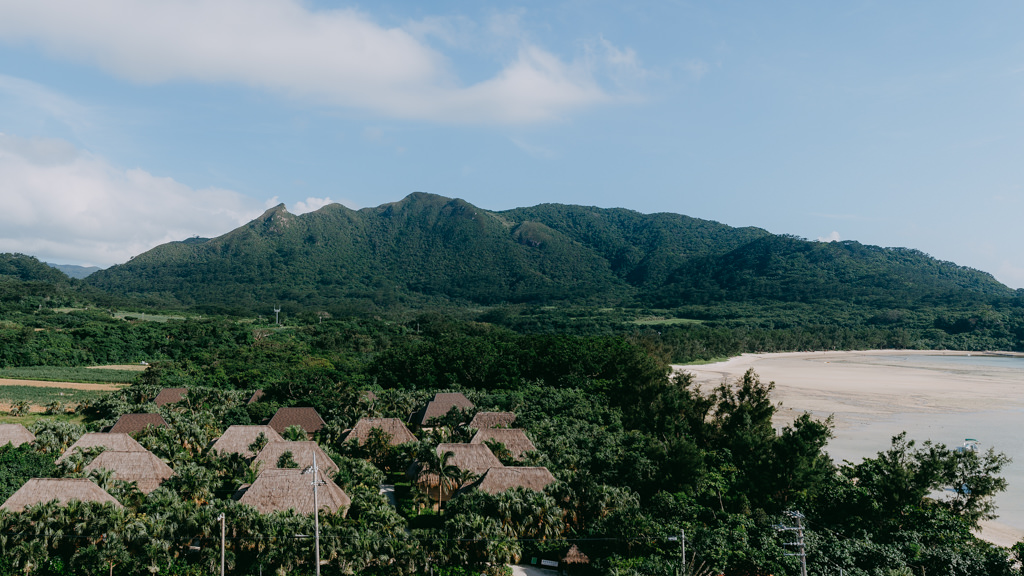 YOKABUSHI (HERMITAGE)
A lovely boutique hotel set beside a beach, with a beautiful central pool. There are self-contained 2nd floor apartments and stand-alone Okinawan-style cottages. It's modern, clean, and the service is outstanding.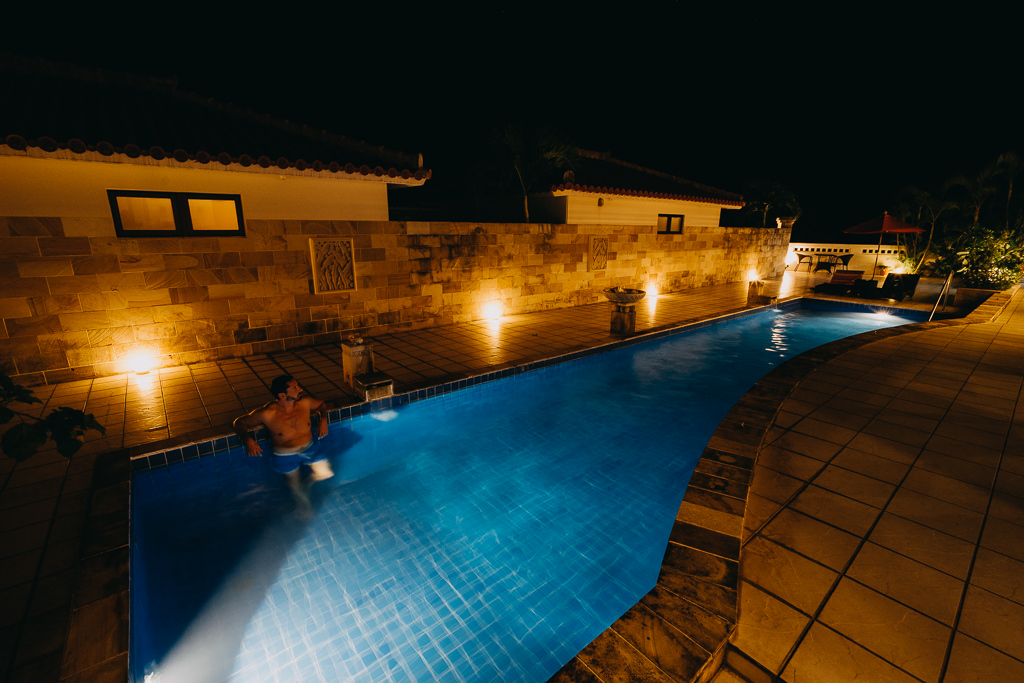 UMISUZUME
A simple, clean and homely guesthouse (shared bathroom) located on the north west side of Ishigaki. Umisuzume offers breakfast and dinner packages using local ingredients for reasonable prices. The meals are all prepared by the friendly owner. They offer free rental for snorkeling gear, parasol, water shoes, life vests, beach sand toys and floats for kids and cooler bags.
https://umisuzume.org/
YAMABARE HOUSE
A simple, clean and budget hotel located near a beach. 7,000 yen per room for two people or 9,000 yen per room for three people without meals. Each room has a private bathroom. They offer breakfast on Sat/Sun/Mon for 500 yen per person (advance booking is required). Snorkeling gear rental is available for small fees.
https://travel.rakuten.co.jp/HOTEL/142568/142568.html
ALAISE DE BALE
A nice boutique hotel with a pool in front of a beach, run by very kind staff. All the rooms are spacious.
http://www.baleishigaki.com/
NICO STAY
This B&B style accommodation is located overlooking scenic Kabira Bay. This premise has just two rooms.
http://www.nico-stay.com/
Weather
Located at the same latitude as The Bahamas, Ishigaki Island has a Tropical Rainforest climate as opposed to Humid Subtropical climate of Okinawa Main Island and the other northern islands of Okinawa Prefecture. The average yearly high temperature is 26.9°C (80.4°F), and the average yearly low temperature is 22.2°C (71.9°F), making the mean annual temperature of 24.5°C (76°F) which is the same as Oahu of the Hawaiian Islands. The climate is similar to Southern Taiwan, warmer than Hong Kong and Northern Taiwan due to the warm ocean current around Ishigaki. The annual average humidity exceeds 75%, which makes the feeling temperature very different from dry places with the same mean annual temperature such as Townsville in Queensland, Australia. The sea temperature is warm all around the year, ranging between 21°C (70°F) and 31°C (88°F). The rainy season is May-June but it does not rain all day. Usually it's just a few downpours in-between blue sky. The core season for typhoons/tropical storms is August-September but some years have very few typhoons/tropical storms while other years have many typhoons/tropical storms even as early as May or as late as November. However, at least one typhoon/tropical storm hits Ishigaki during August or September every year. Usually a typhoon/tropical storm affects the weather only for a few days and you get beautiful clear blue sky as soon as the typhoon passes away.
Note: Unfortunately all international weather forecasts for Ishigaki are inaccurate (including weather histories), such as the default weather apps on smartphones, Google weather, Accuweather, etc. They are almost always a few Celsius degrees lower than the actual temperatures measured on Ishigaki (especially during winter), and sometimes they can be completely wrong since they don't have access to the proprietary data from Ishigaki weather station owned by JMA (Japan Meteorological Agency).
We recommend this weather forecast using the JMA's data from Ishigaki weather station (It's in Japanese with Celsius but it's straightforward).
https://weather.yahoo.co.jp/weather/jp/47/9410.html
The weather on any southern Japanese island, however, is so unpredictable that weekly weather forecasts (even two days ahead) should really be used as a guide only. The conditions can also be very different even on the same island between north and south or mountains and coastal areas.
Climate data for Ishigaki Island, Okinawa, Japan (1980-2010, Japan Meteorological Agency)

Average high temperature °C
Average low temperature °C