Miyako-jima Travel Guide & Tips | Things to Do on Miyako Islands by Ippei & Janine
View Miyako Islands tips map in a larger map
Miyako Island (Miyakojima) and the Miyako Islands
The fourth largest in the Okinawa Prefecture, this iron-board flat coral island boasts spectacular rocky outcrops, and blindingly white sand beaches with crystal clear turquoise waters. Catch it on a sunny day and Miyakojima is glory at its best. The Miyako Islands are also a paradise for off-the-beach snorkeling lovers. You can see many kinds of tropical fish, sea turtles and colorful lush coral close to many of the beaches.
Camping on any of the deserted beaches (if it's not a tourist beach) is allowed, and makes for a truly wild experience. We camped on a few beaches including Nagamahama Beach on Kurima Island and it was wonderful! Showers are available at any of the main tourist beaches, but best to do it in the hot months as the showers are mostly cold.
There are amazing barrier reefs (offshore coral reef) called Yabiji, which are located off the north east of Miyako main island.
Over the last 15 years we've visited the Miyako Islands over 10 times, and we created this travel guide based on our experiences. Our Miyako-jima travel guide is meant for nature lovers who wish to explore the Miyako Islands on their own without taking a guided tour. We regularly update this travel guide but please let us know if you spot any error or any outdated information.
Beautiful beaches and off-the-beach snorkeling
The Miyako Islands have amazing beaches with great snorkeling points, so pray for good weather! There are so many beautiful beaches, and if you consider the wind direction of the day, you can make a good choice for the side of the island which will be the most protected.
Sunayama Beach
The iconic famous beach of Miyako Island, and a must-visit for the first-time visitors even though it can attract many tourists during peak periods. It's best to visit this beach when it's a southerly wind to enjoy the beautiful calm waters. Although this is a popular beach for swimming, it's not the place for snorkeling.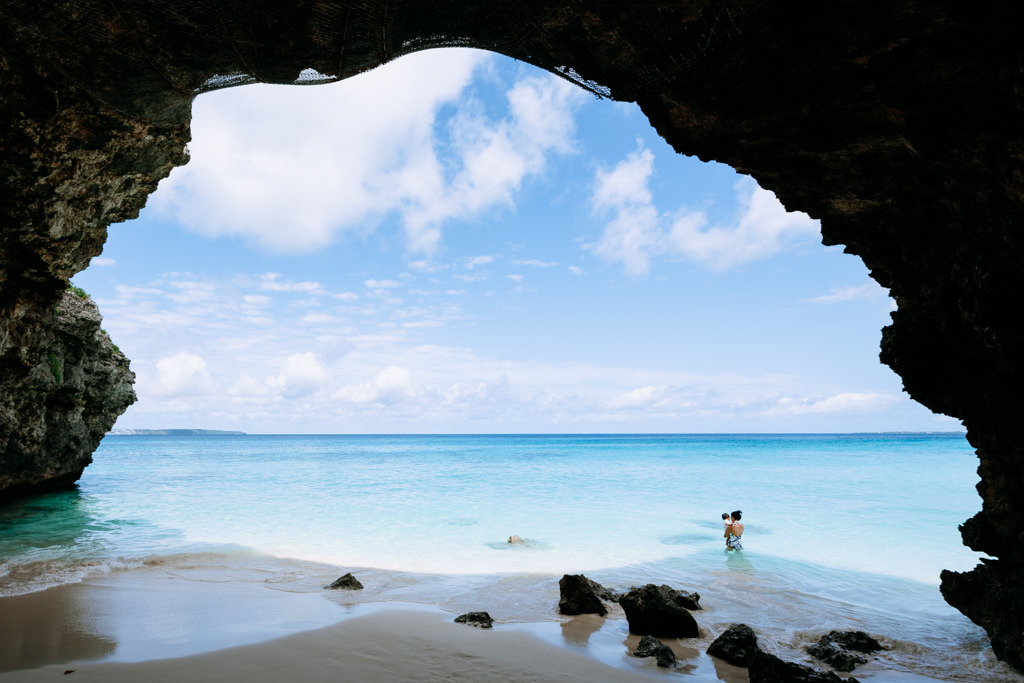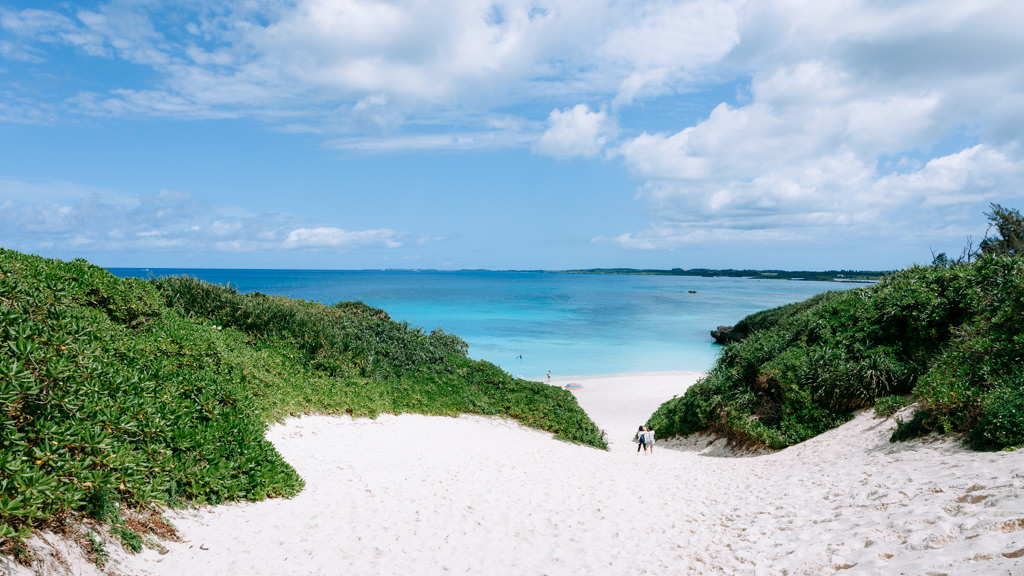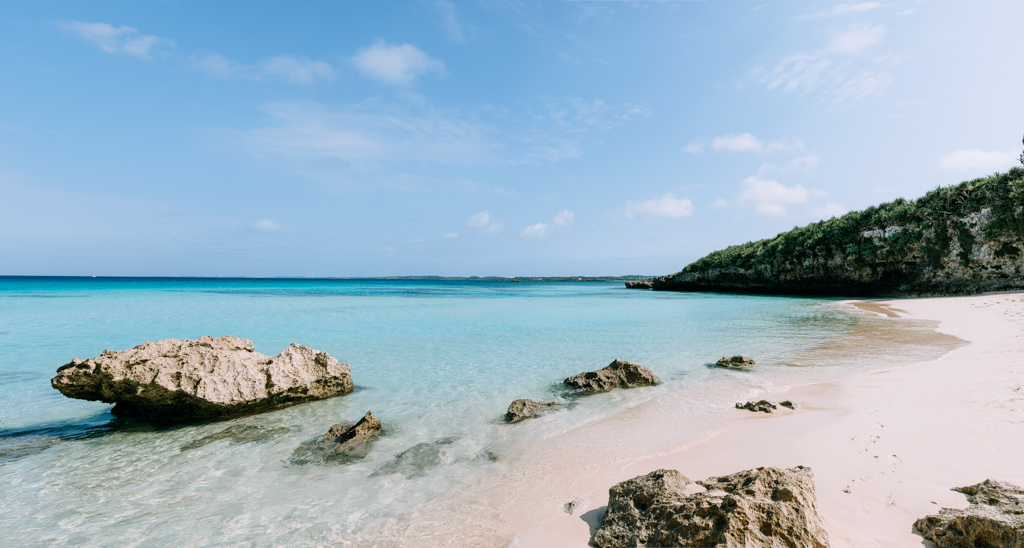 Nagamahama Beach (Kurima Island)
Beautiful white sand beach. One of the most idyllic spots for beach camping among the Miyako Islands. There are some good snorkeling points too.
Yoshino Beach
Yoshino beach is one of the best for off-the-beach snorkeling. There is no need to swim to the reef edge, as there are a lot of beautiful coral and fish inside the lagoon in front of the beach. Please snorkel only around the time of high tide and be careful not to damage the coral by accident with your fins.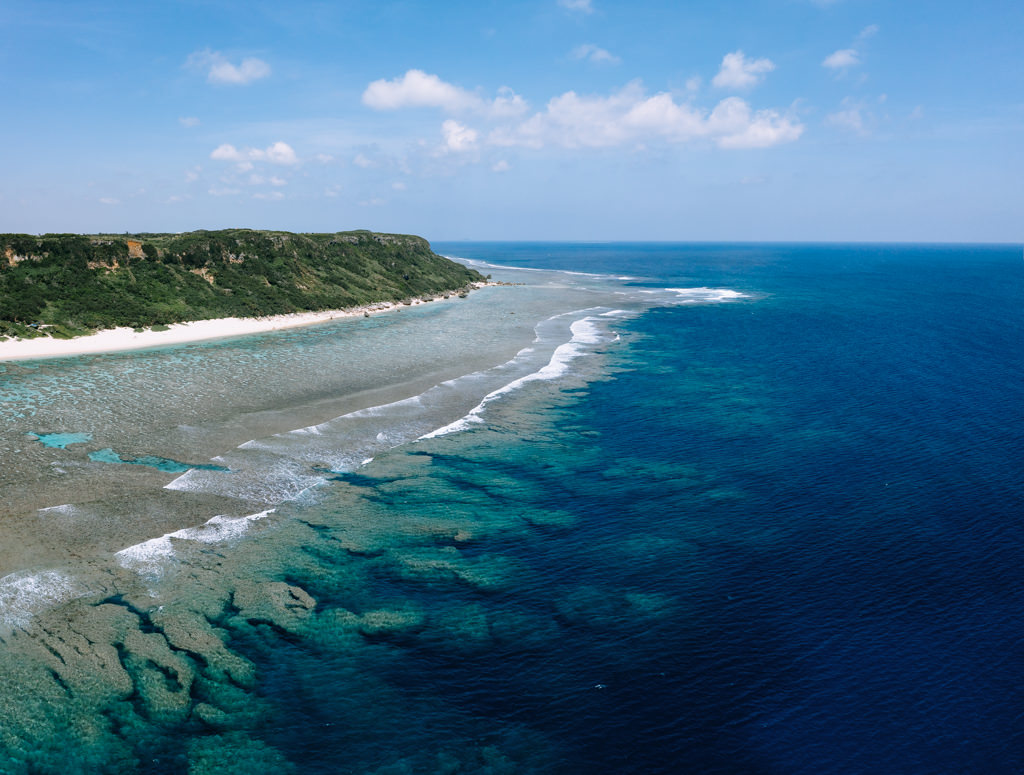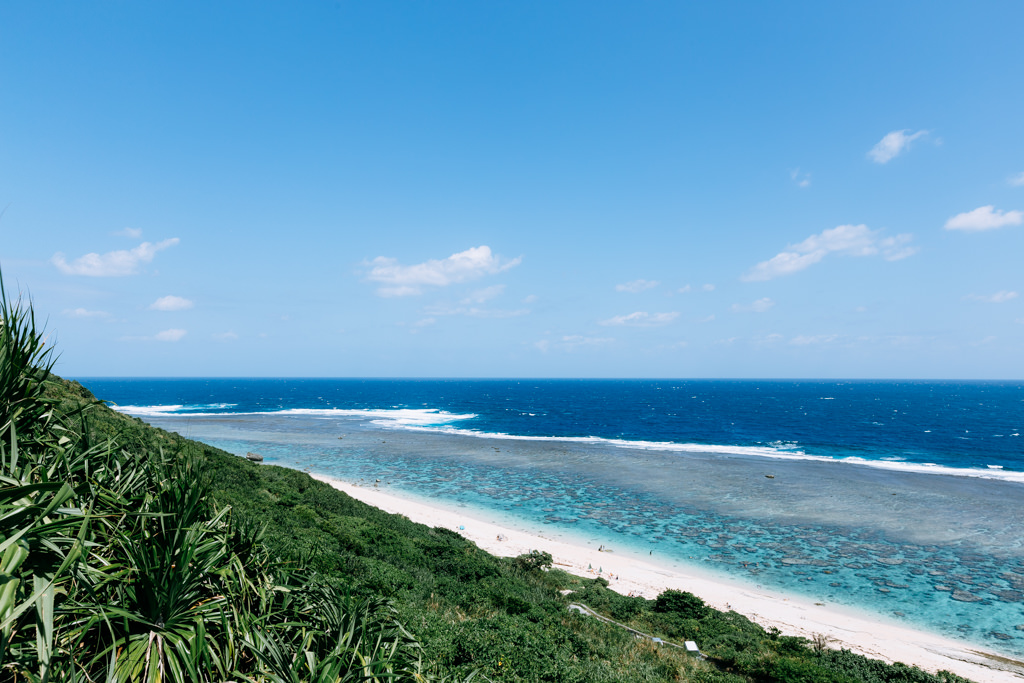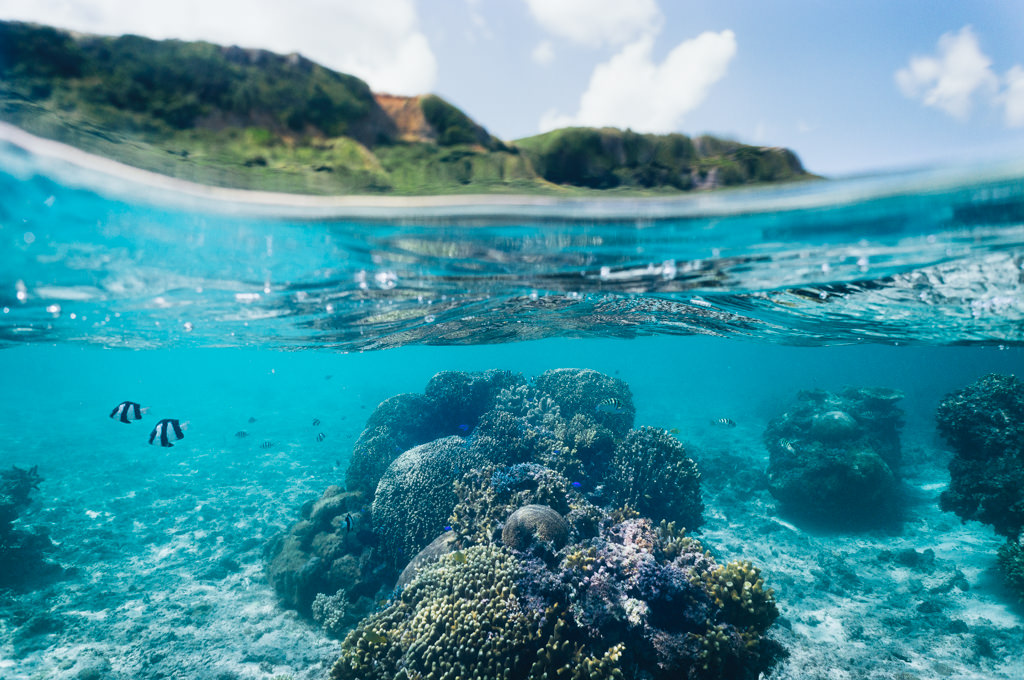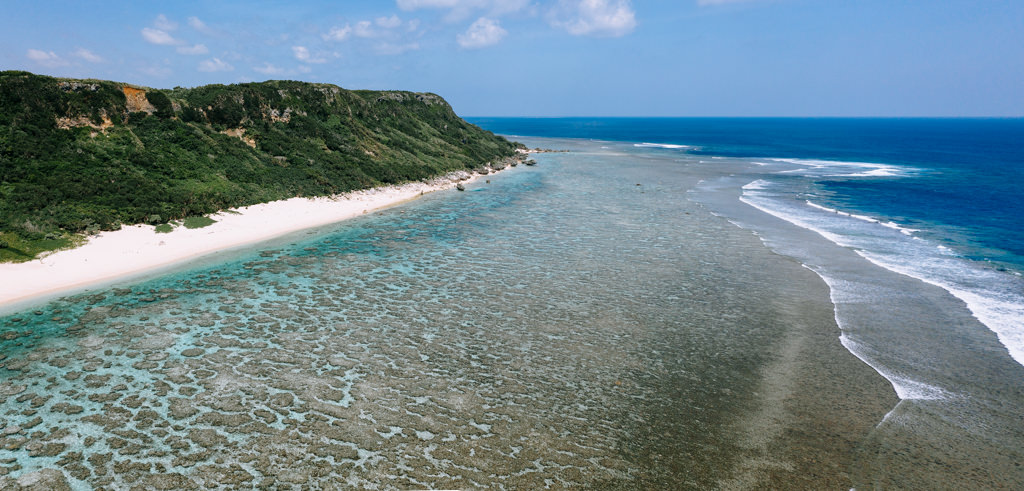 Yonaha Maehama Beach
Even though this is the most touristy beach of Miyako Island, it is still beautiful. Tandem-paragliding is recommended for a stunning aerial view. Not suitable for snorkeling.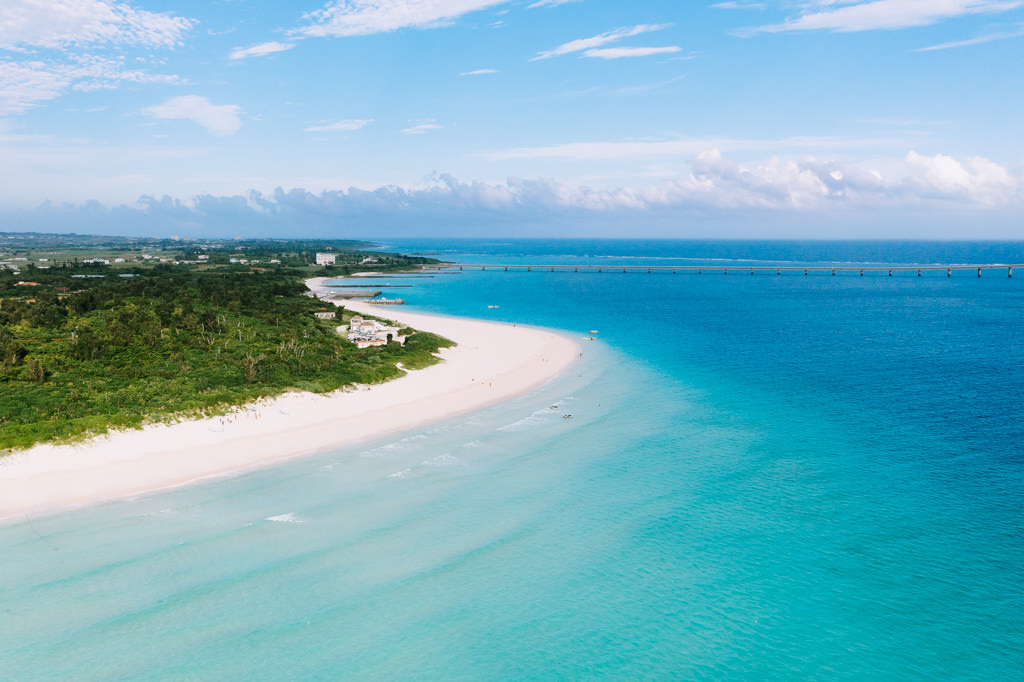 Boragawa Beach and Boraga Limestone Cave
A great beach to hang out at in case of a north wind (it's quite sheltered), with facilities like a swimming pool (small fee), ice cream stand and free showers. There is a sea cave nearby which is worth a visit at low tide. Even though it is shallow water it is best to swim or kayak there. There is a lot of coral which has started to grow back in recent years, and walking will damage this recovery (a lot of coral in shallow water got damaged by 2016's El Niño). You will need to follow the coast from the left side of the beach for about 10-15 minutes from Boragawa Beach to get to the cave (check our map for the exact point).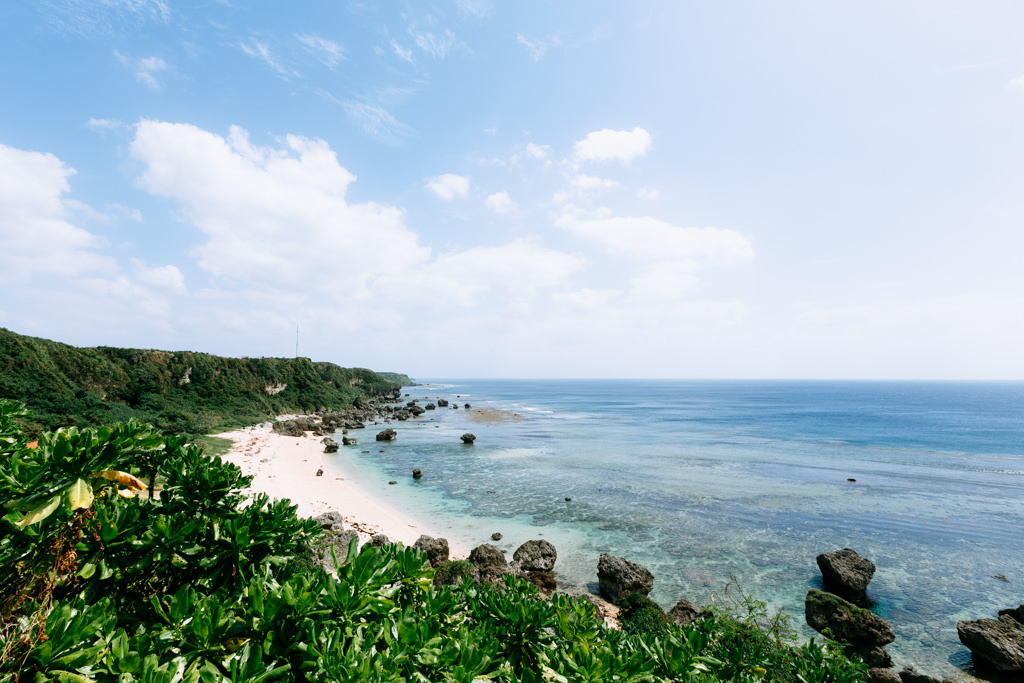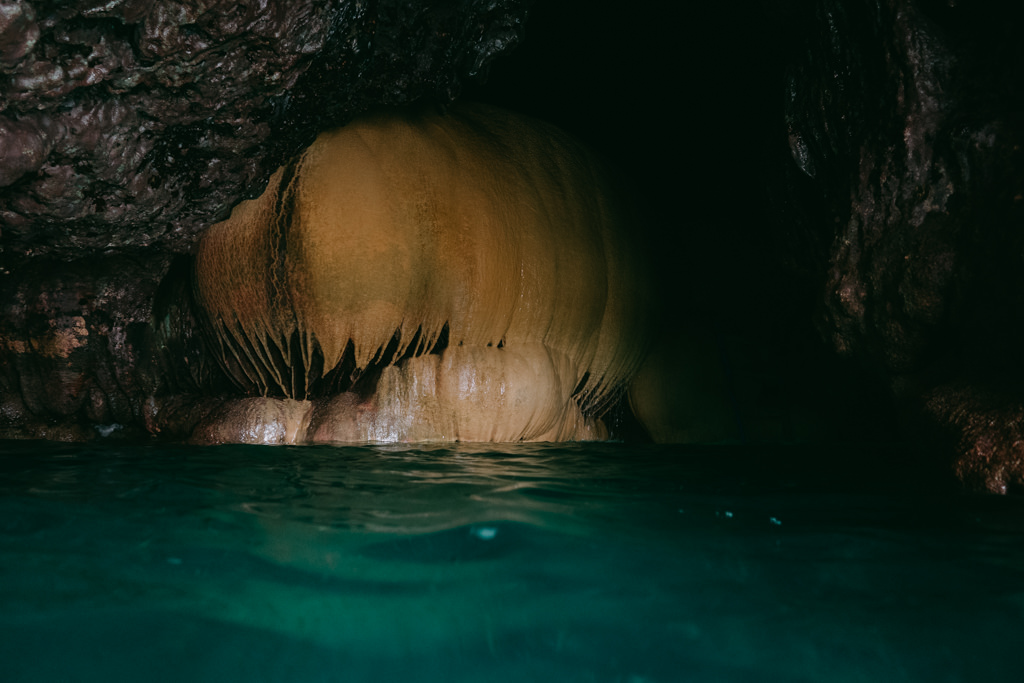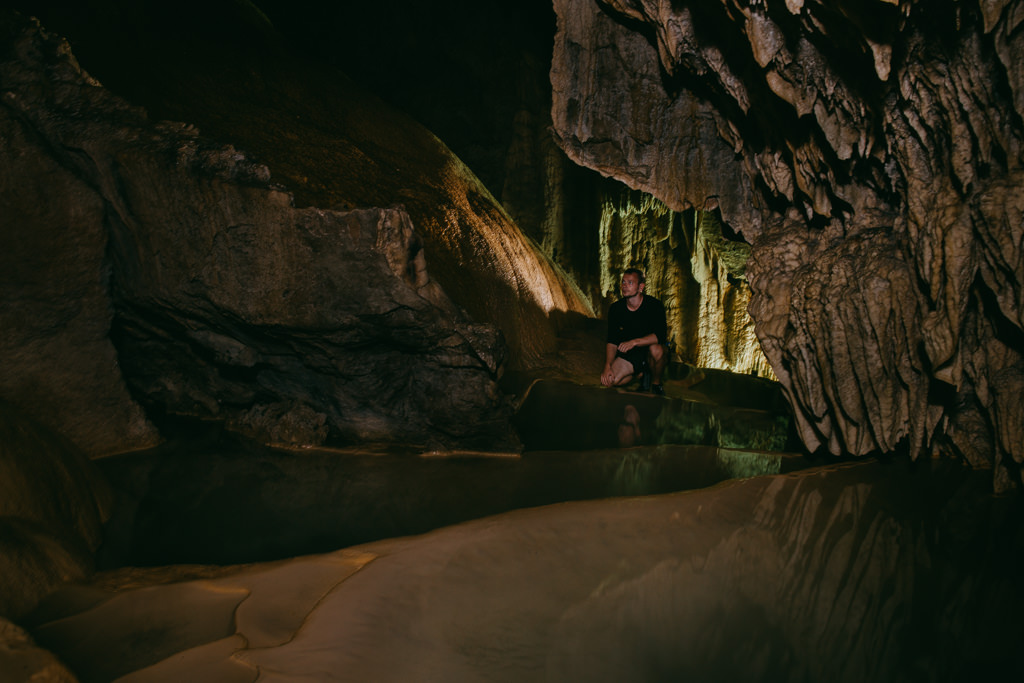 Imugyaa Lagoon
We recommend this lagoon in case of high waves from a typhoon/tropical storm since it's completely sheltered. It's also great for small children who just want to play in shallow water. The deeper part of the lagoon is suitable for snorkeling with many "Nemo" fish and soft coral, especially around the bridge.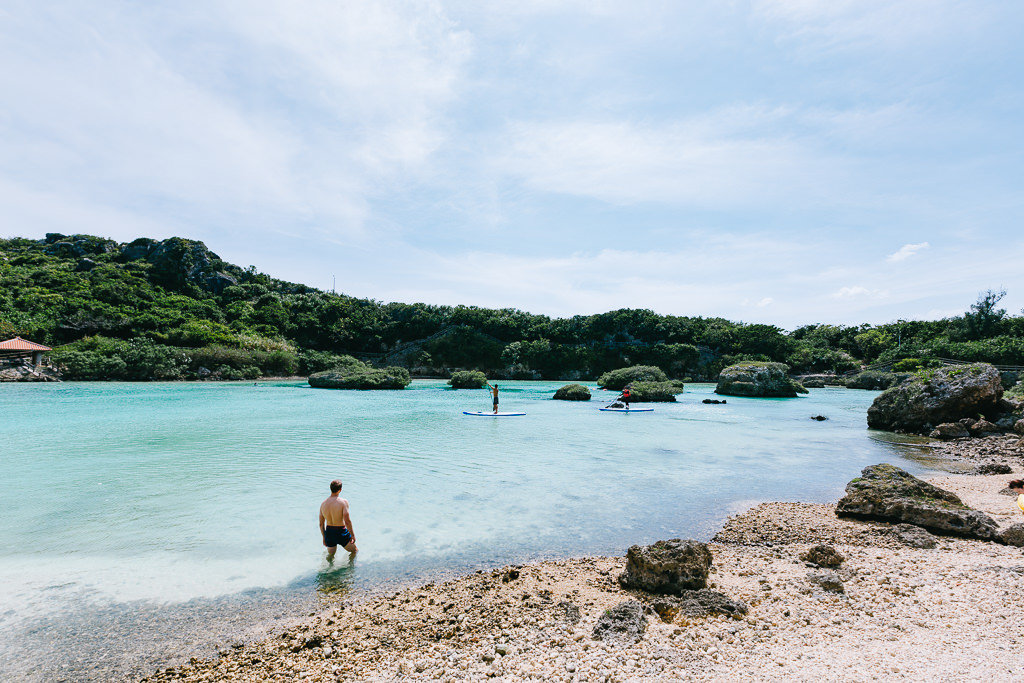 Tako Beach (Kurima Island)
We recommend this small hidden beach in case of high waves from a typhoon/tropical storm as it's sheltered.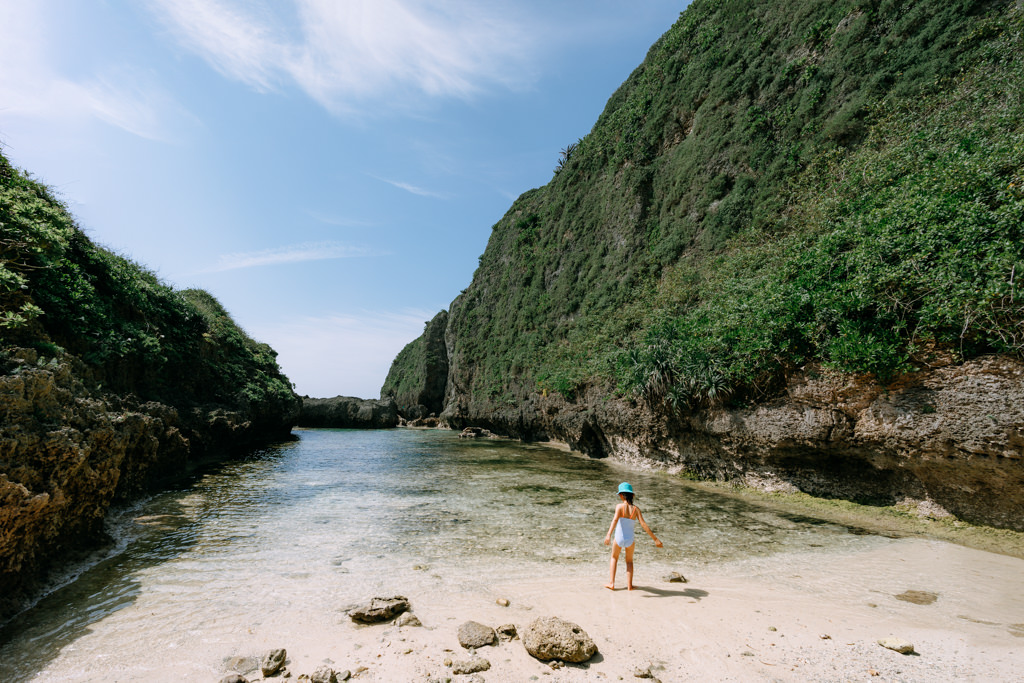 Nameless beaches
The Miyako Islands have so many nameless but beautiful secluded beaches. Use Google Satellite and discover your own beach!
You can check out some examples on our map.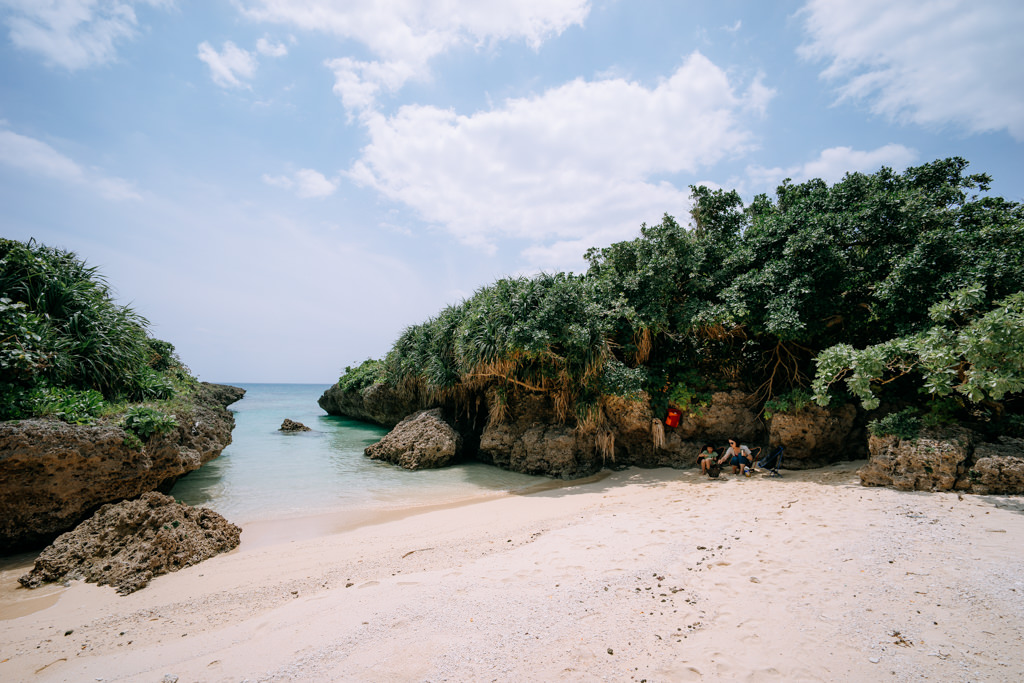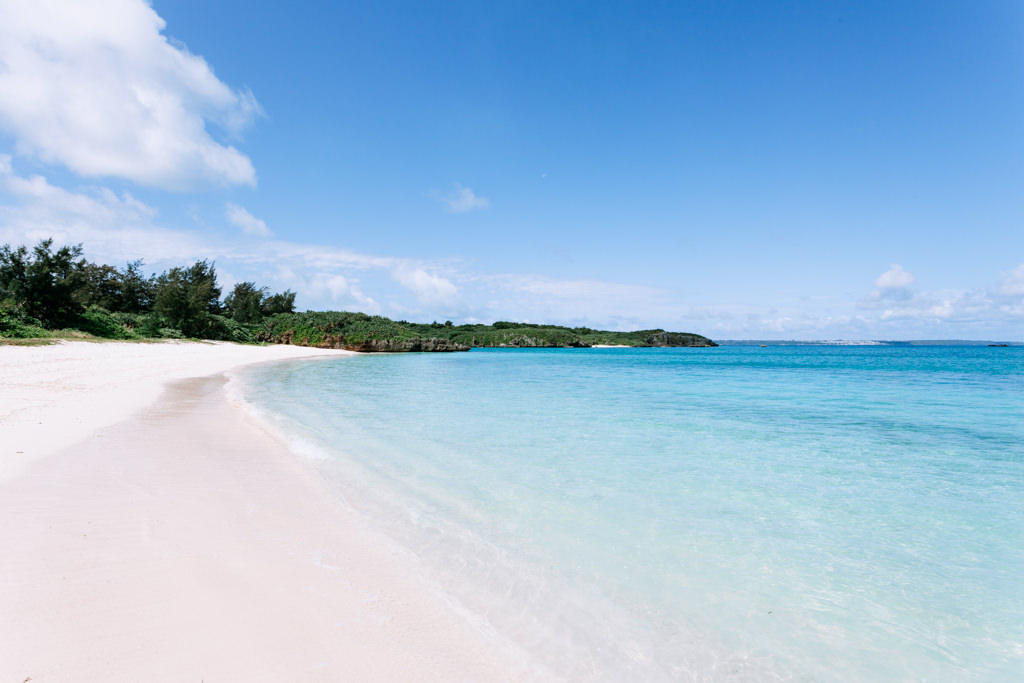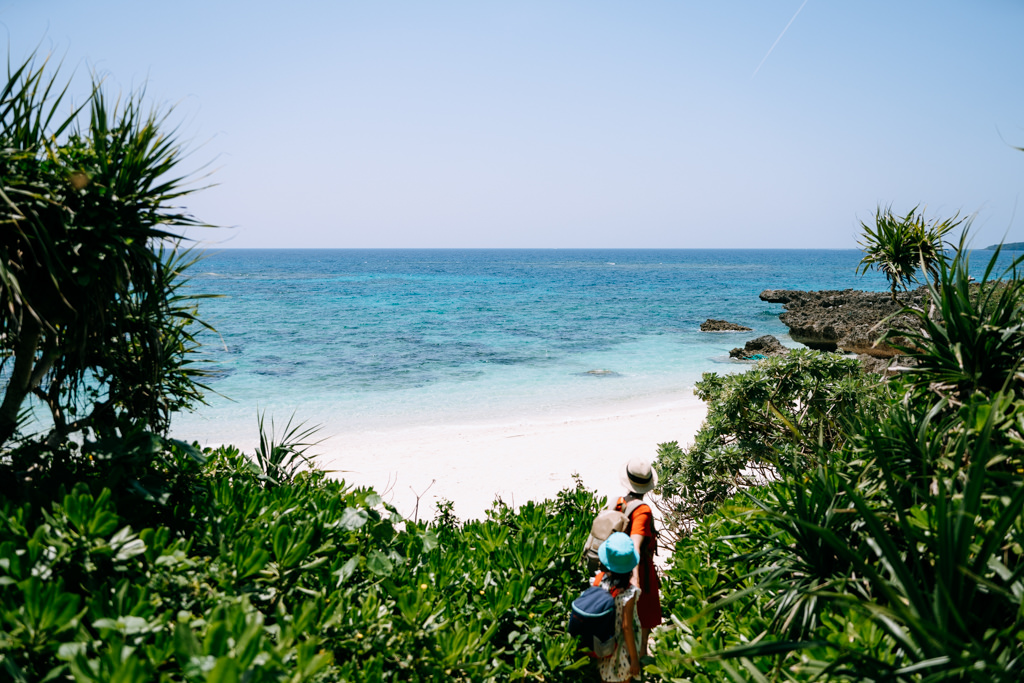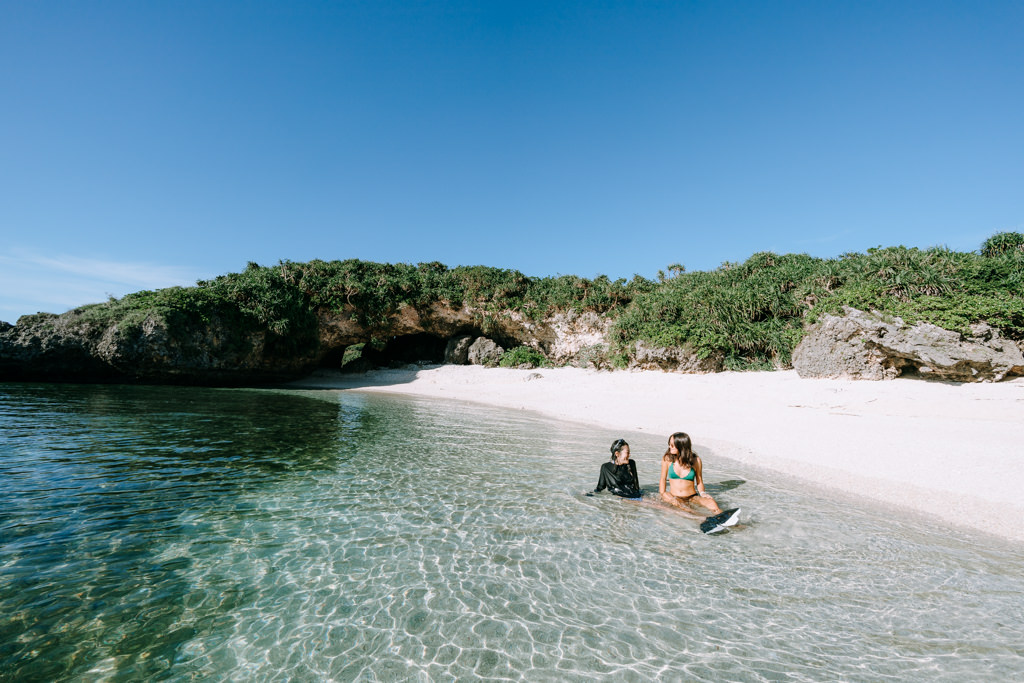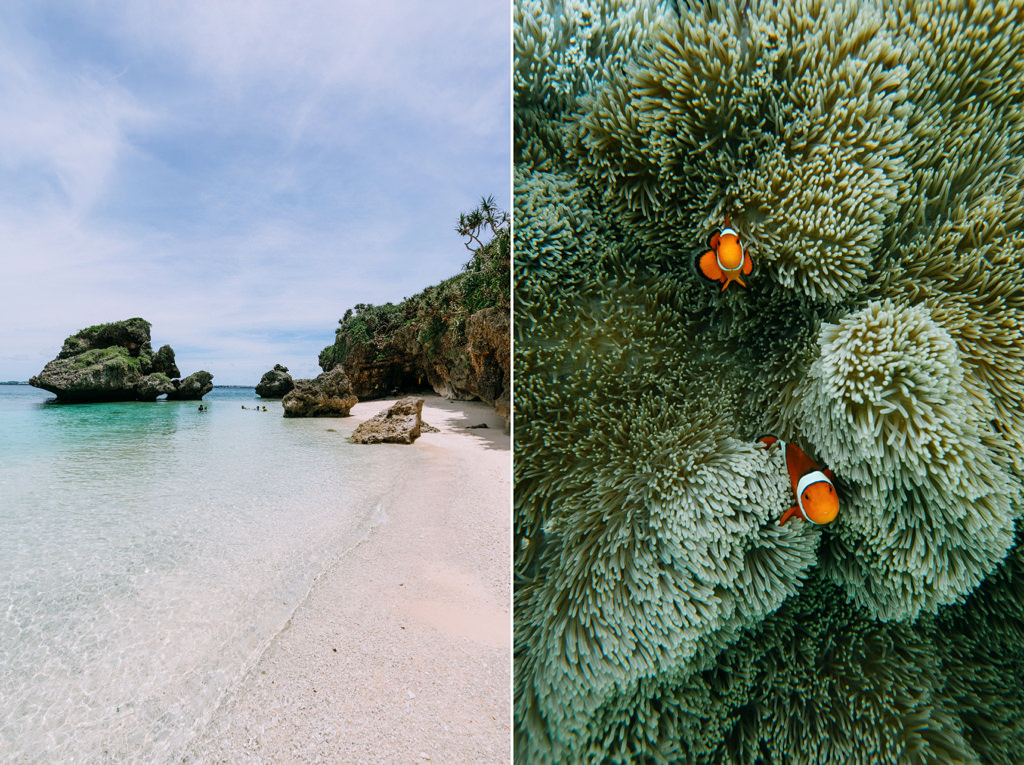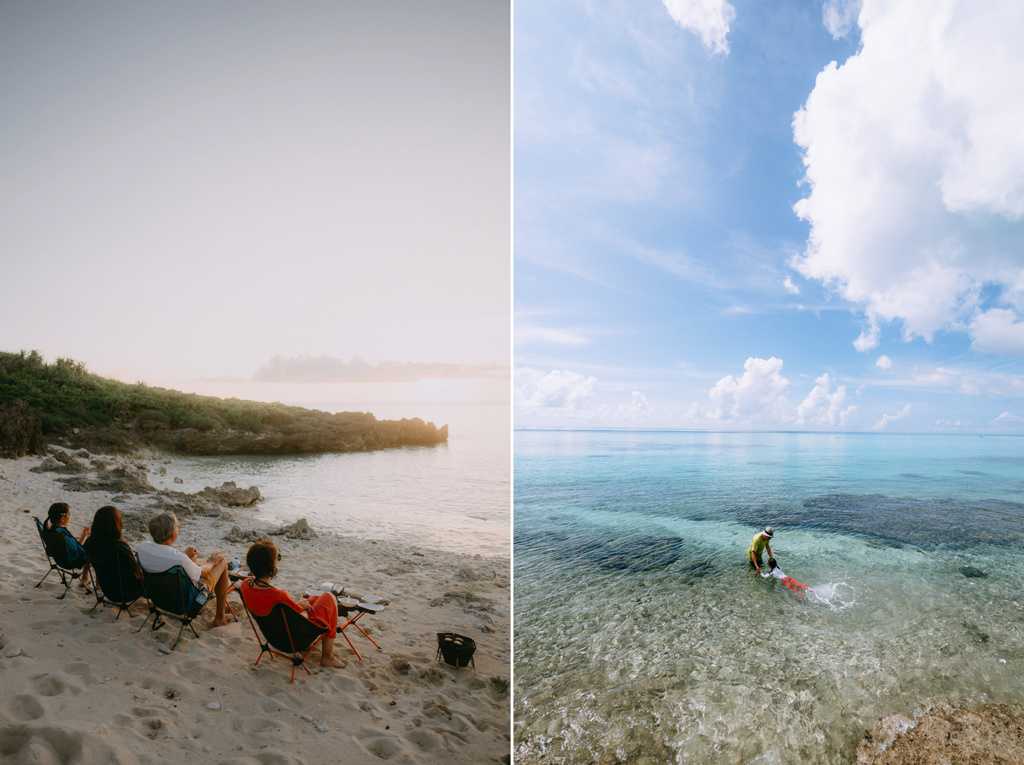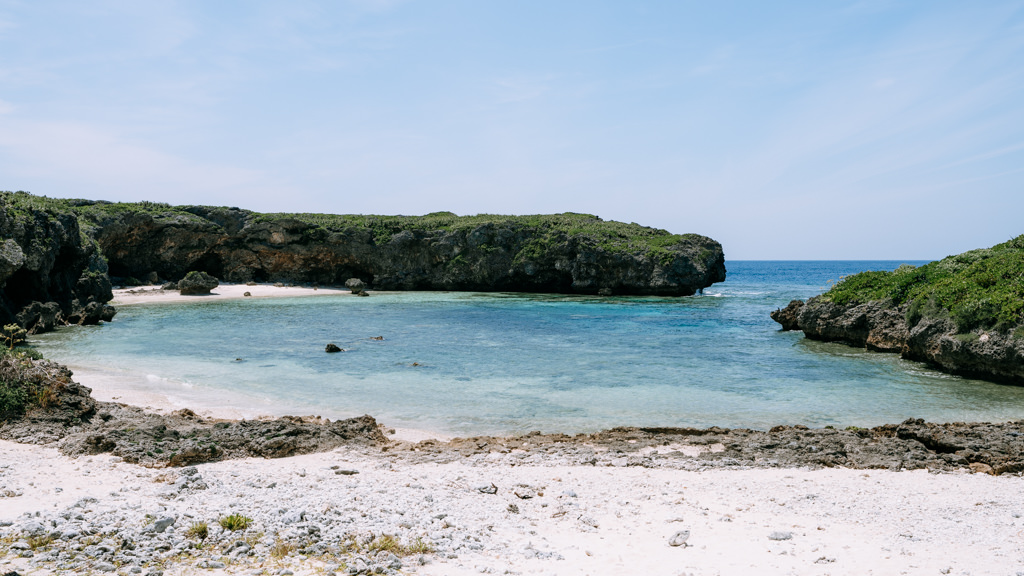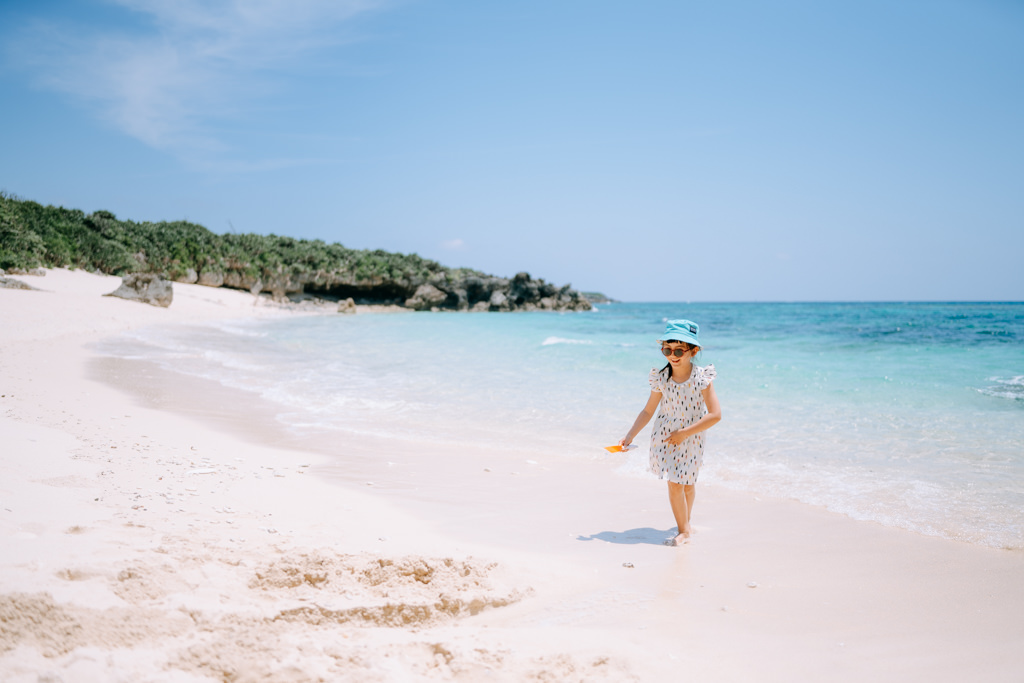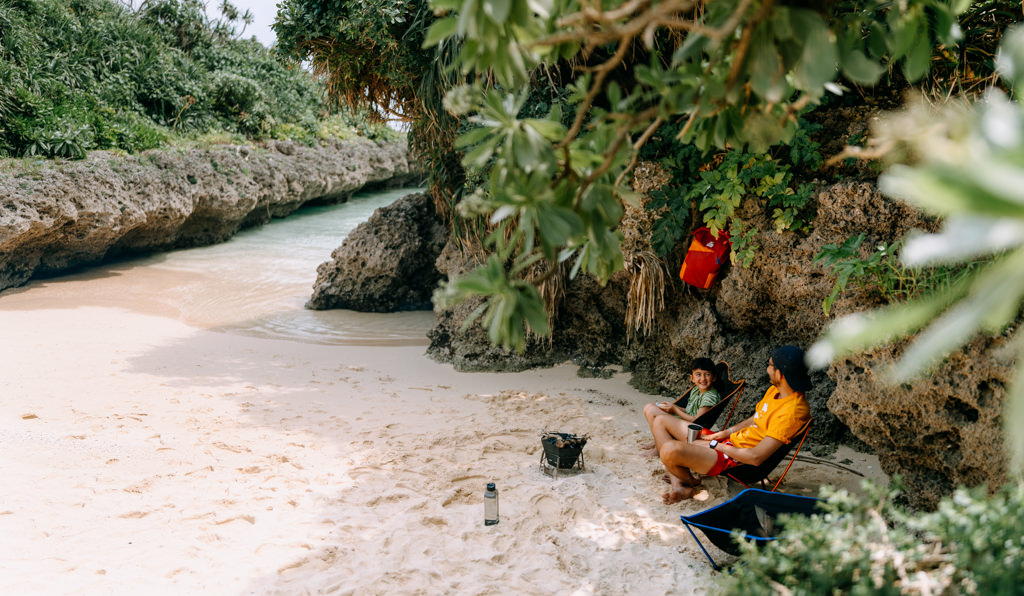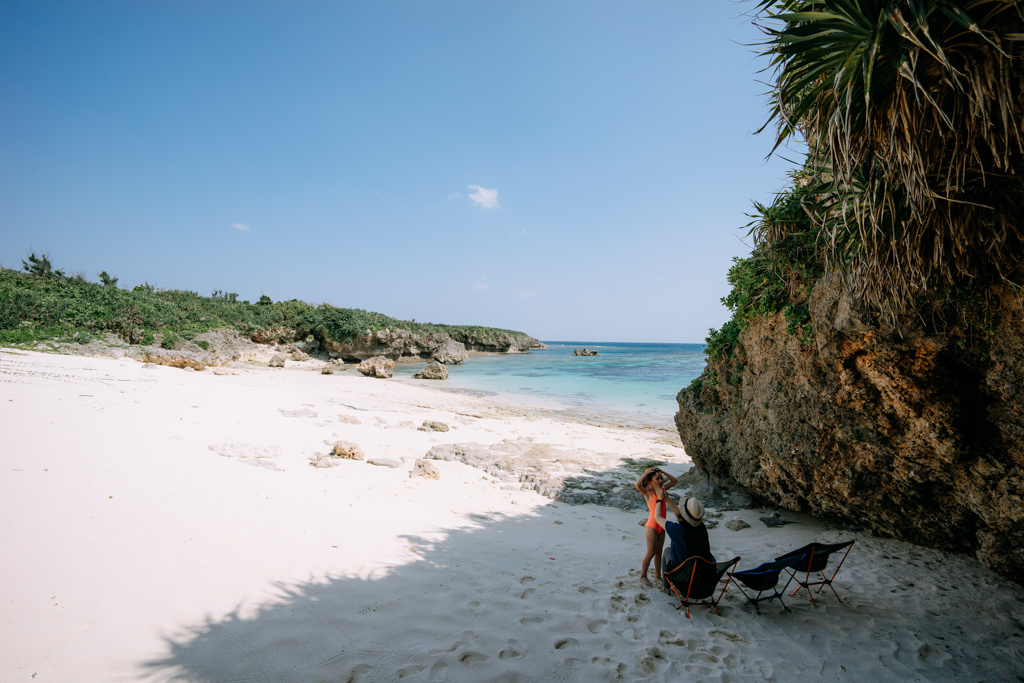 On full moon nights, you can see coconut crabs clambering down to these secluded beaches to lay eggs in the shallow waters. They are protected so please don't be tempted to eat them!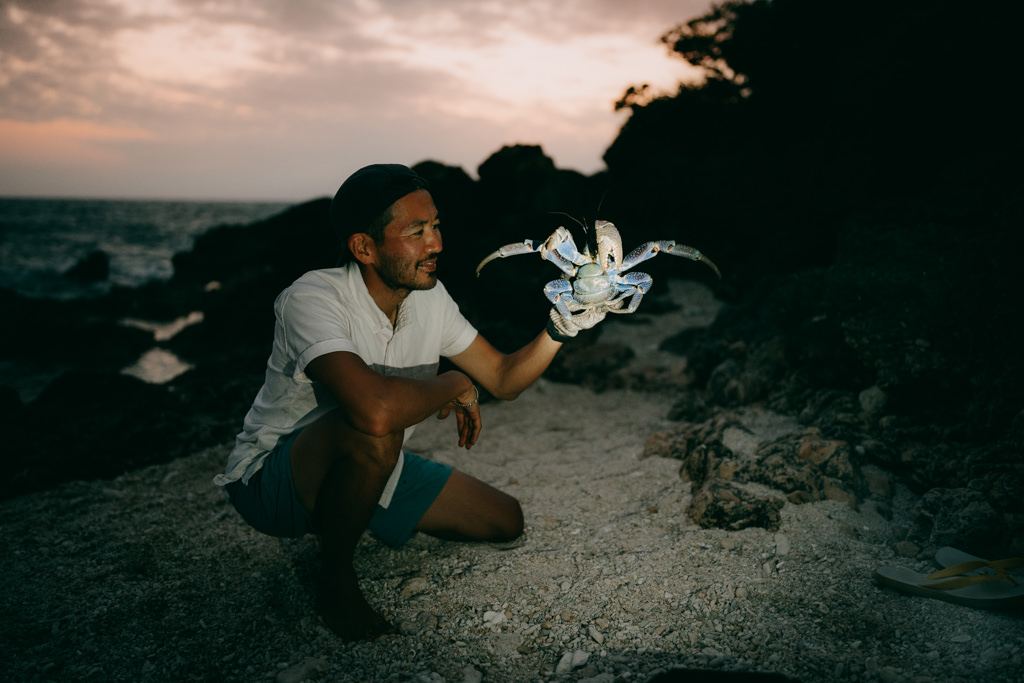 Nameless beaches accessible only from the sea
The Miyako Islands have so many idyllic beaches that are only accessible from the sea. If you are taking your packraft/kayak/SUP with you to the Miyako Islands, we highly recommend checking out Google Satellite and discovering your own idyllic deserted beach. We've visited the Miyako Islands many times but the list of these hidden beaches is still long! There are also lagoons inside coral reef lagoons which are great as a paddling destination.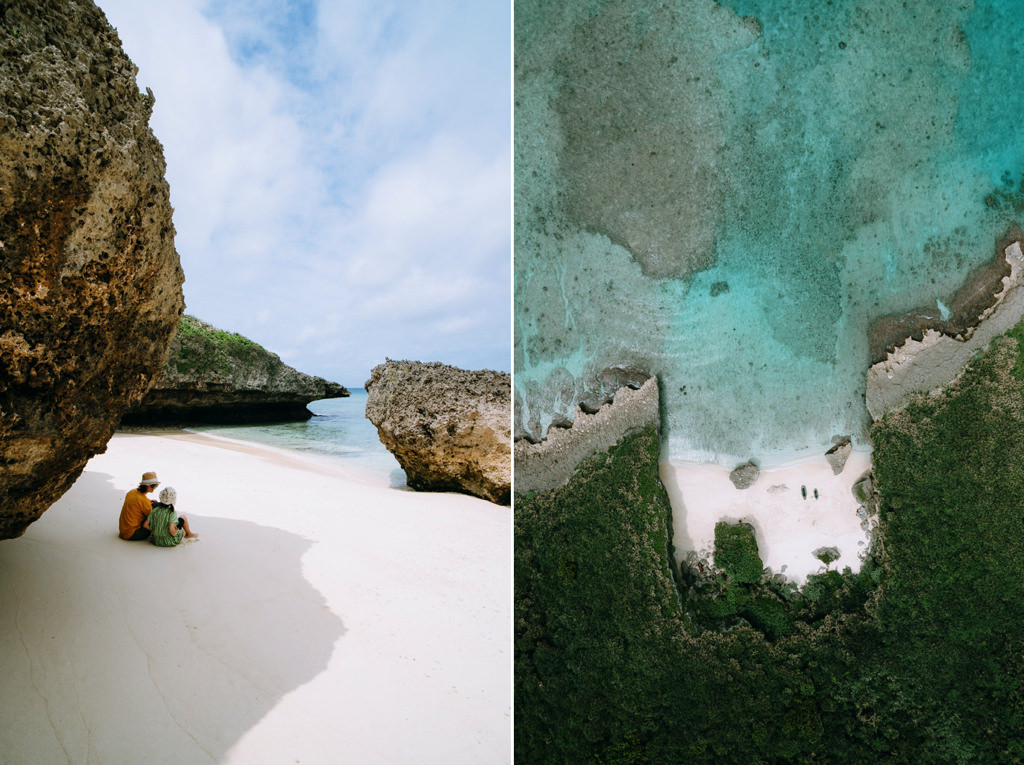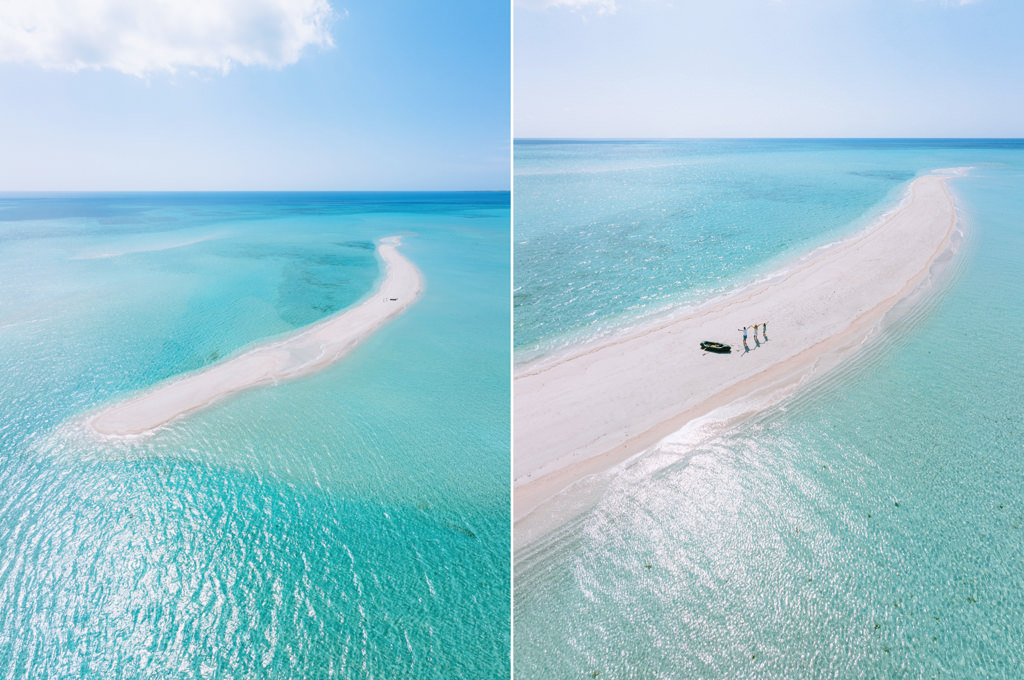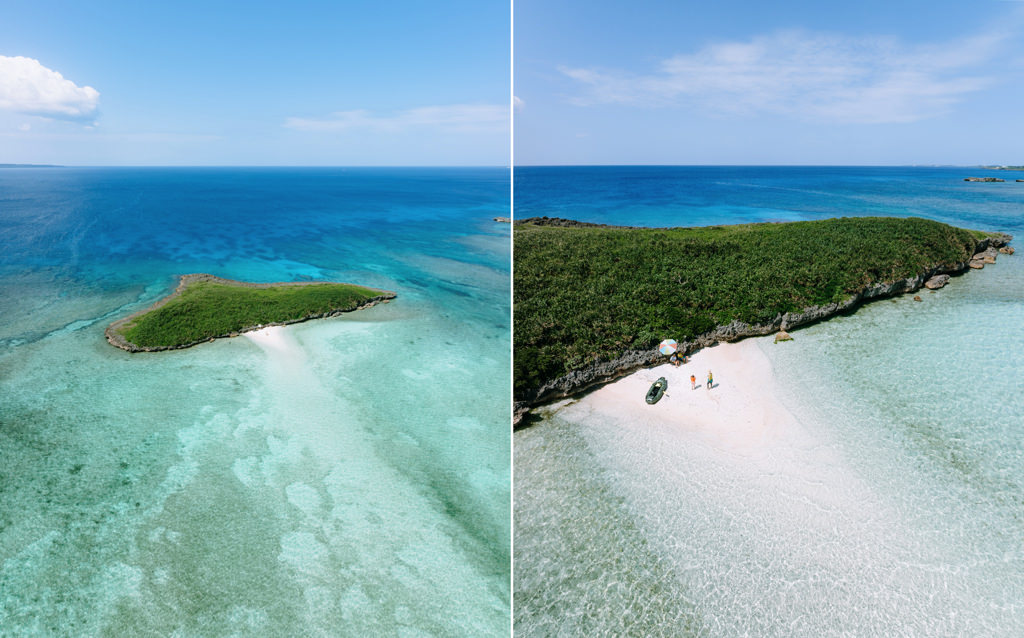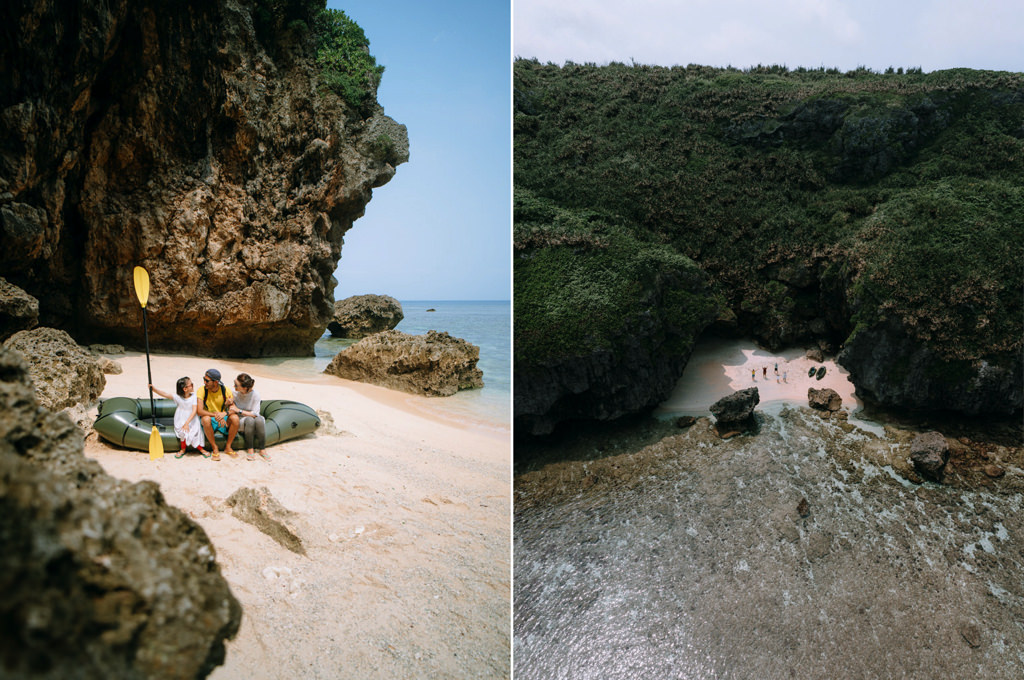 Snorkeling point near Aragusuku Beach
This spot is our top recommendation for snorkeling with sea turtles on the Miyako Islands. You can ALWAYS swim with sea turtles here, but the best time is when high tide is in the morning, as they feed on seagrass close to the beach then. If high tide doesn't occur in the morning during your stay, aim for high tide at any time of the day. We have seen seven sea turtles at the same time at this location. Check our map for the exact point.
Please do not chase the sea turtles or disturb them in any way.
If the tide times are not in your favour, or if a strong north or east wind is blowing, we recommend the spot near Wai Wai Beach to see sea turtles.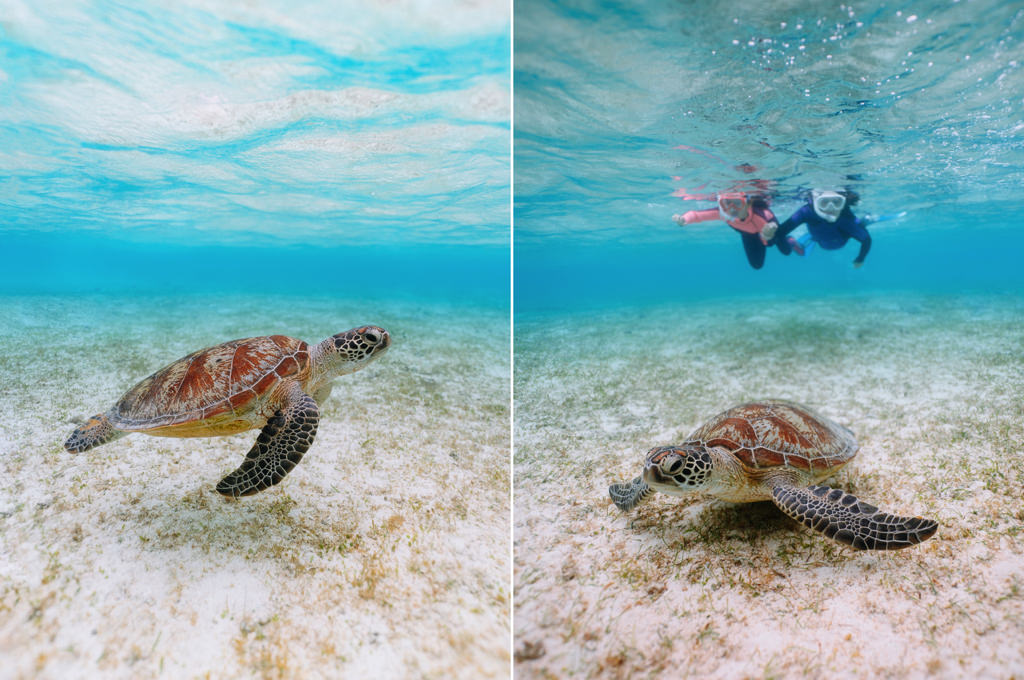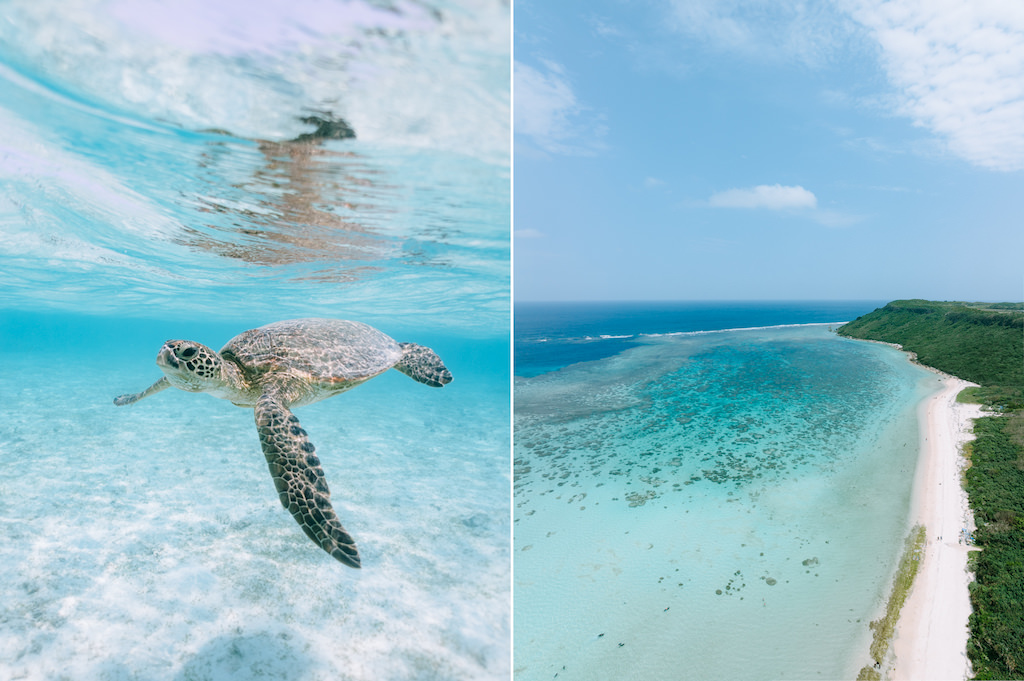 Snorkeling point near Wai Wai Beach
This is our second recommendation for snorkeling with sea turtles on the Miyako Islands.
Wai Wai Beach is a man-made beach, and although it's said to be the most ugly beach on Miyakojima, the little beach next to it boasts a very high chance of snorkeling with sea turtles (many say 99%) even when it's not high tide (best to avoid low tide to prevent accidentally damaging coral with fins). However, it is easier to see them at high tide as the sea turtles are feeding much closer to the beach. There are also many snorkeling spots here with beautiful coral as you swim towards the reef edge. Check out our map.
Snorkeling point near Shigira Beach
It's better to enter the coral-reef lagoon using the stairs near the snorkeling point (check our map) as it requires a lot of swimming if you enter the water from the actual beach. The water clarity is often not very high here, but there is a high chance of spotting sea turtles in this area at high tide.
Kaginmi Beach (Ikema Island)
Another great beach on Ikema Island for snorkeling. The west end of the beach is better for snorkeling. You can swim with sea turtles right in front of the beach at high tide. The small beach at the east side is ideal for packrafting/kayaking/SUPing. There are also some great snorkeling spots.
Just like any other north facing beaches, it's best to visit this beach when it's a southerly wind to enjoy the beautiful calm waters.
Unfortunately this beach (especially the small beach at the east side) often has a lot of plastic rubbish washed ashore from the Pacific Ocean, and it doesn't get cleaned regularly by the local government or volunteers. If possible please do your bit to help clean up this beach (some hotels on the Miyako Islands provide volunteer garbage bags).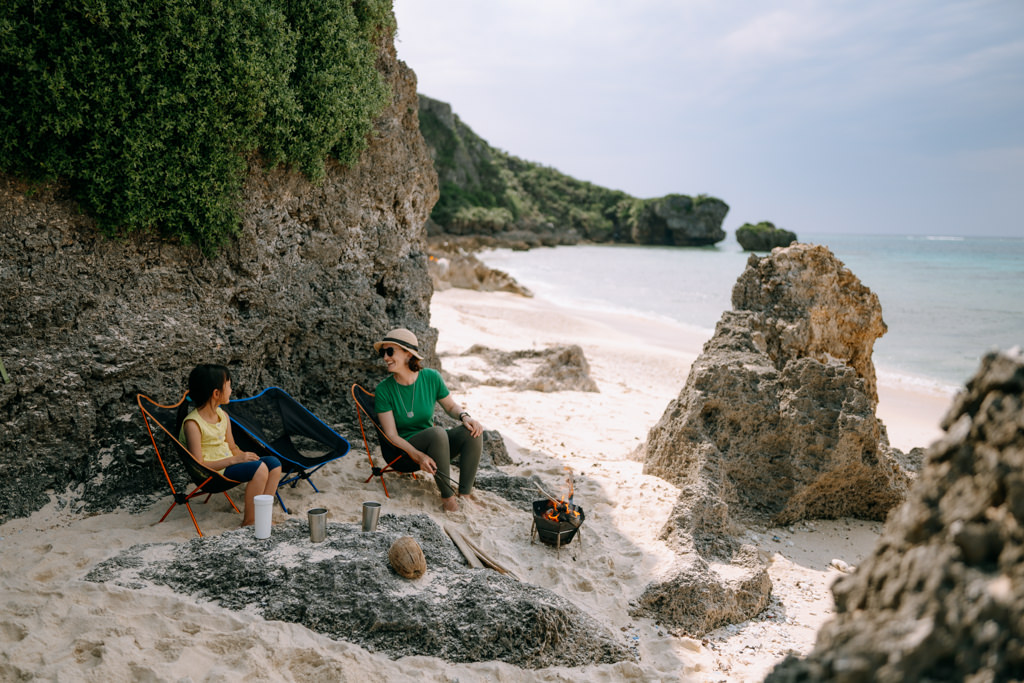 Nakanoshima Beach (Shimoji Island)
Excellent for off-the-beach snorkeling even close to the beach.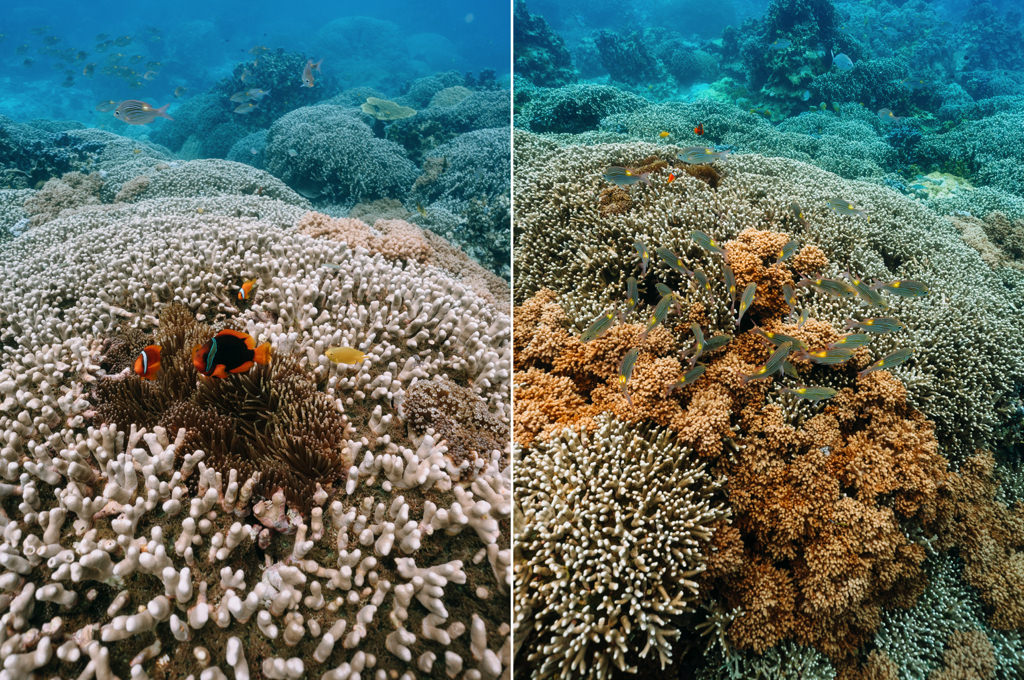 Packrafting/kayaking/SUPing in coral-reef lagoons
Since all the Miyako Islands are fringed by coral reefs, these sheltered coral-reef lagoons are ideal for packrafting/kayaking/SUPing. Make sure to check the wind direction of the day so you can make a good choice for the side of the island which will be the most protected. We love paddling on Miyako's beautiful calm water because of the extremely high water clarity. This is absolutely one of the best ways to enjoy "Miyako Blue"!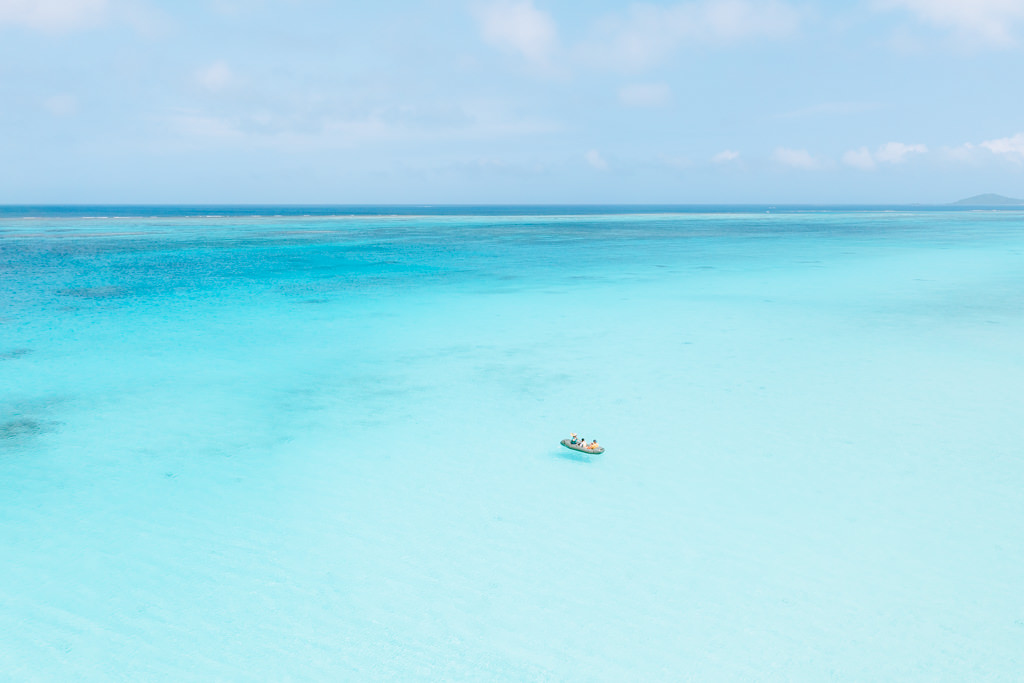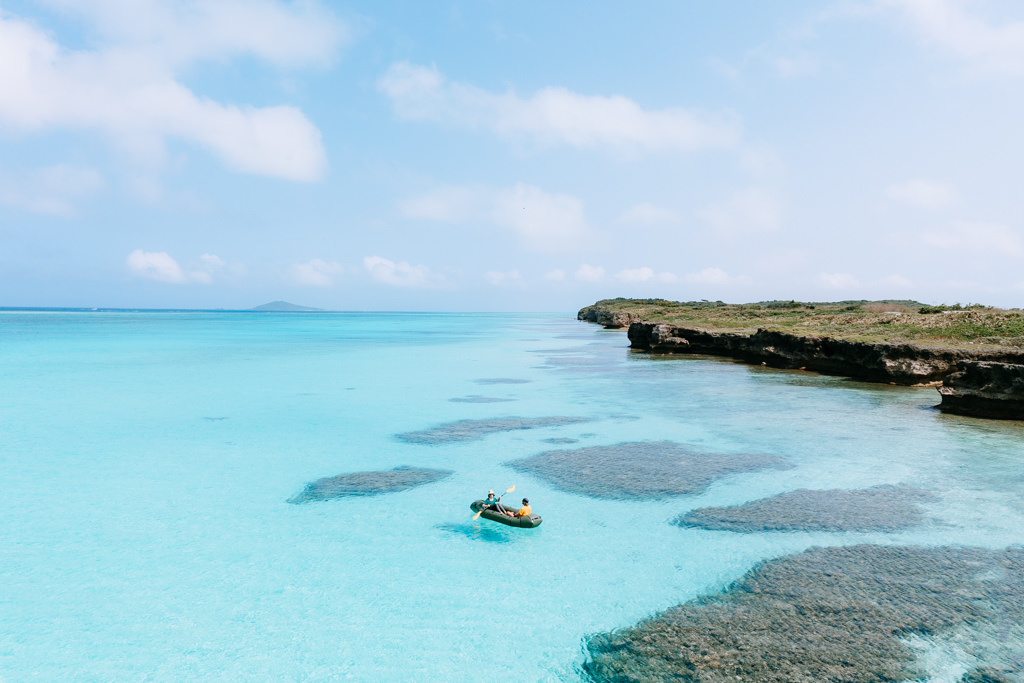 Yabiji Coral Reefs
It consists of 117 reefs abundant in colorful coral, sea turtles, fish and many other sea-life. Each reef has a unique name in Miyako language (see the map of Yabiji Reef). Snorkeling/diving tours by boat are available from Ikema Island. The tour companies are located near the bridge on the Ikema Island side.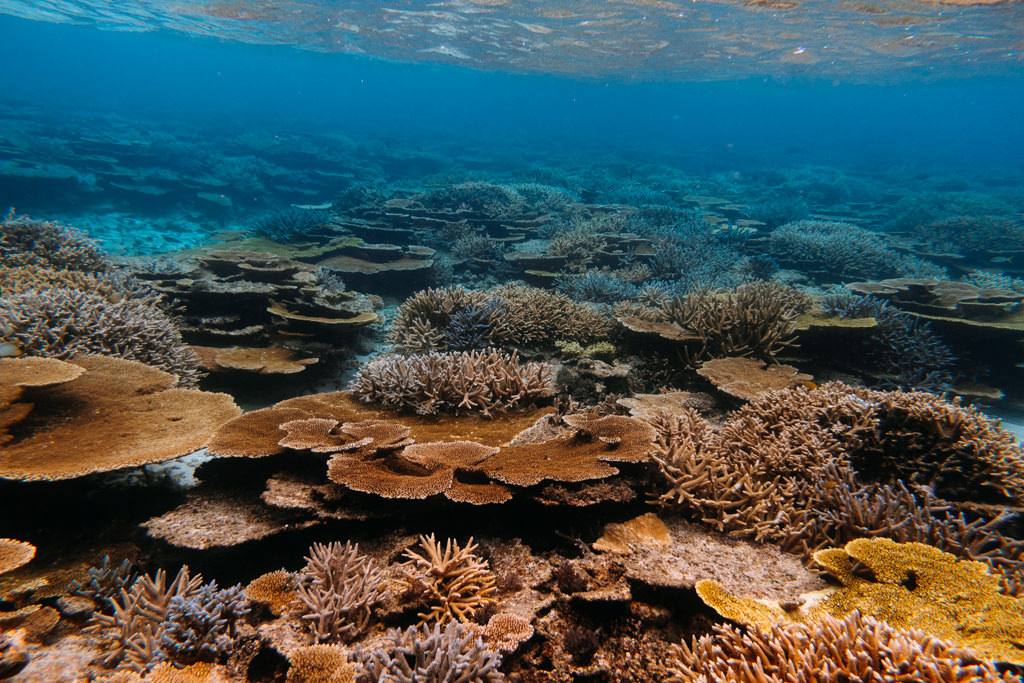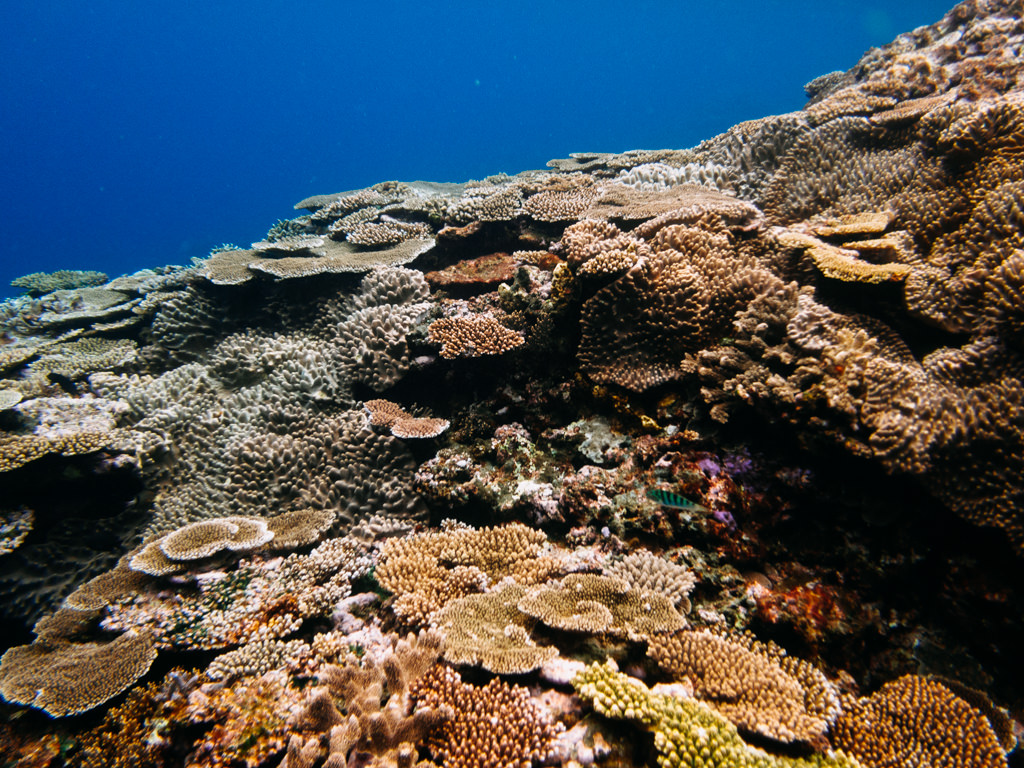 Limestone Caves
All the islands in the Miyako Group were formed by emerged coral reefs, so there are many underground limestone caves with fresh water inside (called "Gaa" in Miyakoan language), which served as wells for the islanders until water pipes became in service in the 1960's. Each village was built around one of these caves for the accessibility of fresh water, so every village (and even major towns) still has at least one of these caves today. Exploring these caves is a great activity for non-beach weather days. We haven't explored all of them yet, but here are a few suggestions from the ones we have explored. It is best to bring a flashlight, and use masses of mosquito repellant (or be fully covered). See our map for the exact spots.
Nazuka Gaa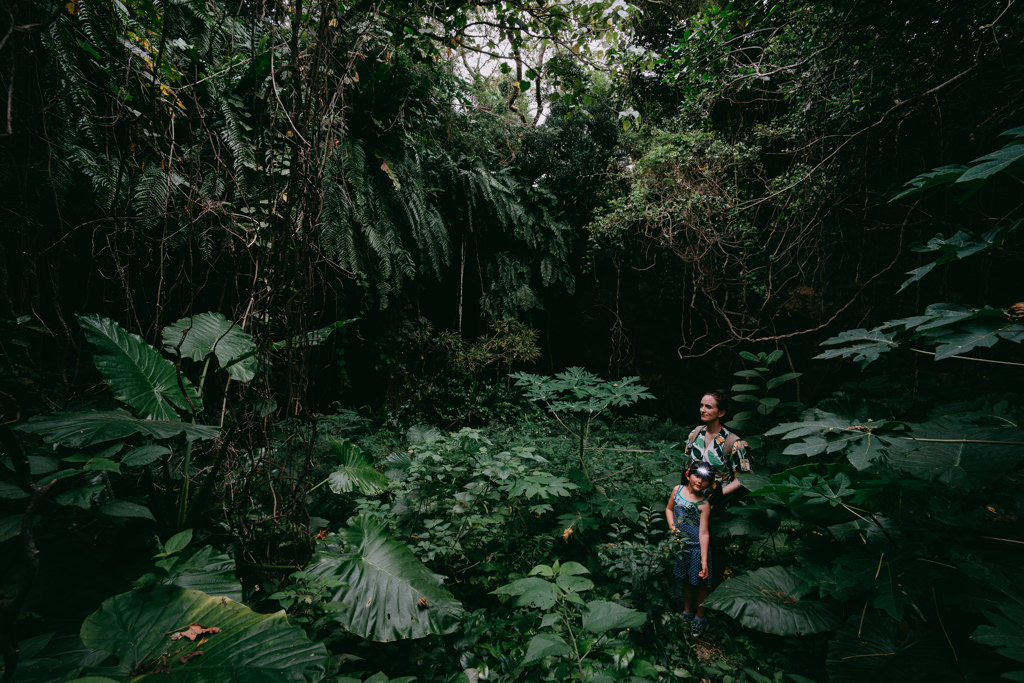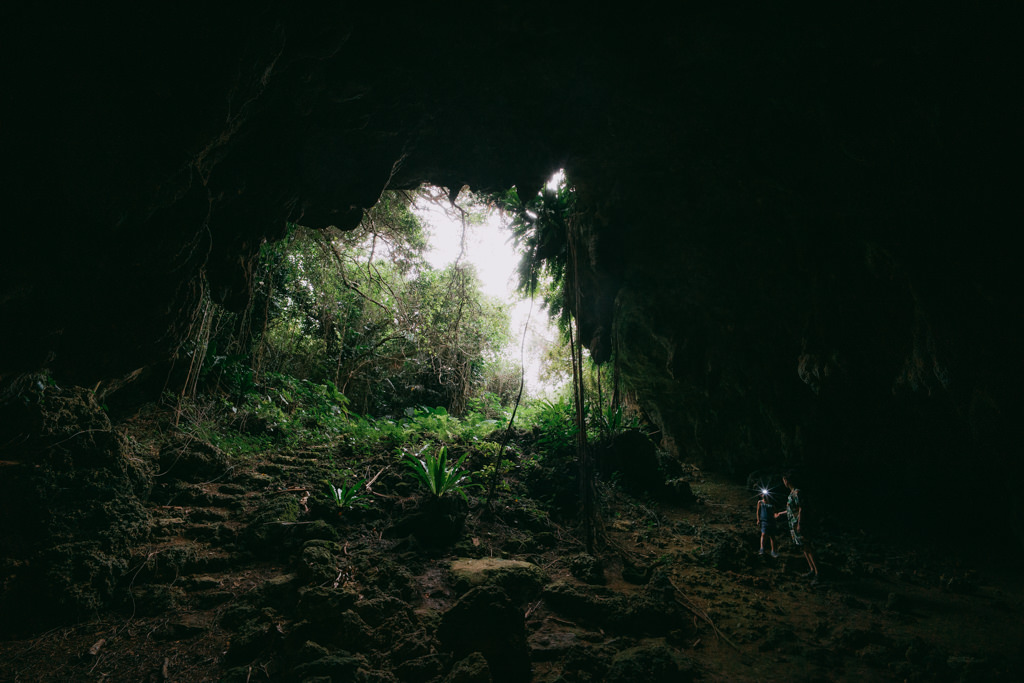 Nudokubiabu (Irabu Island) – Our favorite!

Muika Gaa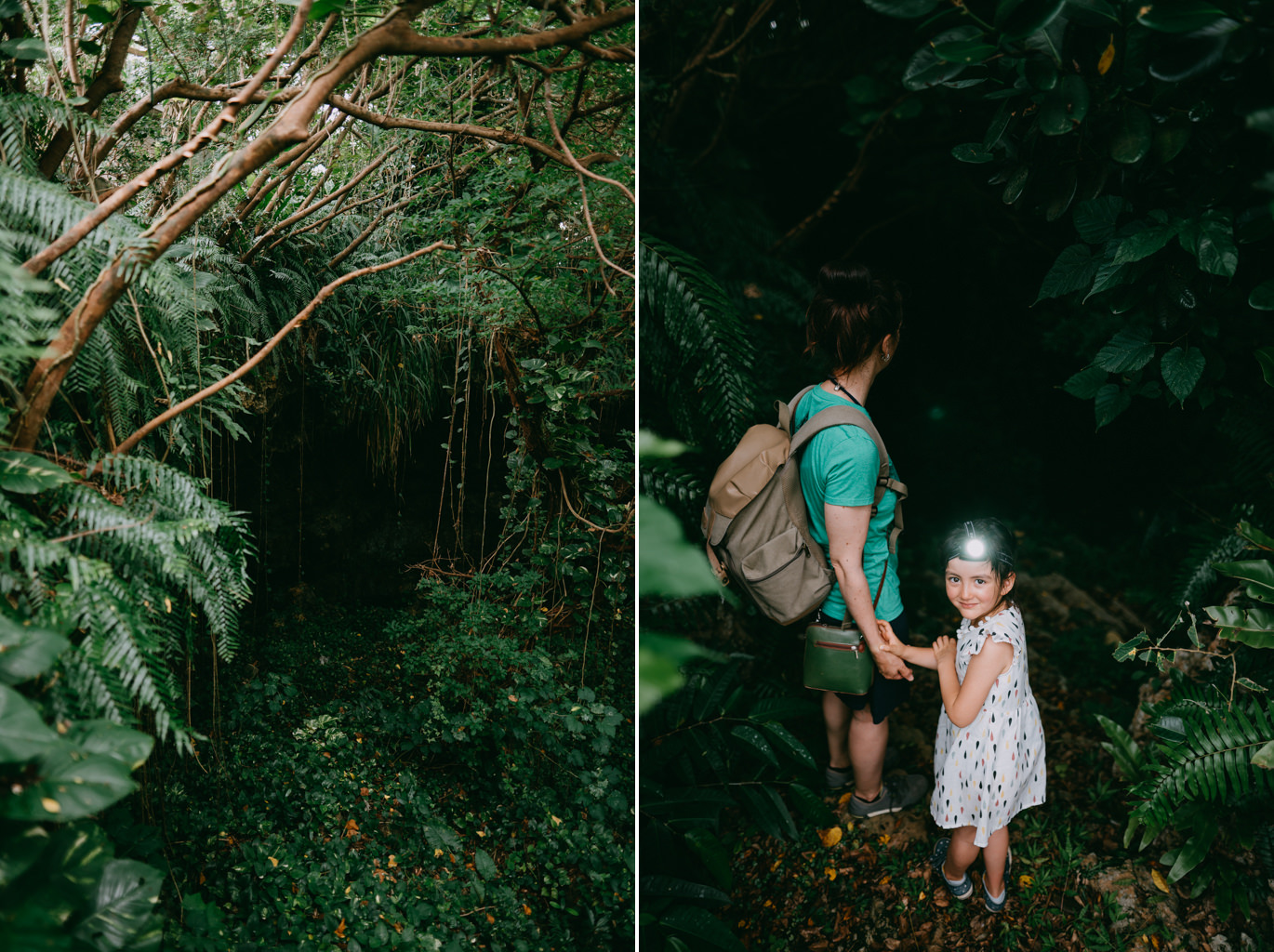 Nakahara Limestone Cave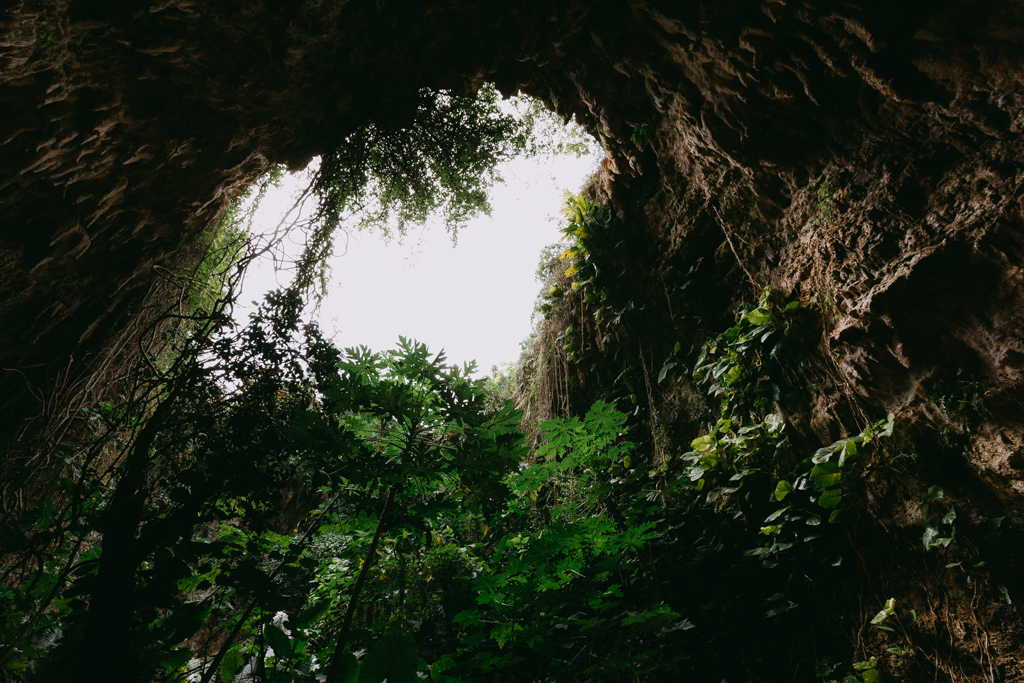 Scenic Spots
Drive around Miyako Island and you will have an abundance of photo opportunities given the right weather conditions. The bridge linking Miyako Island with Ikema Island has views of stunningly clear tropical water.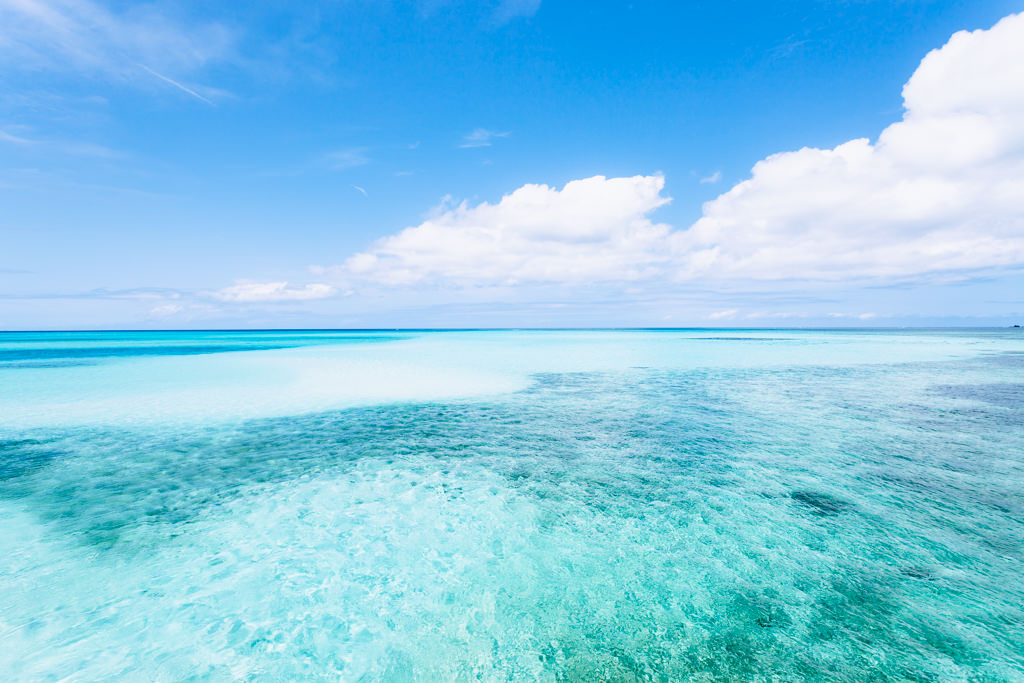 Go to Miyako Island's easternmost point, Higashi-Hennazaki, for a view of the iconic cape and light house.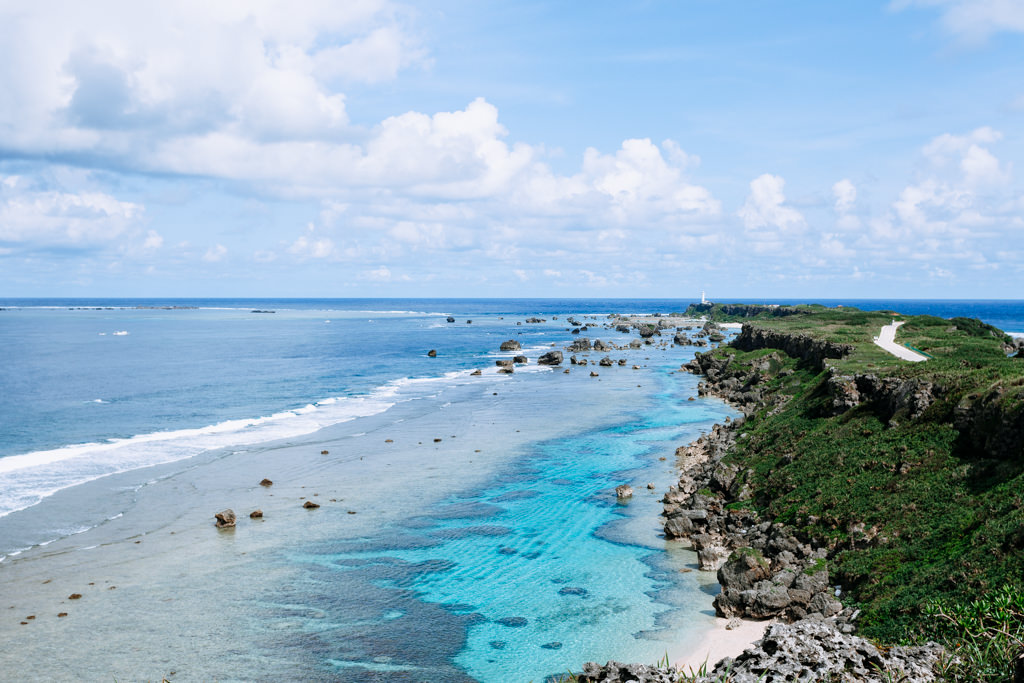 There are scenic spots with rocks which were brought by a massive tsunami in 1771, such as the coasts around Higashi-Hennazaki, Boraga Beach and Sawadanohama Beach (Irabu Island).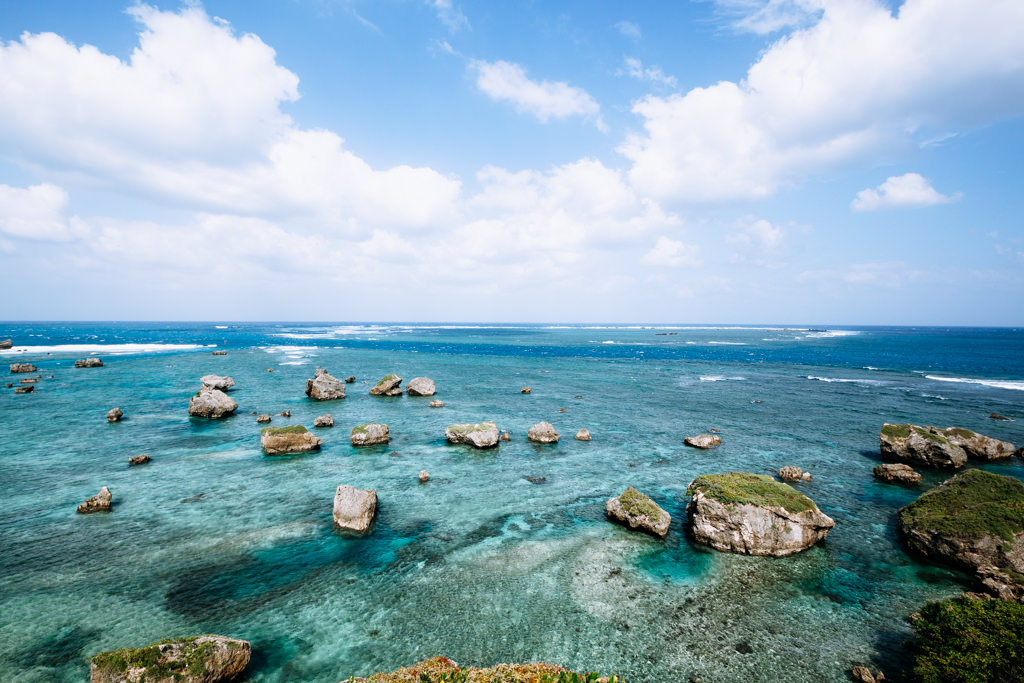 One of many breathtaking views from the new Irabu-Ohashi Bridge.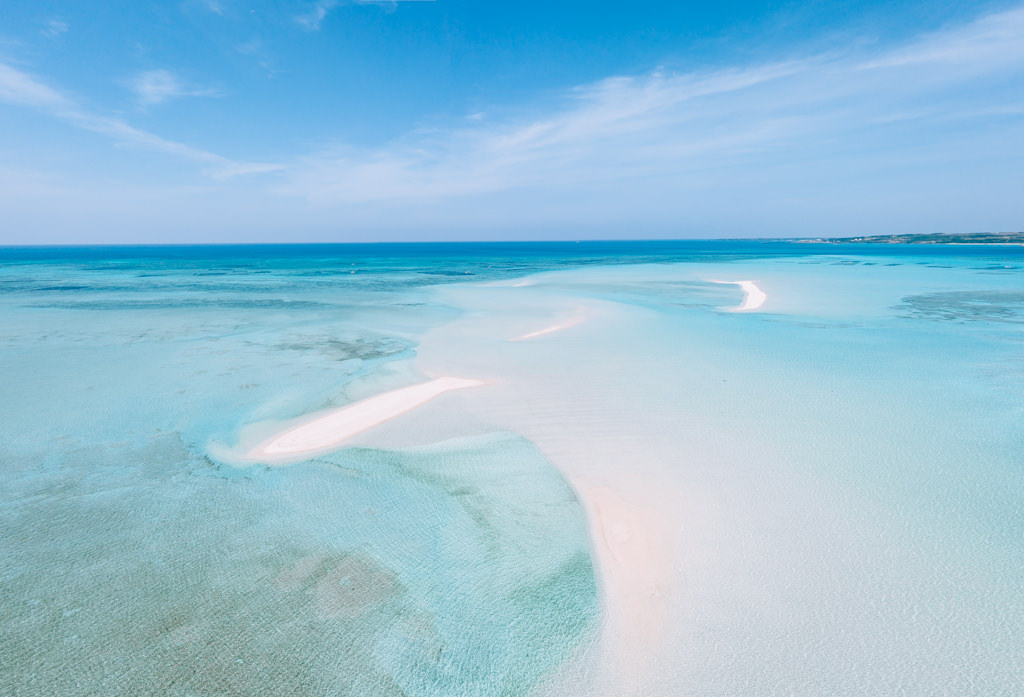 There are many amazing lagoons off Irabu Island's rugged coastline (great for kayaking and snorkeling).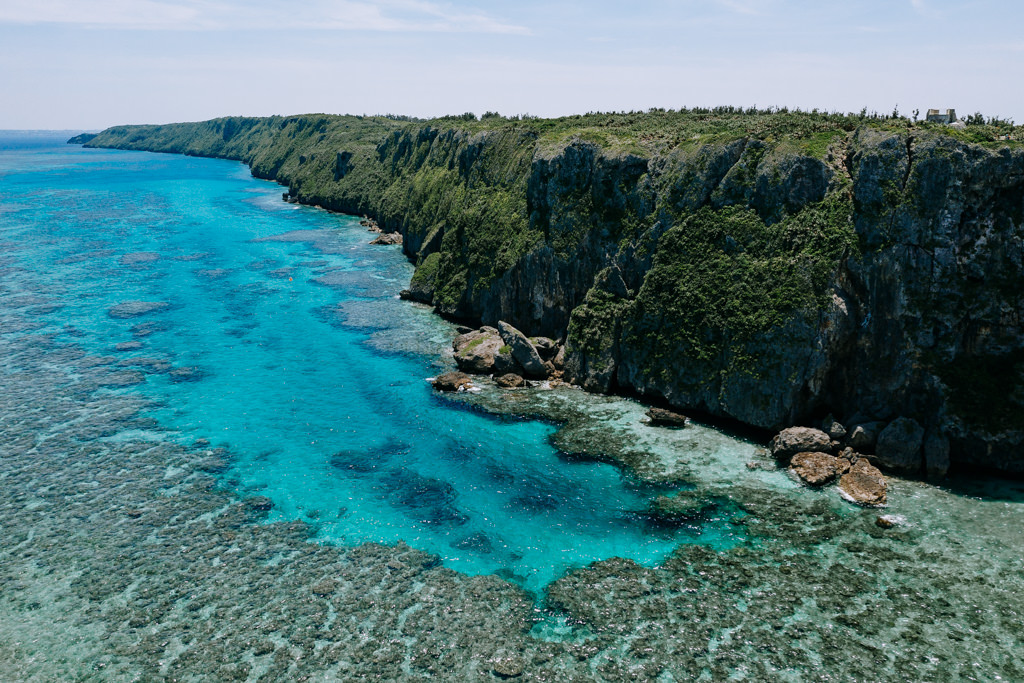 Visit the blue holes on Shimoji Island. It is also a diving spot as these water holes are connected to the sea.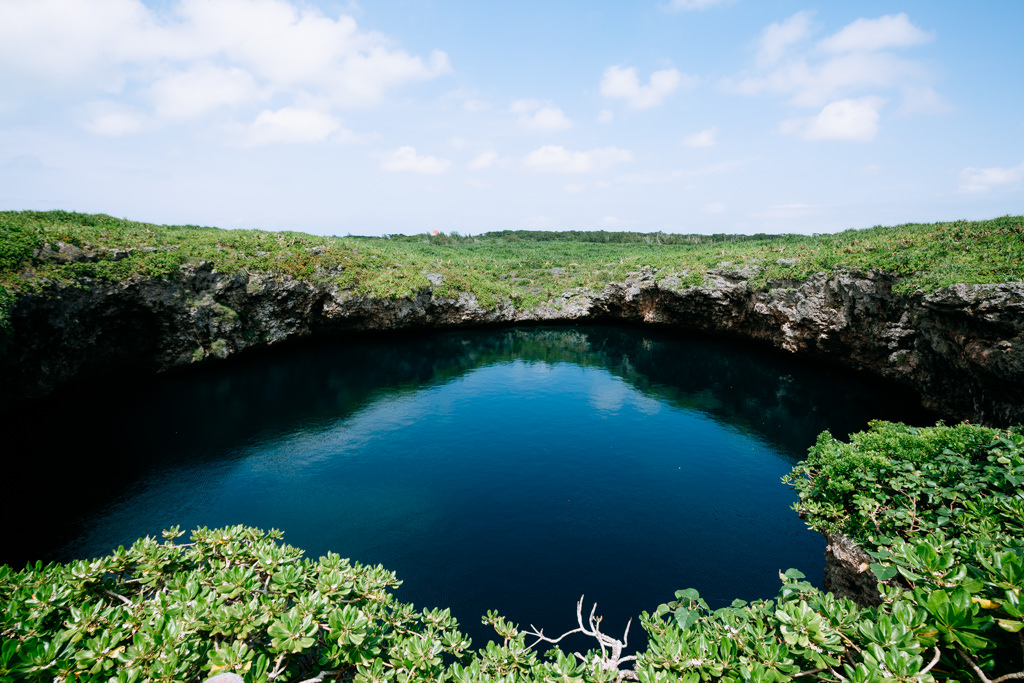 Cafes and Restaurants
Check our map for cafes and restaurants that we recommend.
Farmers Markets and Honesty Produce Shops
Atarasu Farmers Market
This is the largest farmer's market on the Miyako Islands, located near the airport. We love this place and this is where we do our grocery shopping as well as souvenir shopping! The fruit and vegetables here are so much more tasty than those in the supermarkets (also so much cheaper than supermarkets, and still we get to support the local farmers directly!). There are also many different kinds of pre-made food/sweets suitable for souvenirs. We highly recommend stopping by here after arriving or before leaving Miyakojima.
"Mujin Hanbai" – Honesty Produce Shops
We also love road-side stalls around farms – you never know what you're going to find available! You can get very fresh vegetables and fruits directly from farmers for a very low price. Just drop the designated amount in the money jar and you're set to go.
Car Rental
Note: On average, there are 50% less rental cars compared to the pre-covid era on most Japanese islands as they had to get rid of their cars during the pandemic in order to survive, so it's best to book at least a few months in advance.
It goes without saying that a car is essential on Miyako Island. You can rent a small car just for a few thousand yen per day (including insurance) through Times Car Rental, Tabirai, ORIX Rent-A-Car or the Japanese version of Rakuten Travel. Unfortunately, the price can be often even double on most English booking websites. Best to have someone who can read Japanese to book. You will need an International Drivers License or JAF translation.
Accommodation
There are many boutique hotels and resorts on the Miyako Islands nowadays, and many of them are listed on international hotel booking sites. However, the Japanese version of Rakuten Travel usually lists a wider selection of accommodation often with better deals and more relaxed cancellation policies.
Kataaki no Sato
For those who want to stay in a traditional Okinawan house with all the mod-cons of home, Kataaki no Sato will make for a memorable Miyako experience, especially good for a small group or family.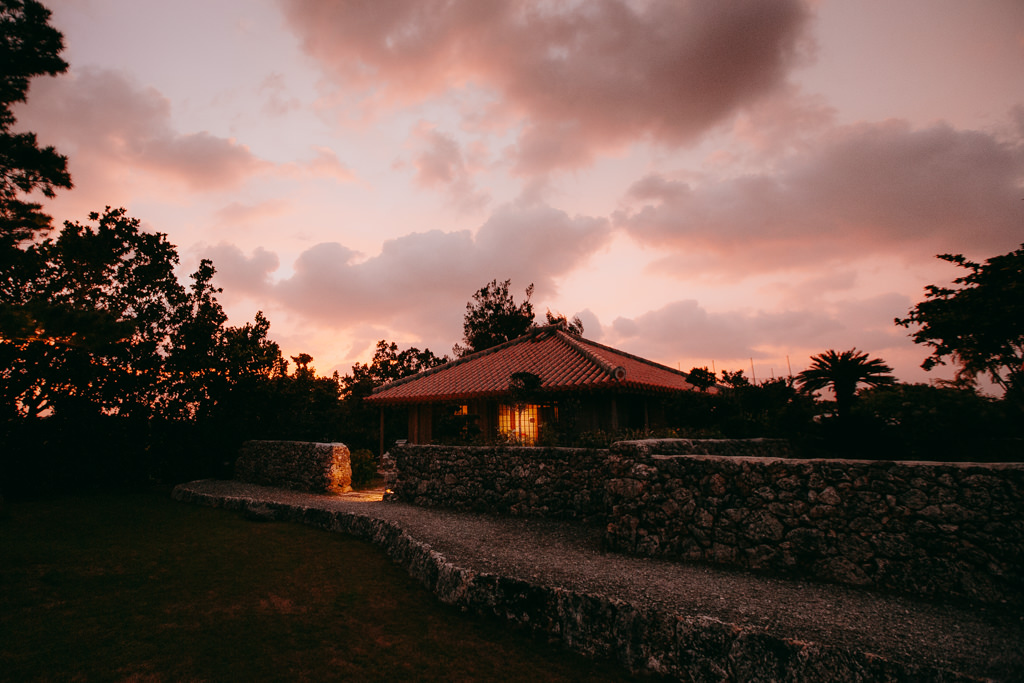 Weather
Located closer to Ishigaki Island of the Yaeyama Islands than Okinawa Main Island, lying 400km directly east of Taipei, the climate of Miyakojima is on the boundary between the Yaeyama Islands's Tropical Rainforest climate and Okinawa Main Island's Humid Subtropical climate. As Miyakojima is a flat island solely made of emerged coral reefs, the precipitation is less than that of the other islands of Okinawa Prefecture which have mountains and rainforests. The average yearly high temperature is 26.4°C (79.5°F), and the average yearly low temperature is 21.9°C (71.4°F). The climate is similar to Mid-Southern Taiwan, warmer than Hong Kong and Northern Taiwan due to the warm ocean current around Miyakojima. The annual average humidity exceeds 75%, which makes the feeling temperature very different from dry places with a similar mean annual temperature such as Townsville in Queensland, Australia. The sea temperature is warm all around the year, ranging between 21°C (70°F) and 31°C (88°F). The rainy season is May-June but it does not rain all day. Often it's just a few downpours in-between blue sky (except for the very first few days of the rainy season, which tend to be grey all day). The core season for typhoons/tropical storms is August-September but some years have very few typhoons/tropical storms while other years have many typhoons/tropical storms even as early as May or as late as November. However, at least one typhoon/tropical storm hits the Miyako Islands during August or September every year. Usually a typhoon/tropical storm affects the weather only for a few days and you get beautiful clear blue sky as soon as the typhoon passes away. It's impossible to predict the typhoon even at a closer date as the typhoon path can totally change even just a few days before the initially predicted landfall time.
Note: Unfortunately all international weather forecasts for Miyako Island are inaccurate (including weather histories), such as all the default weather apps on smartphones including iPhone, Accuweather, Windy, etc. They are almost always a few Celsius degrees lower than the actual temperatures measured on Miyako Island (especially during winter), and often they can be completely wrong since they don't have access to the proprietary data from both Miyakojima weather station owned by JMA (Japan Meteorological Agency) and JMA's supercomputers.
We recommend this weather forecast using the JMA's proprietary data (It's in Japanese with Celsius but it's straightforward).
Miyakojima weather forecast:
https://forecast.weathermap.jp/?point=A93041#week10_box
(Accuracy of the forecast is shown as A,B,C,D,E. A is the highest accuracy while E is the lowest).
The weather on any southern Japanese island, however, is so unpredictable that weekly weather forecasts (even two days ahead) should really be used as a guide only. The conditions can also be very different even on the same island between north and south or mountains and coastal areas.
Average temperatures of Miyako Island, Okinawa, Japan (1991-2020, Japan Meteorological Agency)